Updated at 21.35
PRIOR TO THIS game, Germany were considered strong favourites, despite having to cope with a number of players being unavailable, including Bastian Schweinsteiger, Sami Khedira, Mesut Özil and Benedikt Höwedes.
Similarly, Ireland were far from full strength, with Seamus Coleman and James McCarthy both out injured.
Ahead of the game, Germany manager Joachim Löw described how teams were supposedly keener than ever to gain a scalp over the world champions.
"As world champions we know that we used to be the hunters, now we are prey to all other teams," he said.
"Teams like Scotland were playing with incredible motivation against us but that was also true after 2010 and 2012. So we know the situation and how to deal with it as it is no different now to what it used to be."
Meanwhile, Ireland assistant boss, Roy Keane, said Ireland couldn't afford to defend for a full 90 minutes during the game, and suggested the side would attack at every available opportunity.
"You have obviously can't go gung ho against a quality team like Germany but we can't sit back and expect to defend for 90 minutes.
"It's all a balancing act. Obviously defensively let's be solid, but hopefully we'll be a goal threat like Poland were."
Nevertheless, sitting back and defending for 90 minutes is what Ireland appeared to be trying at first. They offered little goal threat and had most of their team behind the ball for the majority of the contest, until Toni Kroos' stunning strike forced Martin O'Neill's men to attack.
Formations
Despite suffering a 2-0 defeat by Poland last Saturday, Germany maintained their usual 4-2-3-1 formation, with the full-backs pushed up to the halfway line. Thomas Müller — who often plays in a wide role for the Germans — led the attack, while Julian Draxler came in alongside Karim Bellarabi and Mario Götze just behind him.
Toni Kroos anchored the midfield along with Matthias Ginter, who replaced the unavailable Christoph Kramer. The backline featured their first-choice central defensive pairing of Jerome Boateng and Mats Hummels, with the considerably less experienced full-backs Antonio Rüdiger and Erik Durm also continuing from the Poland match. Meanwhile, Manuel Neuer, as ever, was in goal.
The only changes Martin O'Neill made from the Georgia game were enforced, with James McClean brought into the side in place of James McCarthy, and David Meyler slotting in for Seamus Coleman at full-back.
Ireland defend deep as Germany dominate possession
The game started out more or less as expected, with Ireland defending deep and Germany enjoying the vast majority of the possession.
The Irish team, while looking well set up and invariably showing good discipline at the back, didn't help their cause in the early stages.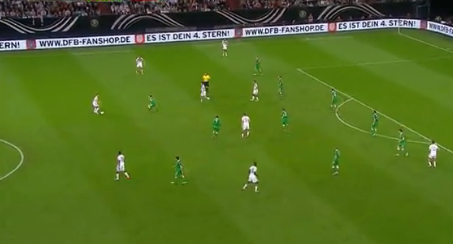 (Martin O'Neill's side parked the bus at times in the first half, with all 10 outfield Irish players visible in the clip above)
A careless Glenn Whelan pass early on put Ireland under the cosh, eventually leading to an impressive Durm effort that came back off David Forde's crossbar.
More frustrating still was a passage of play involving James McClean shortly thereafter. The winger did extremely well to win a free kick when put under pressure from his German opponent, but then instead of slowing the game down and giving the Irish defence some respite, the Wigan man took the set piece quickly, giving the ball straight back to the hosts in the process.
The German back four reverted to their usual high line, and with the Irish attack lacking the necessary pace to trouble their opponents, save for the occasional bursting run from James McClean, the likes of Jerome Boateng and Mats Hummels were camped in the Irish half and routinely allowed to carry the ball forward, as even the most advanced Irish players dropped off.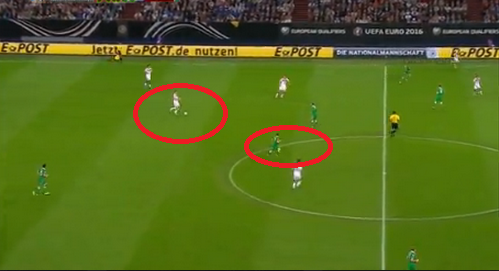 (The clips above are one of the many examples of an Irish attacker deliberately allowing a Germany defender to carry the ball forward unchallenged, as the visitors maintained an emphasis on defending deep)
That said, for all Germany's dominance of territory and possession, they managed to create what were at best half chances.
The aforementioned Durm effort and a Rüdiger header, following a free kick in which some sloppy Irish defending allowed Thomas Müller to set up his teammate, were the best chances Germany could conjure in 45 minutes of football.
https://vine.co/v/OqebZLz7n3B
Even as early as the 17th minute, there were signs of frustration and restlessness in the home side's play, when Ginter's poor pass in a dangerous area was easily dealt with by the Irish defence, as yet another promising German attack stuttered to an abrupt halt.
And interestingly, while they still ultimately had an overwhelming majority of possession against Ireland (60%), they still saw considerably less of the ball than they enjoyed against either Poland (67%) or Scotland (69%).
Ireland fail to make the most attacking opportunities
It's difficult to be too critical of the Irish attackers, given that they were presumably given clear instructions explaining that defending would be their priority. Consequently, having spent much of the game chasing the ball and concentrating on less-than-glamorous duties, they were understandably a little jaded-looking on the rare opportunities they had to harm the Germans down the other end of the field.
That said, the sheer lack of attacking threat from the Irish team was still a cause for some concern, as epitomised by the fact that Robbie Keane touched the ball just five times in total during the first half. Germany had demonstrated their defensive vulnerability against both Poland and Scotland, hence it was disappointing from an Irish perspective that Hummels and Boateng were virtually untested in the first period.
When moments of hope arose, they were promptly cancelled out by an unwise decision from one of Ireland's attackers. This could be simply put down to fatigue, with James McClean and Aiden McGeady both doing their best work in defence, as the duo were wasteful after getting into good attacking positions in the early stages of both the first and second half.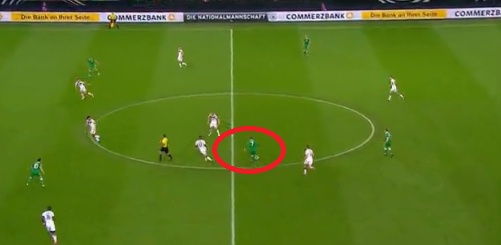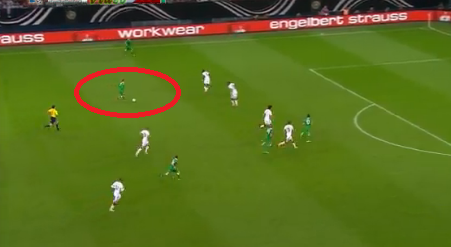 (Aiden McGeady found himself in promising positions on occasion, but failed to deliver an accurate final ball)
Twice, McGeady tried and failed to dribble past an opponent when the counter attack was on and passing to a better-placed teammate was the obvious option.
The Everton man was playing in the number 10 role, where Martin O'Neill deployed him so successfully both in the early parts of his Celtic career and especially in the dying stages of the team's game with Georgia last month.
Keane was also culpable at one point, initially doing well to control an awkward ball, before overhitting an ambitious pass in a promising position when a far simpler one was on.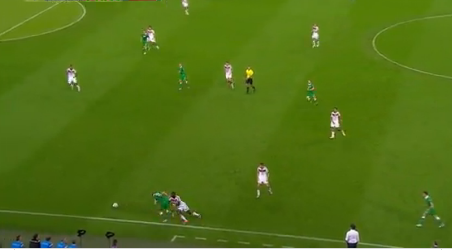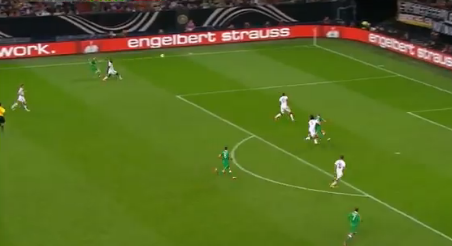 (James McClean sporadically posed a threat down the left wing)
McClean, likewise, at one point easily evaded the challenge of Rüdiger, before woefully shanking a cross that a few Irish players were waiting expectantly to get on the end of. Yet on the other hand, the Derry native redeemed himself in the second half, with a terrific, potentially goal-saving block to deny Thomas Müller from close-range.
Speaking of Müller, one of the aspects of the game that will have pleased Martin O'Neill the most was how quiet and out of sorts the 25-year-old Bayern Munich star looked at times.
He failed to illustrate the level of sharpness that has helped him accrue 10 goals plus the Golden and Silver Boot at the 2010 and 2014 World Cups respectively. Much credit must go to John O'Shea and Marc Wilson who, for the most part, restricted the normally highly influential attacker to a few speculative attempts.
Was it a German substitution – rather than an Irish one – that changed the course of the match?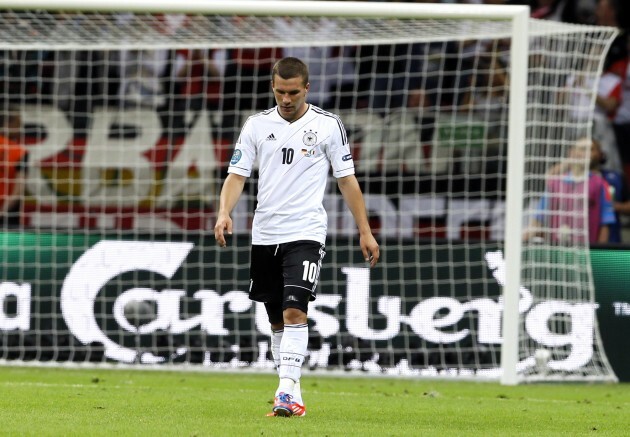 Frank Augstein Frank Augstein
(The introduction of Germany's Lukas Podolski  changed the course of the game)
In the post-match analysis, the introductions of Darron Gibson, Jeff Hendrick and particularly Wes Hoolahan were all cited as having a significant impact on the game.
However, a German change was arguably equally if not even more pivotal than any of Ireland's alterations.
Even though they were playing against a team primarily interested in not conceding, Germany manager Joachim Löw made a substantial gamble at half-time. The coach sacrificed a defensive midfielder in Ginter for an attacker — Arsenal's Lukas Podolski.
The team's new system meant that Toni Kroos — who is himself a naturally attack-minded player — was the sole sitting midfielder, while the hosts now effectively had five attackers on the pitch, in addition to the back four and Kroos.
It was a bold move from Löw and it opened the game up considerably at both ends. Even before their substitutions, Ireland were looking more menacing in the second half than they had been at any stage in the first for the simple reason that Germany had less numbers in midfield.
However, this change also benefited Löw's team. Podolski's presence undoubtedly enhanced their attack, with his intelligent movement and creativity increasing their forward threat. Martin O'Neill, realising that Germany were in danger overrunning Ireland, brought on Darron Gibson to provide greater defensive solidity, with the peripheral Robbie Keane departing the action. It meant Ireland's attack was realigned considerably, with Aiden McGeady moving to a more familiar right-wing role, and Jon Walters switching to the centre and becoming the focal point of the attack.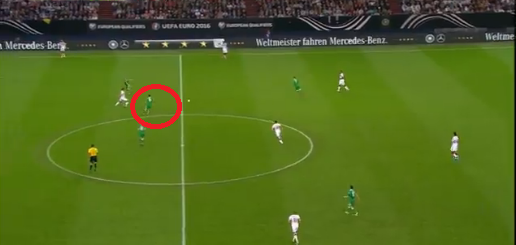 (Jeff Hendrick broke up some dangerous-looking German attacks and proved a lively presence in midfield after coming on as a substitute)
Another change early in the second half, saw the injured Glenn Whelan being replaced by Jeff Hendrick. The Derby player is essentially a faster and more physically adept version of Whelan. Though at the same time, his inexperience was palpable during one specific passage of play. The 22-year-old brilliantly intercepted a German through pass before bursting forward and excitably running the ball into his opponent, which in turn allowed the hosts to launch a menacing counter-attack.
But for the most part, Germany were controlling the play and looking increasingly dangerous following Podolski's entrance onto the pitch, and by the time of Martin O'Neill's attempt to alleviate this pressure in the form of Gibson's introduction, the momentum was already strongly with Germany. Kroos had initially served Ireland a warning on 54 minutes, when his stinging drive had to be tipped over the bar by David Forde. Yet when the Real Madrid midfielder was given another opportunity to shoot by an all-too-passive Stephen Quinn, he made no mistake with a sublime finish, as the growing pressure on the Irish goal finally told.
It was a rare occasion when Ireland could be accused of lax defending, and unsurprisingly, Quinn was hauled off shortly thereafter by an ostensibly unimpressed O'Neill.
How much difference did Wes Hoolahan actually make?
Those who have long called for the Norwich man to be a regular in the Irish team, most notably all three members of the RTÉ panel, saw Hoolahan's late introduction and Ireland's simultaneous improvement as validation for their vociferous opinions in defence of the ex-Shels midfielder.
Sceptics, meanwhile, remain to be convinced that Hoolahan is deserving of the lavish praise heaped upon him over the years, as he has become akin to a footballing martyr, or a symbol of the lost soul of Irish football, shunned in favour of 'caveman tactics' and less eye-catching players such as Glenn Whelan. Those naysayers will rightly point out that his cross for the winning goal was far from perfect and that Jeff Hendrick deserves more credit for retrieving what looked a lost cause, setting up John O'Shea's winner in the process.
https://vine.co/v/OqiTrB7lizq
Yet the headlines could easily been very different indeed. While Hoolahan probably would have scored were it not for a fantastic last-ditch block from Durm late on in the game (see clip above), thereby emphasising the greater attacking threat he offers, the 32-year-old also gave the ball away cheaply on more than one occasion. Most notably, Hoolahan's loss of possession at one point led directly to Müller playing through Götze, who forced Forde into an excellent save. Had it gone in, the RTÉ panel's tone would, of course, have been entirely different in relation to the game and especially the Norwich footballer.
https://vine.co/v/OqrAYne3EWY
(Ireland pressed Germany much more aggressively in the dying stages)
Moreover, while Hoolahan is Ireland's most creative player and best passer of the ball, and his impact may well have provided a psychological boost to the Boys in Green more than anything else, there was almost inevitably destined to be a period of the game where Ireland were on top either way and took greater risks in attack. Noticing the momentum had shifted, it was Germany and Löw who for once retreated. With 87 minutes played, he finally brought on another defensive midfielder (Sebastian Rudy) in place of an attacker (Bellarabi). Furthermore, the Germany full-backs no longer raced forward with such abandon and suddenly the home side were anxiously hoofing the ball forward and giving easy possession to Ireland. Yet these conciliatory measures ultimately failed to pay dividends, as O'Shea grabbed a dramatic late equaliser.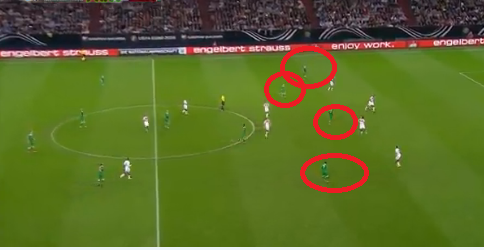 (Ireland essentially played with four forwards yesterday)
So while Hoolahan may have helped Ireland's cause, he was by no means the primary factor behind the team's comeback.
If anything, it was Gibson who epitomised Ireland's greater emphasis on positivity during one telling action. The Everton man received the ball facing his own goal, and was subsequently pressurised by a German opponent. Had the departed Glenn Whelan been in the same position, he would almost certainly have passed it backwards. But Gibson instead outfoxed his rival, turning sharply and evading his challenge, before carrying the ball forward and launching a promising attack.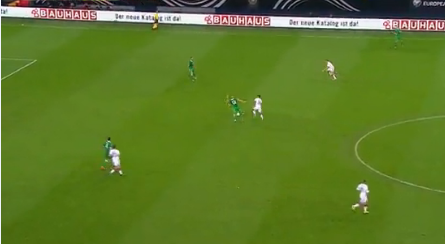 (Darron Gibson is better technically and was willing to take more risks than the departed Glenn Whelan)
Hence, finally, Ireland were playing football in the best possible sense.
Conclusion
Soccer is sometimes compared to chess and the analogy seems decidedly apt in this instance. For 70 minutes, Ireland huffed and puffed, largely succeeding in quelling the world champions' dangerous attacking line.
The introduction of Podolski in place of Ginter at half-time was key, as it enhanced the home side's intensity in attack while leaving them even more open at the back.
Both managers proceeded to make a number of changes, with Martin O'Neill ultimately gambling by playing the divisive figure of Wes Hoolahan and re-structuring his attacking line, so that both Aiden McGeady and Jonathan Walters could play in their more natural positions.
There was a sense of complacency in the air, as the home crowd at the Stadion Gelsenkirchen broke into a Mexican wave with over 10 minutes remaining. The hosts also increasingly showed elements of sloppiness, as they were content to sit back in hope of holding onto their one-goal advantage.
But John O'Shea, who was celebrating his 100th international cap, had other ideas.