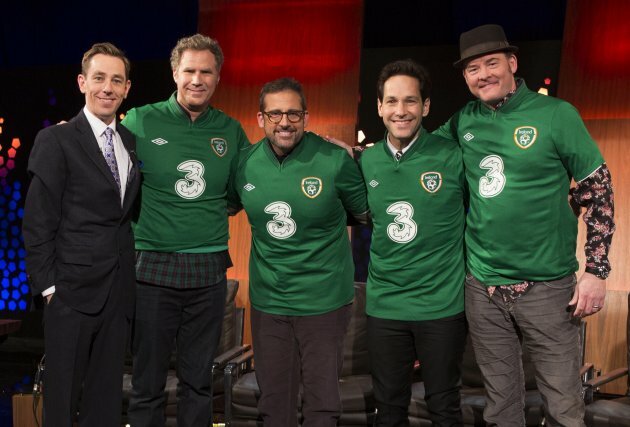 Andres Poveda
I DON'T KNOW how to put this but the cast of Anchorman 2 were in Dublin… and it was kind of a big deal.
Stars Will Ferrell, Steve Carrell, Paul Rudd and David Koechner spent some time meeting and greeting fans around the city before attending the Irish premiere in the Savoy last night.
The long-awaited sequel, which goes on general release next week, has been accompanied by a relentless publicity drive — and it's not over yet.
Ferrell and co also popped by the RTÉ studios where they pre-recorded an interview with Ryan Tubridy for Friday's Late Late Show.
And they got Ireland soccer jerseys for the occasion.
It's not the first time Ferrell has been spotted in an Irish jersey. In fact, he's got quite the collection.
The actor has spoken proudly in the past about his Irish roots but we're not sure if he would be internationally eligible under the "granny rule".
Himself and Koechner (Champ Kind) would make a pretty awesome centre-half pairing though, with Carrell (Brick Tamland) nipping away at ankles in midfield and Rudd (Brian Fantana) leading the attack.
Something for Ireland boss Martin O'Neill to think about…