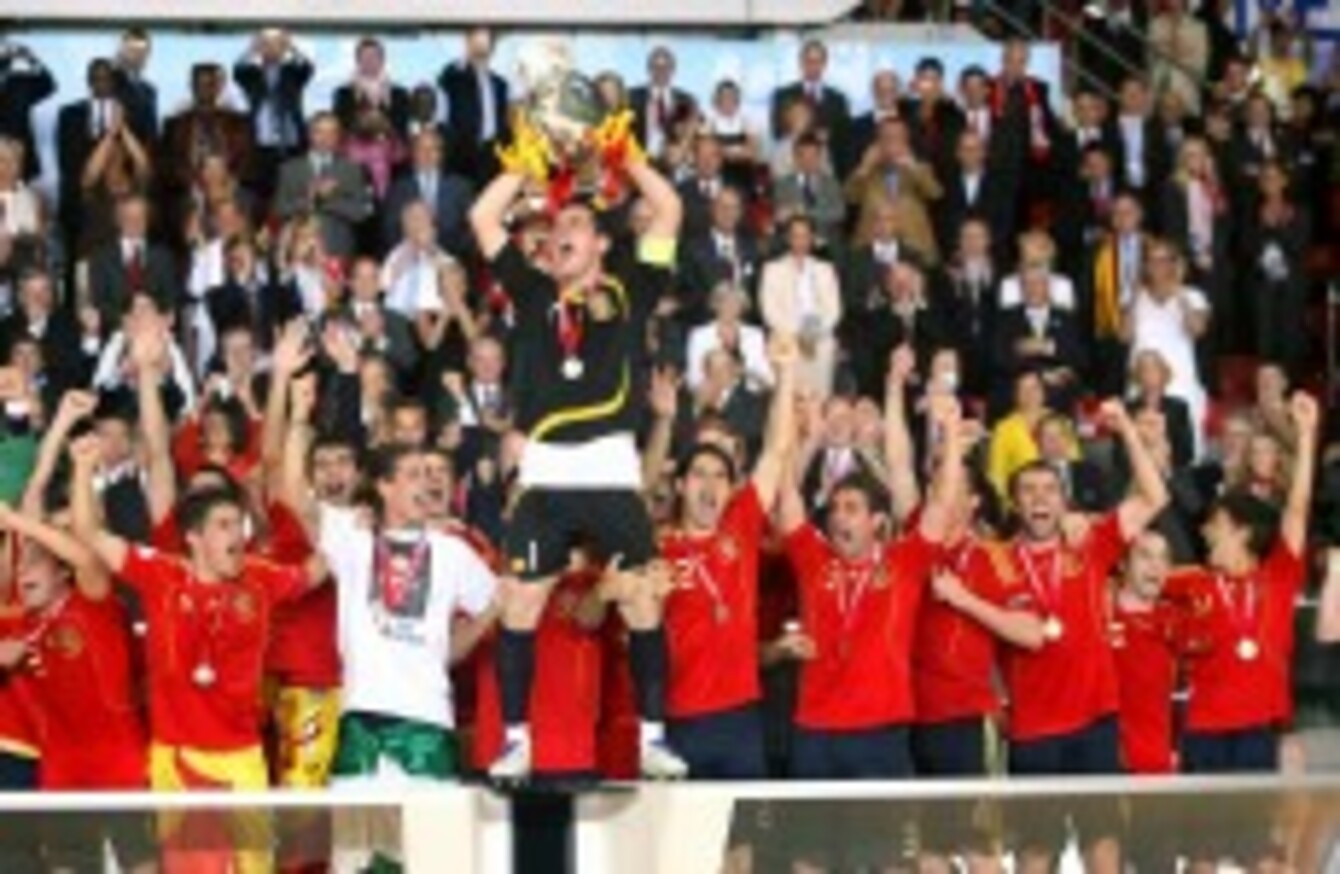 Spain's captain Iker Casillas lifts the Euro 2008 trophy.
Image: Mike Egerton/EMPICS Sport
Spain's captain Iker Casillas lifts the Euro 2008 trophy.
Image: Mike Egerton/EMPICS Sport
1. Spain 2008
Spain wouldn't truly confirm their utter superiority until the World Cup two years later but it's arguable that we saw them at their very best in the European Championships.
Certainly, they were at their freest. Because the one consequence of Spain's wondrous football in Switzerland and Austria — as well as that of many of their players with Barcelona — was that opposition teams realised the only way to actually take them on was to sit back and crowd out all space around the box.
That was the reason why so many of their games were narrow 1-0 wins in 2010. And that was mercifully missing in 2008. As Russia twice find out to their cost, if you take the game to Spain and try and play them on their terms, they will tear you to shreds. The exquisite opening 4-1 against Guus Hiddink's side the tone for the tournament and an era.
Games: 6
Record: 5 wins, one draw
Goals per game: 2
Goals conceded per game: 0.5
France's David Trezeguet scores the winning goal of the final of Euro 2000 during the 'golden goal' period of the game. Pic: Mike Egerton/EMPICS Sport
2. France 2000
In what was arguably the greatest international tournament of all time, France were undeniably its finest side. What's more, the team marked an impressive evolution from their previous World Cup. Whereas the 1998 victory was built on defence, this was driven by dynamic attacking football with Zinedine Zidane at his imperious best.
Even more admirably, they had real character to go with the quality. In both of their last two games, France came from behind. Against Portugal, the number-10 himself illustrated his nerve with a golden-goal penalty. Against Italy in the final, Sylvain Wiltord remarkably equalised against an excellent Italian defence in the 93rd minute before David Trezeguet thundered the winner high into the net. It wasn't just the ball that soared.
By then, France were into the stratosphere.
Games: 6
Record: 5 wins, one defeat
Goals per game: 2
Goals conceded per game: 1.17
3. West Germany 1972
Before Franz Beckenbauer's West Germany became the mythical villains in Dutch football's great tragedy, they captured the imagination — and all admiration — themselves with football that seemed an equal quantum leap to that played by Ajax.
After West Germany eviscerated England in the Euro 72 quarter-final, L'Equipe said it was "football from the year 2000". Certainly, it ensured this team has rightfully been acknowledged down through the ages for much more than outmuscling the Netherlands in the 1974 final. Here, they easily beat Belgium before then routing USSR in the final. Almost all of their victories were thoroughly comprehensive.
A stereotype was born. But in stunning fashion.
Games: 4
Record: 3 wins, 1 draw
Goals per game: 2
Goals conceded per game: 0.5
France Coach Michel Hidalgo (l) celebrates winning the European Championship with star player Michel Platini. Pic: Peter Robinson/EMPICS
4. France 1984
From a certain perspective, France were the European Championship's one perfect team of champions. Thanks to Michel Platini's famous hat-trick against Yugoslavia as well as the beautiful fluency of that 'magic square' midfield, they won every single game in magnificent fashion.
In other ways, however, it was their flaws that made them so fascinating. This victory at home, after all, only came after the harrowing semi-final defeat to West Germany in the 1982 World Cup and still required games of similar epic dimensions: not least the incredible last-four game against Portugal.
Games: 5
Record: 5 wins
Goals per game: 2.8
Goals conceded per game: 0.8
5. Netherlands 1988
An iconic team rather than a truly exceptional one. Transcendent moments like the revenge "inverse-1974" victory over West Germany and — above all — Marco Van Basten's volley covered the fact that was a team with a fair few flaws in its make-up. Indeed, it was only the forward's hat-trick that rescued them against England after Glenn Hoddle and Gary Lineker had each hit the frame of the goal and they were definitely second best to USSR in the opening group game. A semi-final place then quite literally came down to the rub of the green against Ireland as Wim Kieft's header viciously span in past Packie Bonner. The semi-final against West Germany gave them a new focus and confidence, however, ensuring they emphatically bested the Soviets when it really counted.
Games: 5
What are they
really like?
Rare insights on sport's biggest names from the writers who know them best. Listen to Behind the Lines podcast.
Become a Member
Record: 4 wins, 1 defeat
Goals per game: 1.8
Goals conceded per game: 0.6
West Germany's Horst Hrubesch lifts the European Championship trophy. Peter Robinson/EMPICS Sport
6. West Germany 1980
Not exactly a fashionable team but that also means it's too easy to forget that the West Germans were unbeaten for a year in the build-up to Euro 80 and then far and away the best team at the competition themselves. Horst Hrubesch's 88th-minute winner against Belgium in the final emphasised so many of the team's finest qualities: force, ferocity and sheer will. Patrick Battiston and France would feel the brunt of it two years later before Italy denied the West Germans a rare double in the 1982 World Cup: but that alone illustrates this team is deserving of more respect.
Games: 4
Record: 3 wins, 1 draw
Goals per game: 1.5
Goals conceded per game: 0.75
7. Italy 1968
The culmination of Catenaccio. So committed was coach Ferruccio Valcareggi to his cautious system that he refused to fit his two idolised playmakers – Sandro Mazzola and Gianni Rivera – into the same team, eventually using one per half in the infamous Staffetta policy.
Such order, however, brought Italy the Euro 68 title and to the 1970 World Cup final. They may have required a coin toss to eliminate USSR in the semi-finals. But that was oddly fitting since this team maximised minimum opportunity.
Games: 5
Record: 2 wins, 2 draws, 1 defeat
Goals per game: 1.4
Goals conceded per game: 0.8