JOSE ALDO'S COACH, Andre Pederneiras, says he wants Aldo and Conor McGregor to take 36 drug tests each before their long-awaited UFC featherweight title bout.
Pederneiras also claimed that he's willing to cover the costs of the testing himself, in order to ensure that both fighters are clean for a bout which is being rumoured for a 5 December billing at AT&T Stadium in Arlington, Texas.
The head coach at the renowned Nova Uniao gym in Rio de Janeiro, Pederneiras penned a fairly patriotic open letter to Brazilian media outlet Combate, in which he was responding to recent comments by UFC heavyweight Brendan Schaub.
According to Schaub, Brazilian fighters "ain't doing too well" since the UFC introduced stricter drug-testing procedures on 1 July.
Pederneiras said: "I found Brendan Schaub's accusations to be very serious. Before talking a bunch of crap, I think Mr. Schaub should get informed about the facts.
"When the new doping policy was announced to me by UFC matchmaker Sean Shelby, I asked him if the UFC could do it for Aldo's fight (at UFC 189), with daily tests on Aldo and McGregor. I made this same request to Mr. Jeff Novitzky, responsible for UFC's anti-doping, that fighters were tested at least three times a week. And when I met Dana White the last time, I made this same request. So I ask the UFC, Dana and [UFC CEO] Lorenzo Fertitta again: test Aldo and McGregor at least three times a week, for three months before the fight, and I will pay for the costs, as I promised them every time I asked them to do this.
"Accusing my fighters of doing steroids is, at least, jealousy for their results — results you never saw and will never see in your career, Mr. Schaub. Don't try to throw dirt in clean person's careers, people that worked hard throughout their entire lives. We have no fault for your failure as a fighter and athlete. I ask you to get back to your insignificance in this sport. Clean your mouth before mentioning a Brazilian or an athlete from my team, because the name of my country and my fighters can't be said by mediocre people like you.
"I find offensive to talk about the Brazilian and South American people since doping is there for anyone, not only for Brazilians. Your quotes make it look like no athlete from another country was ever caught, only Brazilians. And if some Brazilians were caught, they didn't learn how to do it here, that's for sure.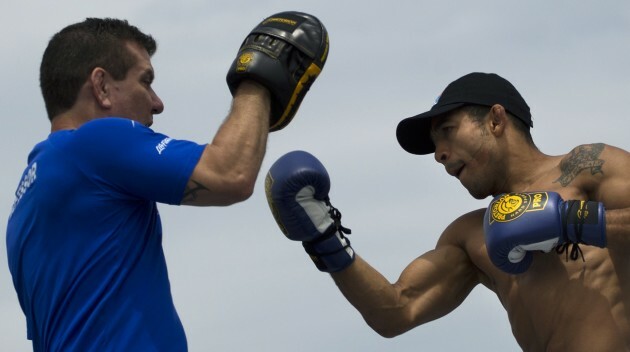 AP / Press Association Images Andre Pederneiras and Jose Aldo. AP / Press Association Images / Press Association Images
"Accusing other fighters with no base may sound prejudice for some. To me, it's just jealousy of Brazilians. If we think about it, it's really unbelievable what Brazilians can do: we have no training since kids, we don't have adequate food in the infant stage which, as we all know, is the most important, we don't have adequate supplements because we can't buy it since it's too expensive when it gets to Brazil, and much less investors who believe in the sport, and we still go to the biggest MMA promotion in the world and fight with athletes from any other country, and we win most of the time.
"We're still considered a third world country, and instead of talking trash, you have to respect us, because if you make money today in this sport, you have to thank my country and Brazilian athletes who created this sport.
Exclusive Six
Nations Analysis
Get Murray Kinsella's exclusive analysis of Ireland's Six Nations campaign this spring
Become a Member
"After this frivolous and baseless accusation, I again ask the UFC, Dana White, and Lorenzo Fertitta to drug test Aldo and McGregor for three months, at least three times a week, blood and urine. I will pay all the extra costs that it might bring. After all of this, I don't see how it won't happen for this fight.
"My name is Andre Pederneiras, I'm proudly Brazilian, and the only thing I ask every MMA athlete is to respect my country because if this sport exists today, it's because Brazilians created it."
H/T: MMAFighting.com