YOU'RE WRONG IF you think everything was better when you were younger. If you ever tried to download a song on Napster using dial-up internet or had to use the bathroom in the old Croke Park, you'll know exactly what I mean.
Our mind plays rose-tinted tricks on us all the time. Just think of Ireland's penalty shootout victory over Romania at Italia 90. There are those who believe it's the greatest moment in Irish sporting history, but they clearly don't remember the mindbogglingly boring 120 minutes that came before the nation held its breath.
Wrestling too prompts a lot of 'in my day' analysis. Sure, Hulk Hogan versus Macho Man Randy Savage at Wrestlemania V might seem like one of the defining matches of your childhood, but watch it back through a 21st century prism and you'll realise that the build-up was a lot better than what took place in the squared circle.
Sadly, the same can be said for Hogan's match with Andre The Giant at Wrestlemania III but, as the new Bill Simmons/HBO documentary outlines, there was a very good reason for that. Andre was in crippling pain. So much so the match almost didn't go ahead.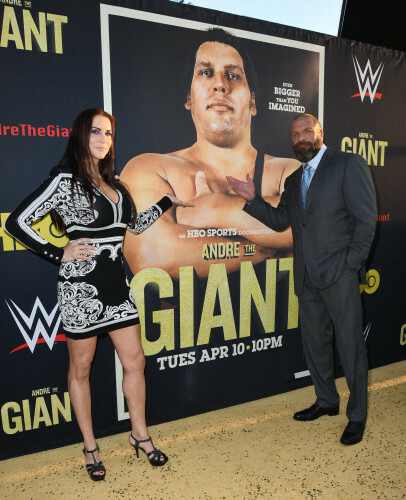 Birdie Thompson Birdie Thompson
But it says so much about the mythology that built up around both Hogan and Andre The Giant, around Macho Man and the Ultimate Warrior, that we remember these matches as such defining events.
That's great for the WWE when it comes to making documentaries on that era, but myth-building in professional wrestling likely ended with the advent of reality TV and social media.
Those are the views of Josh Nason, editor and podcast host with Dave Meltzer and Bryan Alvarez's Wrestling Observer.
"I think by far the biggest change is social media," he told The42 this week.
It's not just that the curtain has been pulled back, but it has been set on fire.
"If you look at that era, there's so much we didn't know about the world, never mind wrestling. Everyone stayed in their lane when it came to so many areas of life. I was just talking to a friend about this recently and right now, in 2018, any person can learn anything they want about any topic and they don't have to look it up in an encyclopedia.
"If they want to learn about best practises for open heart surgery, they can go online and find a YouTube video. So when it comes to finding out the background of a professional wrestler, or manager or even an organisation, it's not that hard to do.
"But back then, in the 1980s, and even to some extent the 1990s, we just trusted that what we saw was real — personality and back-story wise. It wasn't until years later that maybe we thought some of those things weren't so real.
"So I think it's quite hard to build myths when part of the allure is that you can't find the truth about someone easily."
That's partly down to the WWE and other organisations, and it's partly down to athletes looking at teeing-up a career post-wrestling.
"You look in the modern era at a guy like Braun Strowman," says Nason.
"He is a huge dude who plays a rough character on TV and who is supposed to be intimidating. Yet, when you look at his social media, it completely changes what you think about his personality. There's no real attempt to hide who the person is in the background because everyone is trying to share every single part of what they're doing.
"There's just no mystery there."
Smithee Alan / YouTube
Of course, movie appearances are nothing new for professional wrestlers and both Andre The Giant and Hulk Hogan had high-profile Hollywood cameos. The difference for Nason is that those appearances are memorable because they were so rare, whereas now you have Dwayne 'The Rock' Johnson and John Cena battling it out on the big screen, albeit in very different types of movies.
"When you look at Hogan being in Rocky III, those opportunities were really rare back then, it wasn't like it was happening all the time. I think that's why we remember their appearances so fondly. In fact, it was almost like producers were acknowledging the world that we love existed while showing that these characters meant something in the pop culture landscape, outside the wrestling bubble.
"Andre was so well-known in pop culture, both then and now.
"Take The Princess Bride. My wife, for example, is not a wrestling fan by any stretch of the imagination. She doesn't understand it, never has. But when the documentary came out I asked her if she knew who Andre The Giant was. She said no, but then I asked her about The Princess Bride and she had seen that and realised the big giant guy was Andre.
"So people knew him without even realising they knew him."
SIPA USA / PA Images John Cena is as known for his life outside the ring, as inside it. SIPA USA / PA Images / PA Images
One of the most revealing parts of the Andre documentary is the fact he had a daughter. Their relationship couldn't be described as close, but it served as a reminder that even though we knew these athletes were just as human as the current stars of wrestling, the simple truth is we just didn't care.
"Look at someone like John Cena. In the past week, he's had this whole thing where he split up with his fiancee Nikki Bella. There was a joint statement released to People magazine. When we were growing up we just watched the wrestlers in and around the ring and we'd no idea that marriage existed in the world of professional wrestling.
"There were some on-screen love interests and things like that but we'd no interest in their personal lives or relationships beyond Macho Man and Miss Elizabeth. We didn't care if Andre had a daughter or a partner and it was almost like they were asexual in a lot of ways.
"Now, the fact the WWE follow some of these wrestlers 24 hours a day and want you to be involved in every single part of their lives, it's so much different. I guess we just didn't care as much."
The WWE is also acutely aware of the legacy of the Mount Rushmore of their sport and the mythology that has built up around the superstars from the mid-eighties in particular. With that in mind, was Nason surprised they allowed outsiders to make the Andre documentary?
"I think they were impressed by the pitch from Jason Heir and Bill Simmons," he says.
"If you listen to or read some of the interviews Jason has done with our site, both with myself and Dave Meltzer, when he talks about the pitch meeting, there's still a lot of myth-building in a lot of ways and they want to protect Andre's image.
"But I think they were very comfortable with the documentary without having control over it. It didn't come across as a co-opted production. For the most part it was a very entertaining and real look at him and his life.
"I think they wanted to do it because it was a story that deserved to be told. Obviously there are some other ones there that could be told too but, with every passing year, it becomes tougher because guys pass away.
"But these guys were definitely the biggest stars of their era and I guess, that's the definition of superstar isn't it? Now we call every wrestler a superstar but then it was only the ones who transcended the sport and, when you say their name today, people can identify it even if it's not because of wrestling.
"That was really at its peak in the 1980s when it was what the WWF was all about; guys like Hogan and Macho Man. When Randy Savage died, that was such a loss to pop culture as much as wrestling because he was still in the public consciousness after playing the wrestler in the first Spiderman movie."
Exclusive Six
Nations Analysis
Get Murray Kinsella's exclusive analysis of Ireland's Six Nations campaign this spring
Become a Member
Birdie Thompson Hogan at the recent premiere. Birdie Thompson
Another reason mythology built up around certain wrestlers is because, week to week, the biggest names in the WWE didn't face off against each other, instead taking on generic jobbers in what were called squash matches.
The superstar always won and would usually only face another big name at one of the big four pay-per-view events. This allowed the organisation to invest a huge amount of time into character building and personality development, something that can't really happen today given the size of the WWE roster.
With that in mind, does Nason think wrestling could get away with a match like the one Hogan and Andre put on at Wrestlemania III in 2018. It did, after all, contain a three-minute long bear hug because Andre's body was breaking down so badly.
"I think the style has completely changed," he says.
"Obviously big men fly about much more now. The audience has changed too in terms of what they expect. If you watch that match now, it's much slower-paced. But, back then we hadn't really had our first real ladder match and the stunts were all different, it was all personality based.
"I think just the fact these two guys were going head-to-head was the draw to the bout. If it was to take place now, I think the crowd would boo them out of the building. But if you got the right match-up, with two huge personalities, I wonder if you could create something big?"
The match marked a heel turn for Andre, one — as the documentary outlines — he wasn't all that enamoured with after years of being a crowd favourite. It also helped cement Hulk Hogan's place as the face of wrestling.
Could he have achieved that without Andre's help?
"It would be interesting to see. Obviously, Hogan was a huge star at that point. Physically, if Andre couldn't have made the match, it was 'Mr Wonderful' Paul Orndorff who would have taken his place. It wouldn't have seemed as big for Hogan whose career, in large part, was made because he beat these larger than life characters like Andre when it seemed impossible."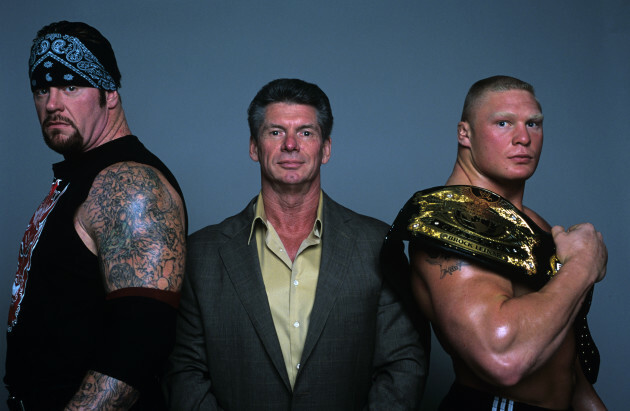 EMPICS Sport Brock Lesnar rarely speaks publicly. EMPICS Sport
One thing is for certain, without Wrestlemania III, there's no Andre The Giant documentary. And even given all of the access there is to today's stars of the WWE, Nason believes there is one amongst the current crop who could feature in a similar documentary 30 years after his signature match.
"Andre was that unbeatable guy and the closest thing to that now is Brock Lesnar in the way they book him. Obviously, it's not quite the same but he's the closest I can think of because there's still so much about him we don't know.
"He doesn't do public appearances, he doesn't do social media or interviews. He's really done a good job with the 'less is more' approach. He's really interesting because of that, because we only know little bits and pieces about his personal life.
"I think he's the closest thing we have a to a superstar with an Andre-style myth right now just because he doesn't allow people access to his life beyond the ring. Maybe that will change some day, but I'm guessing not."
The42 is on Instagram! Tap the button below on your phone to follow us!