IT HAD SOMEHOW come to this. A Thursday evening spent frantically rushing around Dundrum Shopping Centre, visiting every second shop in the vain hope that they might sell World Cup stickers.
I was tired, I was dripping with rainwater and I was ultimately suffering quite badly, largely on account of sleep-deprived nights when all I could see or feel was Andrea Pirlo's nihilistic expression on a sticker piercing my soul in a haunting fashion.
I would open packet after packet with Pirlo's face promptly reappearing continuously, as if it were mocking me, with his expression each time seeming slightly more sardonic than the last.
I had fooled myself into believing this was a mere journalistic endeavour. "It'll be fun," my editor claimed. Instead, it had rapidly become a full-blown obsession.
Slowly, I had accumulated countless stickers. At first, the task seemed a hopeless cause. How was it possible for anyone to collect 639 stickers in the space of a month?
However, my enthusiasm quickly became boundless. I was hungrier than Javier Mascherano in a World Cup semi-final. And soon, I acquired genuine (though some might say foolhardy) hopes of actually completing the album.
Yet the clock was ticking. The World Cup was nearing its end. This was what was known, in footballing parlance, as 'squeaky bum time'. Andrea Pirlo had exited the World Cup to take on a full-time position in frustrating the bejaysus out of me.
But if heaven was a vision of constant spaceless pages and a flurry of footballers' faces, hell — or at least purgatory — was right here in Dundrum Shopping Centre.
I was, of course, made aware of the option of sending a letter to Panini requesting the remaining stickers needed, yet this alternative seemed cowardly and almost immoral to me. Although not that I wasn't tempted by it on occasion admittedly, particularly as shops suddenly seemed to stop selling these stickers en masse.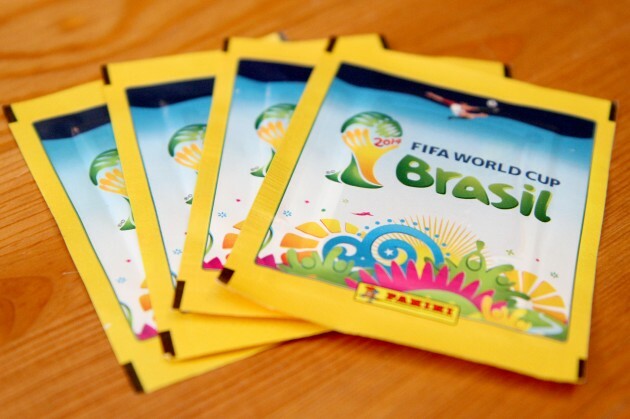 PA Images Contributor / Press Association Images PA Images Contributor / Press Association Images / Press Association Images
(Sticker collecting — a hobby for some, an obsession for others)
Moreover, somewhat bizarrely, the one newsagents that had proved highly reliable at providing copious stickers had in fact, without warning, gone out of business, as if fate itself was construing against me.
Finally though, after almost two hopeless, painstaking, patience-crushing hours of searching through this disconcertingly huge complex thanklessly, I eventually found a shopkeeper who uttered those beautiful, immortal words – "How many do you want?" "I'll take 30 packets please," I responded shamelessly, disgracefully beyond embarrassment at this stage, while the shopkeeper stared back at me as if I had just uttered the kind of conspiracy theories that would make an Elvis believer baulk.
I subsequently rushed home with the speed of a young Lionel Messi, before at last opening each of the 30 packets with the eloquence and glorious naivety of James Rodriguez unshackled.
Exclusive Six
Nations Analysis
Get Murray Kinsella's exclusive analysis of Ireland's Six Nations campaign this spring
Become a Member
Nevertheless, when I opened the first packet, who did I see staring back me? Pirlo, naturally!  I thus felt as he must have after the 2005 Champions League final.
It was then I knew that destiny would prevent me from completing the album. This was what was known, in footballing parlance, as 'one of those days'.
Like Brazil at the World Cup, I had been filled with hope amid the pursuit of realising a longstanding dream. Yet as with the Germany semi-final, I was brought back down to Earth upon realising that I had 201 stickers left to collect with just a day before the final took place.
Cold, hard reality had set in. My 251 remaining swaps, approximately half of which seemed to be Pirlos, were about as much consolation as a spot in the third-place play-off.
Despite boasting the work-rate of the Dutch and the passion of the Argentinians, I lacked the financial muscle and long-term planning of the Germans, not to mention their ruthless finishing ability and impeccable organisational skills.
And as I stared once again, in a more rueful manner than ever, at Andrea Pirlo's inescapable poker face, I could've sworn he cracked a cheeky smile at me momentarily.