THERE IS A difference between recovering from a standing start and an abrupt stop but  Andrew Omobamidele has shown he can do both. 
The Norwich defender has finally recovered from a long-term back injury and now says he reckons he has the recovery pace to match Kylian Mbappe if he is pitched into action against France in next Monday night's Euro 2024 qualifier. 
"Everyone agrees that he is a good player", Omobamidele says of Mbappe. "He is quick, and I'd like to think I'm quick as well, so I'd love to do a foot race or something like that, see how quick I am!"
Omobamidele says he has been clocked at 10.4 metres per second – which is very quick – but that doesn't quite hit Mbappe's top speed recorded as a faintly ridiculous 10.6 metres per second.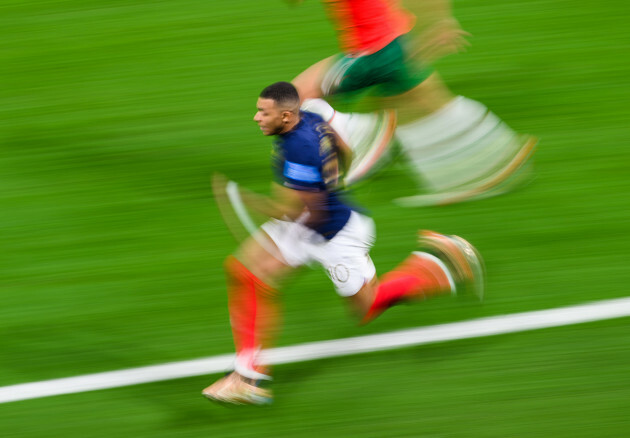 DPA / PA Images Kylian Mbappe at the World Cup. DPA / PA Images / PA Images
But that Omobamidele is even in contention to lose a footrace against Mbappe this week is a victory of its own kind. Having dashed out of the blocks in the early part of his career -  playing in the Premier League and for Ireland while still a teenager – his meteoric progress was stalled by a stress fracture to his back.
The injury took him out of action for almost seven months and was hugely restrictive: he couldn't do gym work or any fitness training and was instead forced to spend two months in a back brace, unable to do anything bar go to the training ground for a massage. That Omobamidele has recovered from it all speaks to his mental strength, and at just 20 years of age he can now add flinty maturity to the arsenal of his turbocharged career. 
"It was tough but happily that's behind me, I've no problems with my back", he says. 
"That was the first time in my whole career that I was out for more than a month. Six months is a long time. I had to ease myself back in and I was a bit anxious because you do everything with your back, but I got a lot of confidence from those first few weeks when I got no pain. At the time, the physios gave me a plan to get back and I was back on time.
"There was a lot of thinking. The worst part for me was not telling me 'You're out for six months'. It was more like, 'we'll keep scanning every three weeks to see how it's progressing.' That was the gruelling part for me, sitting there not knowing when I'd be back, wondering if was a month, two or three. I could never plan anything, like being back for a game or an international camp." 
Anxiety over any lingering effects of the injury dissipated within 45 minutes of his return. 
"We played King's Lynn away in a friendly. I was starting that game and I was proper nervous. I was going over it in my head 'What's going to happen with my back?' and stuff like that. I think it was just a couple of passes and stuff you take for granted when you're playing football, stepping up with the line, being with your back four. After I just kind of forgot about it.
"I remember coming in with the boys at half-time and they were saying 'How's your back?' and I was like 'It's gone, I don't feel it'. That was probably the moment." 
Omobamidele is happily back for this international camp, with Wednesday's friendly against Latvia a tune-up for the serious business against France on Monday. Stephen Kenny and his coaching staff rate Omobamidele very highly, and so they turned to him away to Portugal in 2021 when Dara O'Shea was forced off through injury. He hasn't played for Ireland since the end of that year, however. 
He is fully fit now, though his minutes at Norwich have been managed of late to protect his groin muscles, which have been showing slight wear and tear amid the relentless schedule in the Championship. 
Ireland play with three centre backs but it is arguably the toughest part of the side to break into: O'Shea, Nathan Collins, and John Egan cemented themselves as the favoured trio during Omobamidele's injury absence.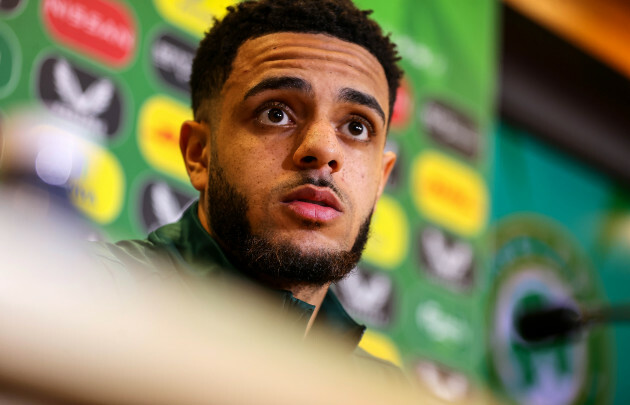 Ryan Byrne / INPHO Andrew Omobamidele. Ryan Byrne / INPHO / INPHO
"It's great for us to have so many good players in each position", he says. "That's only going to get the best out of us. For me at centre-back, we have so many good young players in this position, so to have boys like Nathan, Dara O'Shea, it's only going to make you better in training and wanting to almost fight each other to get a starting place. Whoever does get it is going to perform." 
The lines at the Aviva Stadium have been repainted and the goalposts changed since Saturday evening, as the football team carry the nigh-impossible task of succeeding the exploits of Ireland's brilliant rugby team. There is no glory in the friendly against Latvia, but it is a remote though no less real possibility against France. 
Omobamidele says he is no rugby fan, but Ireland's Grand Slam success did provide some inspiration. 
"We obviously seen the celebrations and stuff like that, it's great to see Ireland in any sport doing well. When you see the boys like that in the rugby when they won, it gives you that 'Oh we want to do that as well' feeling, do you know what I mean? These two games coming up: I know it's a friendly with Latvia, but we want to go and beat Latvia, get confidence from Latvia and bring that into the French game." 
This article was edited to correct an error regarding Kylian Mbappe's top speed