THE SENSE OF calm emanating from Andy Farrell yesterday was impossible to ignore.
The questions came thick and fast but he didn't miss a beat. Even when it was put to him that there's so much for Ireland to lose with a Grand Slam on the line tomorrow in Dublin, he had a perfect response.
"No there's not, it's a game. It's a game of rugby."
Farrell wants his team to attack this game positively, to go out and be themselves. This is his mantra. He knows that there's more than enough motivation without too much being said. The Grand Slam shot on home soil, Johnny Sexton's last Six Nations game, Josh van der Flier's 50th cap, the list goes on.
After a lifetime in professional sport, Farrell understands that the only real danger is for Ireland to get too amped up by the occasion. He appreciates that his players need a sense of calm and so he is clearly doing his best to exude it.
"To me, desperation is an illness," said Farrell. "You want to stay away from that.
"You can't be accurate if you're desperate. Being calm enough to be yourself, being controlled enough to be accurate when it matters is a temperament that we're all chasing."
When it comes to the Irish mindset, Farrell feels there was a perfect example back in 2007 at Croke Park when rugby was played there for the first time.
Farrell was part of the England team that was dismantled that day as Girvan Dempsey, David Wallace, Shane Horgan, and Isaac Boss scored tries in a 43-13 win for Ireland in front of an emotional, raucous crowd.
Farrell has come back to that game several times during his coaching career, using it as an example of a team who got it right.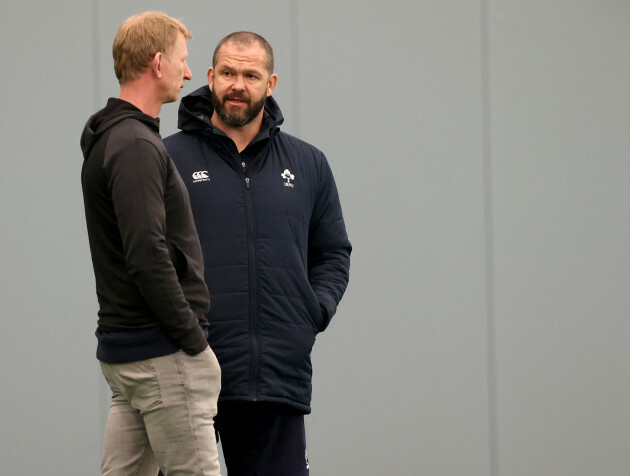 James Crombie / INPHO Farrell with Leinster boss Leo Cullen at Ireland training this week. James Crombie / INPHO / INPHO
"I've used it time and time again in regards to performing when it matters because the Irish team at that time had to win because of the occasion in Croke Park and all that," said Farrell.
"How they attacked that game and pushed themselves from the first minute… Thinking back, on the first kick-off, I think they played wide from their own 22 and cleared it 70 or 80 metres, rather than just being conservative.
"They were playing to space and how they went after that game, getting the balance of the right emotion but at the same time, playing the game that was in front of them was fantastic in regards to dealing with the crowd and occasion."
While he wants his players to be calm and clear-headed tomorrow, Farrell hopes the Irish crowd in the Aviva Stadium create similar noise to that occasion in Croke Park back in 2007. 
There's space for 30,000 fewer people at the Aviva, but Farrell reckons it will be as loud. He's also hoping that Irish people watching on TV at home and from around the world are inspired by what they see.
"We genuinely do care about the game in Ireland," said Farrell. "What is it, probably the fourth biggest sport?
"We want to grow the game, we want to inspire a generation of people to enjoy the rugby and we want people to be proud of what we're doing. We get a buzz from that connection and we feel it massively.
"We know what type of weekend it is for everyone involved but the people who are coming to the game and the millions all around the world, we'll understand our responsibility to make sure that we hopefully do them proud."
Farrell is on the brink of what would be a remarkable achievement in his first head coaching role. A Grand Slam would be up there with what he achieved in his legendary career as a rugby league player.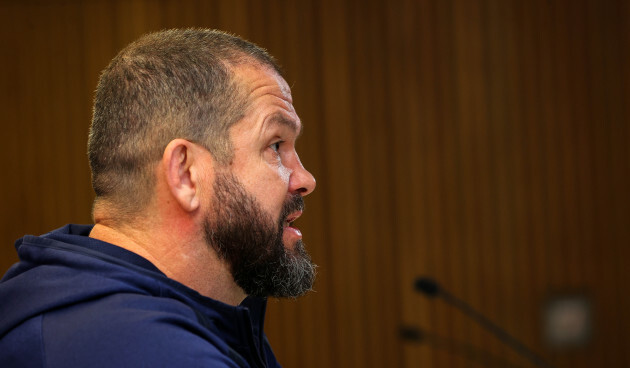 Ryan Byrne / INPHO Andy Farrell speaks to the media. Ryan Byrne / INPHO / INPHO
Seven years on from making the move to Ireland to become Joe Schmidt's defence coach, Farrell is grateful that he took up the offer.
"I'm very lucky that it wasn't just me that was committed," he said.
"It was my wife and kids as well. Because whether you think it's a close flight or connected or whatever to the UK, it is still living abroad. It is a big move, you know, kids out of school, etc.
"It was a commitment from the family. And the more I look back on that I'm forever grateful for them showing me that commitment, you know, because it was just because of me, wasn't it?
"You know, we had to up sticks, kids went away from the friends, etc., and that type of commitment is something that I never forget."
The only moment that Farrell seemed a little stuck for an answer yesterday was when he was asked about all the focus on him in recent weeks.
How does it all sit with him?
"I don't know, what's been said?" replied Farrell, to be told that it's all commenting on what a great job he's doing with Ireland.
Farrell grinned briefly.
"Oh well, let's hope they're talking in the same manner after the weekend."
He doesn't want it to be about him but there's no doubt Farrell is at the heart of it all.