THE MESSAGE FROM Andy Farrell and Johnny Sexton post-match was clear.
They want to celebrate this Grand Slam as it should be celebrated. So we can rest assured that Ireland will paint the town red over the next 48 hours. This clean sweep of the Six Nations has been hard-earned and huge achievements like this don't come around often, so they will bask in the warm glow of each other's company now.
But both men underlined more than once that this is just another point along the way, rather than the end of the journey.
The destination they have in mind is the World Cup final in Paris on 28 October.
Ireland have earned their status as the number one team in the world. Home advantage means France will be many people's World Cup favourites, while New Zealand and South Africa will be fancied too.
It's not helpful that they're all on Ireland's side of the draw, with the Boks in their pool, but this Irish team has serious ambitions and the quality to match.
"I've just been saying to Johnny that there is bigger fish to fry than this," said Farrell after his side's 29-16 win over England sealed the Grand Slam.
"So, we are on to the World Cup. Now, we are just going to enjoy the next 48 hours 100%.
"We're a good side that has nowhere near reached its potential. I've been saying over the last couple of weeks that's what we have been striving to do. We'll get a few people back [from injury] to compete, and train hard.
"Everyone is going to get better in the summer when we get to spend more time together. We expect our side when we get to the first game in the World Cup to be a lot better than what we are now and that's the reality."
Ireland captain Sexton paid tribute to the job Farrell has done in building this Irish machine, leading them to a series success in New Zealand and a Triple Crown last year, and now a Grand Slam in 2023.
"Since day one, he has put his own stamp on it," said Sexton.
"I think the best thing about him is he hasn't changed one bit from going from assistant to head coach, he's still very popular even with the lads he doesn't pick!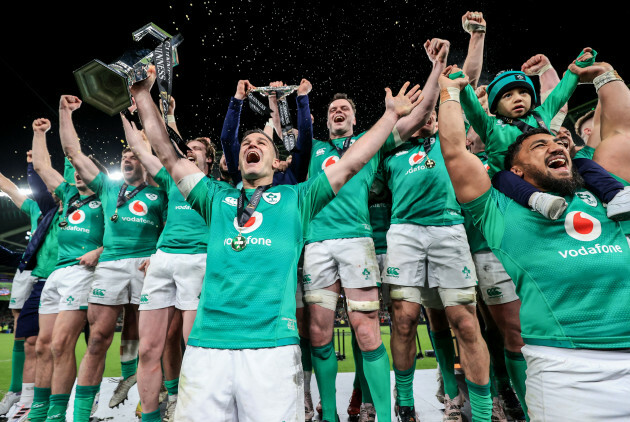 Dan Sheridan / INPHO Sexton lifts the Six Nations trophy. Dan Sheridan / INPHO / INPHO
"He's been able to, how do I put it, bounce back after I was taken off in France [and shook his head while leaving the pitch in Paris in 2020]. That was a low point, a real low point for me. And this is a high point but I hope it's not the highest point.
"He's a very special coach. When you have him, Paul O'Connell, Simon Easterby, Mike Catt, and John Fogarty motivating you during the week, it's a pretty special dressing room to be part of. All credit to him really for putting it together.
"Roll on the World Cup, that's what we need to focus on now."
As for the feelings tonight, Ireland boss Farrell found it hard to put into words.
"I don't actually know," said Farrell. "I don't know whether to laugh or cry, a bit sad. I don't know.
"It's a weird feeling at this moment in time. I'm just elated for the boys, just to get it over the line. Because it meant so much for them, especially being here, at home. Only the fourth one in Irish history, you know? And the first one at home [in Dublin].
"It's a special occasion, especially with the weekend that's been, outside our hotel, you know what I mean? So we felt a duty that we couldn't let people down. I would say there is a sense of relief to get the job done. But immensely proud.
"Grand Slams are not just won on nights like this. They're won not just over the eight-year period but all the time that we've been together, we've been building towards this. I'm just glad we got the job done."