THE RUGBY WORLD is a small place so perhaps it's not all that remarkable that Andy Farrell will go up against his homeland for his first shot at a Grand Slam as a head coach.
The Wigan native has driven Ireland to the cusp of history, guiding their growth as a tactical and mental force with impressive poise and foresight. Farrell has helped to make this Irish squad a winning machine.
He did so much as a player, especially in rugby league, but a Slam in his first head coaching role would be right up there as his greatest achievement. All Ireland have left to do is beat England in Dublin on Saturday. There are injury issues to deal with, but Farrell's men have handled lots of those with composure in recent times. It's pretty much their calling card to positively handle adversity. We saw it again on Sunday against Scotland. 
Farrell's calm-headedness is a result of his lifetime at the pinnacle of professional sport. There's not much he hasn't seen or done or been witness to. As well as all the successes, being part of failures feeds into the head coach he is now, including his last involvement with England. 
It was unfair that Stuart Lancaster and Farrell and co. were judged solely on a World Cup but there's no doubt England's inability to get out of their group stage at their home tournament in 2015 was extremely disappointing. Farrell and Lancaster are both on the record as having learned huge amounts from that experience.
They got their careers back up and running in Ireland, while former England assistants Mike Catt and Graham Rowntree have ended up here too via stints elsewhere. It's hard not to think that England's loss has been Ireland's gain.
Farrell arrived in 2016 as Joe Schmidt's defence coach. Farrell's expertise in that area was obviously key but he was also the right person to add to an environment that had lost Paul O'Connell to retirement. Farrell was the vocal, magnetic, inspirational leader that Schmidt needed in the group. As it transpired, Farrell and O'Connell are now a brilliant double act in the Ireland coaching staff.
Billy Stickland / INPHO Farrell took over after the 2019 World Cup. Billy Stickland / INPHO / INPHO
As Ireland's defence coach, Farrell was part of many big days. The 2018 Grand Slam, wins over the All Blacks, the Springboks, and the Wallabies. He was also involved in the darker days like those at the 2019 World Cup. All along, Farrell knew he was in line to succeed Schmidt whenever he chose to leave Ireland. Farrell was lured to Irish shores partly by the prospect of being the head coach one day.
As the hitherto successful Schmidt era crumbled in 2019, Farrell learned a huge amount. He was a loyal number two for Schmidt but as we know now, Farrell sees things differently when it comes to playing style and squad culture. He learned lots of good things from Schmidt too and though it ended badly, that time in Irish rugby left Farrell with lots of brilliant foundations to build on. Schmidt's record speaks for itself.
But the Farrell ship has been different from day one. The more relaxed, inclusive vibes have been obvious from the start. The shift in tactical approach involved some tough days in the first 18 months as players shed old habits and slowly became comfortable with a very different style that pushed their technical and decision-making skills.
While it was an awkward work in progress, Farrell never had as bad a day as, say, England boss Steve Borthwick had at Twickenham last weekend. Ireland's tough times were never so grim. The payoff for Farrell and co. in sticking to the task has been immense. Ireland's slick attack is now the envy of the world.
The squad culture, meanwhile, has been vital. Senior players like Johnny Sexton and Peter O'Mahony say it's the most enjoyable camp they've ever been part of. Previously inexperienced or uncapped players have emerged as forceful, confident leaders. New additions like Mack Hansen have exceeded all expectations. Farrell has consistently told them all just to be themselves.
As we wrote last week, Farrell has added leadership expertise around him. He brought in O'Connell to deliver much-needed detail to Ireland's coaching. He enlisted the skills of team manager Mick Kearney, so calming a presence. And crucially, he convinced the highly-regarded Gary Keegan to join full-time and drive the squad's mental skills to the next level.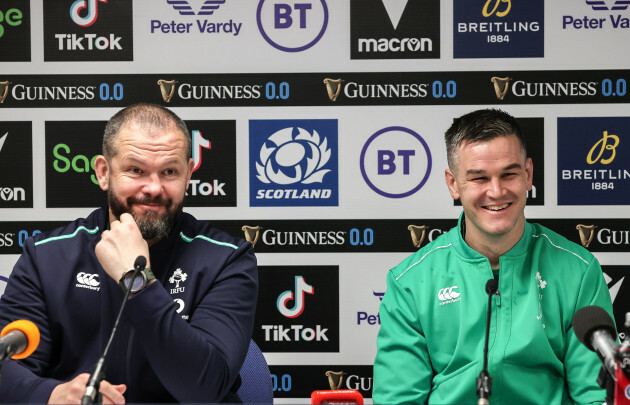 Billy Stickland / INPHO Farrell has created a happy Ireland camp. Billy Stickland / INPHO / INPHO
There's still one big step to come on Saturday and then the World Cup looms in the background, but it's not difficult to imagine that the English RFU are now looking at Farrell and thinking about what might have been.
Farrell was embedded in their system for more than a World Cup cycle, yet he was discarded post-2015 along with Lancaster and co. Surely English rugby could have found a way to ensure Farrell was retained in some fashion even if Eddie Jones didn't want him as part of his England staff?
IRFU head honcho David Nucifora and Schmidt didn't hang around when they realised Farrell was up for grabs.
It has been a happy marriage between Farrell and Irish rugby and now he gets set to go up against England, who will presumably bring his son Owen back into their XV, to try and seal the Grand Slam.
Speaking on Sunday, Farrell stressed that the English will be a "really, really tough opponent to beat" but few will back against his Irish side.