BOLD AMBITIONS, PERHAPS, but Andy Friend — the new Connacht head coach — makes no secret of what he has come to achieve in the west of Ireland, the affable Australian bidding to scale rarefied heights with the province again.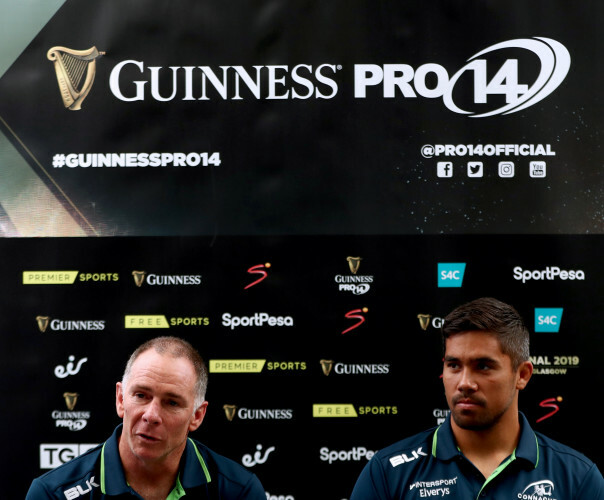 James Crombie / INPHO Friend and Connacht captain Jarrad Butler speaking at the Pro14 launch. James Crombie / INPHO / INPHO
Friend arrived in Galway during the summer following the departure of Kiwi Kieran Keane just one season into a three-year deal, and is the man tasked with rebuilding Connacht.
Keane's sacking was largely down to a downturn in results, as the province finished second from bottom in their Pro14 conference, but there were also suggestions that players had become disillusioned by his lack of communication off the pitch.
The appointment of Friend, who had most recently been in charge of Australian sevens side, has seen a complete transformation in that regard, with the new head coach bringing a more holistic approach, cultivating a strong culture within the dressing room.
And the early signs are particularly encouraging, with Friend's impact on the group already evident in their pre-season dismissals of Brive and Wasps, while players are clearly thriving off the clarity and confidence the Australian has quickly engendered.
Nothing is won or lost in August, of course, but after a difficult season under Keane's tutelage, there is huge optimism building out west ahead of their Pro14 campaign opener against Glasgow Warriors on Saturday week.
"I've said it before but winning becomes a habit, so does losing," Friend said at today's Pro14 launch in Glasgow.
"There are teams who will find ways to lose games and you can fall into that trap. There are teams that find ways to win and at the moment, I don't know where we sit on that spectrum because I don't believe after two games you can make a comment on that.
"I know with the positivity and the way I coach and the way I want us to be as a football team, we won't hide away from the errors, not at all but we will find a way to encourage the players to produce their best and to play without that fear.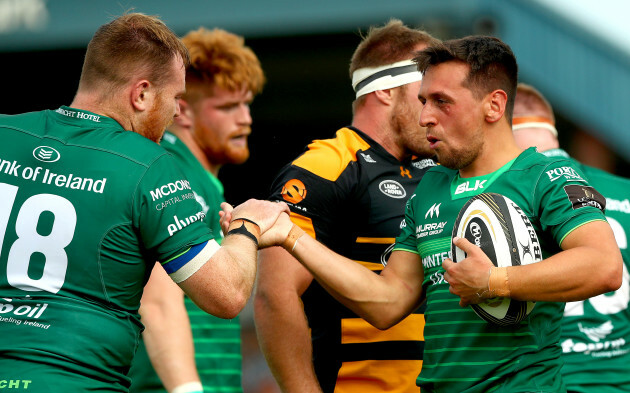 James Crombie / INPHO Connacht scored seven tries against Wasps on Saturday. James Crombie / INPHO / INPHO
"There's got to be a consistency in message, a consistency in our selections in what we're doing, there's got to be, ideally wins, because wins tend to tell you you're doing something pretty well. Not necessarily all the time but winning certainly helps."
Connacht round off their pre-season preparations with a visit to Ashton Gate on Friday night for a meeting with familiar faces, including Pat Lam, John Muldoon and Jake Heenan.
The clash with Bristol will be the province's toughest test of the summer but another solid performance there would put them in a good space heading into the opening weeks of the season, which includes big games against Glasgow, Scarlets and Leinster.
Friend understands the need for a fast start, particularly in the infancy of a new regime, but his positivity shines through in everything he says, something which must be infectious in the dressing room.
The ability at Connacht has always been there, and now Friend is big on playing with ambition and adventure again.
"There's another way to look at it, my wife continues to tell me that you got to find the positive out of the negative but if you want to know exactly where you sit, you want to be playing the best early," he says.
"Because then you have the rest of the season, if it's working keep doing it, if it's not, you'll see the areas that you need to adjust. It's six games of football out of 19 games of football, so to me, it's a great start because we'll know straight away.
"We'll know come the end of the first week in October where we sit, what's working for us, what's not working for us and where we need to adjust."
In that sense, have you set targets for your first season in charge?
"We're going to say we want to win it, 100%," Friend states. "You've got to. I've never entered a competition nor seen anyone enter a competition where you don't want to win it. So we want to win it. Will we do it? I don't know but I promise you we'll give it our best shot.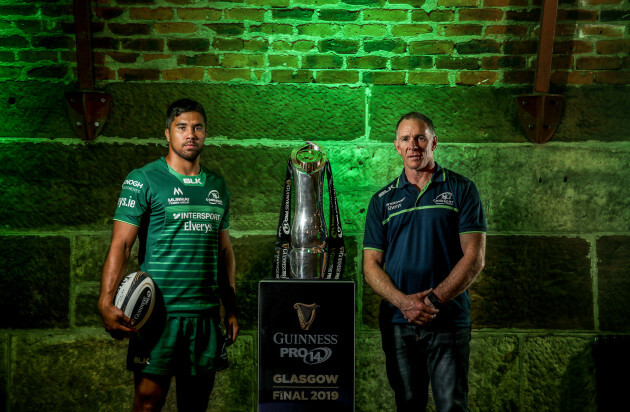 Dan Sheridan / INPHO Friend wants to bring smiles back to the faces of the Connacht support. Dan Sheridan / INPHO / INPHO
"And the same in Europe. It's another competition [Challenge Cup] and I want to win it, of course I want to win it. But I think the important thing there is how we manage the squad through all of that.
"Having spent time in the Premiership, I'm fully aware you've got to manage players, there's certain blokes you know you need to give a break at certain times.
"I'm not sitting here saying one competition is in favour of another competition, not at all. At this point in time, as we currently sit here, let's have a crack at winning both of those, let's have a crack at winning the Celtic Cup because that's another new competition coming in.
"That's been my message to the players, anything we enter, we want to win the thing. Now, over time we might become more realistic and say there's certain things we cant but that's where I sit at the moment. Let's give it a crack."
The42 is on Instagram! Tap the button below on your phone to follow us!