DEFEAT AT HOME to Wales has left a bad taste in the mouth.
Republic of Ireland fans watched a mostly turgid performance at a flat Aviva Stadium. Martin O'Neill's side didn't exhibit half of the energy or verve as their youthful neighbours.
That the killer blow was dealt by a 21-year-old only typified the contrast between the two sides. Ryan Giggs' Wales are exuberant and well drilled. They show a willingness to get on the ball and run at defenders. They have shape, poise on the ball.
Even without the experience of Gareth Bale and Aaron Ramsey – which plunged the average age of the attacking players to just over 21 – they showed maturity and confidence beyond their years.
Some 140kms up the road at Longford's City Calling Stadium, Ireland's U19s were watching on, disheartened.
Tom Mohan's side had just beaten the Netherlands to complete the elite qualifying phase for the U19 European Championships with a 100% record.
Victories against Bosnia, Faroe Islands and the Dutch will see them enter March's next round of qualification for the tournament proper as group winners and is likely to earn them a more favourable draw.
One of those in action against Maarten Stekelenburg's side was defender Andy Lyons, who found little inspiration in the display of the senior team.
"It is hard to watch," he admits. "Knowing you beat the Netherlands earlier that day and the first team go out and produce a performance like that. It's hard to watch.
"I suppose when you're watching it you're thinking, maybe they should be giving the younger lads a chance. A bit of that comes into play, definitely.
We'd just come off the back of a win against the Netherlands who are a very good side. And then you look at a flat performance from the first team."
The performance has become typical of an Ireland side who have struggled for any semblance of cohesion since a 5-1 drubbing against Denmark in World Cup qualification last year.
A humiliation in front of home fans has evidently left deep scars in the players.
"The team is much changed from two years ago and against Denmark it was a one-off game and a bad performance.
But that Denmark performance is after creeping into our last few games and how we're playing. That's disappointing, but you have to look back at what O'Neill has done.
"European Championships round of 16. Almost got them to a World Cup. He's done all that working with a limited squad. The big players and some of the best players are injured."
This is why the Bohemian FC man finds it difficult to lay too much of the blame at the feet of management.
"You have to look at those who are missing. Robbie Brady, Seamus Coleman. Jon Walters is missing, John O'Shea has retired.
"Maybe [O'Neill] should be looking at the U21s or younger teams to bring some players in. That might change things up.
"But he's done a good job in the past, so I think it's fair that we have faith in him."
He may be one of the few in the Irish footballing community at the moment who has given O'Neill backing ahead of 2020 European Championships qualification – a tournament that, should Ireland qualify for, would see them play two home group games in the Aviva Stadium.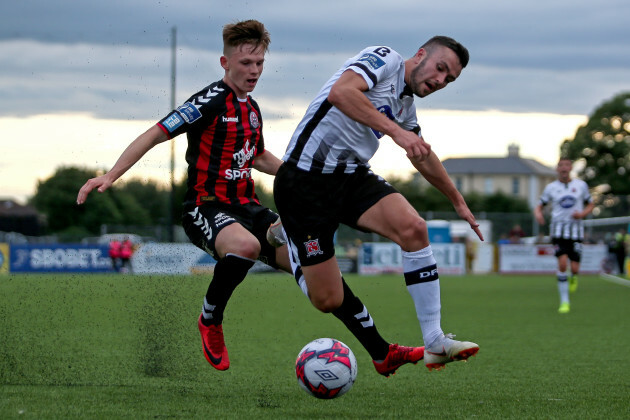 Laszlo Geczo / INPHO Andy Lyons has made a rapid rise into the Bohemian FC first team. Laszlo Geczo / INPHO / INPHO
Lyons merely asks that O'Neill gives youth a chance and evaluate the performance of younger players in the Irish ranks.
"If you look at the display on Tuesday, we didn't just beat one of the best underage teams in the world by fluke. We didn't beat them by playing long ball.
"We kept the ball on the ground and played football against them.
"A lot of teams like us who play the bigger teams at our age, they tend to sit off and let the opposition play. They show them respect.
The way we approached the game, we pressed them high and showed them no real respect.
"We didn't let them play out from the back. Yeah, we defended well, but when we had the ball we used it. We kept it on the ground. We didn't just kick it away every time.
The first team are renowned for playing long ball all the time. The way the U19s played over the last three games was pure football.
"When you lead in the last 20 minutes you're not going to be playing tiki-taka in your own box, but it all comes down to game management.
"Tom Mohan has us playing football, real football. That's how you win games at the end of the day."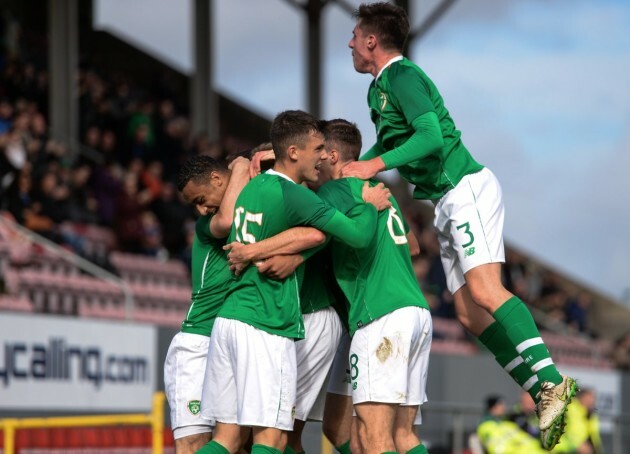 @FAIreland The Republic of Ireland U19 side celebrate on their way to victory against the Netherlands on Tuesday afternoon. @FAIreland
Game management is something Lyons has had to deal with to keep himself fit for the flurry of games scheduled for the month of October.
Bohs' Uefa Youth League opening round first-leg defeat away at FC Midtjylland was followed by a call-up to play for the senior team against Waterford just two days later. The next morning, he was straight into the Ireland camp.
The 18-year-old played 90 minutes in a 3-1 win over Bosnia, before playing 25 minutes against the Faroe Island.
A 3-0 win here put him back in the fold to take on the Dutch, where he played another 90 minutes for the boys in green on Tuesday evening.
Ahead of Saturday's U19 League semi-final against UCD, Lyons admits: "The legs were a bit sore. I played three games in seven days. I was wrecked.
"But it's been a great month so far and an amazing experience from playing in the Youth League to going and representing your country in the European Championships [qualification].
"The lads are great, a really good bunch. Yeah they're hard-working, but we have the quality there as well. Knowing we had that quality, we felt we could win the group.
"We did our homework on the Dutch side, we had a game plan, we executed that and we won with two good goals.
"We knew going into the game that of course they were a good side, but they had weaknesses. We took over the weaknesses and won the game.
"There's lads on the bench there that didn't play many games or many minutes, so it's a team effort. The work that goes on behind the scenes is massive from the coaching staff.
"Without them, we wouldn't have gotten where we are today."
An important aspect of his career so far, Lyons explains, has been the ability to drive himself to reach new heights.
Making his senior debut two years after joining Bohs' U17 side, the defender says it's imperative to show younger players the paths to progress within a club or international set-up.
"When you play in a side that other members of the team have made their debuts for the first team, that motivates you.
"Get the head down and play well for 90 minutes, you will get that chance in the first team.
But sometimes if you're playing for the U19s and you know the first team manager isn't going to give you a chance, it is very hard to try and motivate yourself.
"At Bohs, players know there's a clear path to the first team. There's six or seven U19 players who made their debut to the senior team this year.
"That's unbelievable. Look at the other teams around the country. Who else who have done that?
"The work being done by the underage coaches and the first team coaches shows that if you're good enough you'll be given a chance."
With the return leg against FC Midtjylland coming up next Wednesday, Lyons stressed the importance of dealing with what's in front of him.
"The attention is on UCD this weekend before we look ahead to Midtjylland. We expect them to play football, but we've got an away goal.
"It's a different experience amongst the lads, I'd say it was a first time away for a lot of the boys."
For Lyons, it's becoming natural to perform on the biggest stages at underage level.
"It all comes down to experience. I have to thank Keith [Long, Bohs manager] and Trevor [Croly, assistant manager] and Craig Sexton in charge of the U19s team.
"When you get that stint of first team football and play against big players, then games against the likes of Midtjylland don't intimidate you anymore or, at least, as much as they would have before.
"You'll have nerves, but if you've played first team football and you play in Europe, it makes these big games less daunting than they would for other people."
"That's all part of football, getting that experience along the way. The more you get the less daunted you are going into those big matches."
Subscribe to our new podcast, Heineken Rugby Weekly on The42, here: