DESPITE WATCHING HIS side come from nine points down to draw with Cork yesterday, Meath manager Andy McEntee was far from pleased.
Speaking to LMFM after the game, McEntee laid the blame for a sub-standard performance squarely at the door of his players.
A point for the Royals leaves them still in the hunt for promotion to the top flight but McEntee believes it could have been so much better at Páirc Uí Rinn.
"I would have settled for a point when we were nine points down, sure we would have settled for a point.
"To get back to a point down with 12 minutes to go and a gale force wind behind you, all the momentum with you and then we proceeded to blow the game, and we did blow it.
"We had the game won, Cork were dead and buried, they were struggling to win kick-outs, we were all over them and we took three or four outrageous decisions for shots.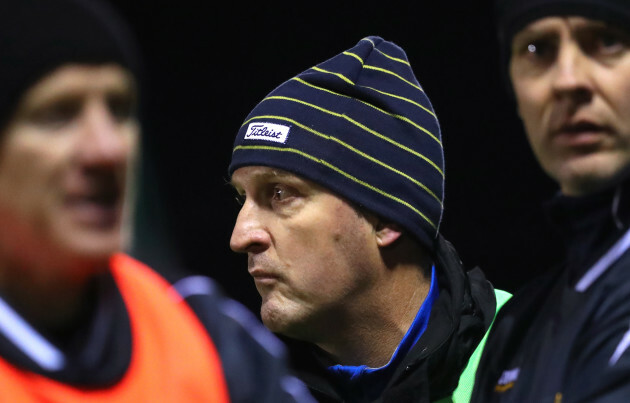 James Crombie / INPHO James Crombie / INPHO / INPHO
"That's hugely frustrating and then we go two points down and you say, ok the game looks as if it's gone again but we come back and draw level.
"A rollercoaster of emotions but frustration is the overriding one."
Having drawn level, the lead swapped hands before both teams had to settle for a point.
And McEntee said: "Really disappointed, and everybody's disappointed because for the vast majority of the game we didn't perform.
There are no excuses for that. We performed well, everything was done, everything was put at our disposal to perform well and we didn't perform, end of story.
"Everybody standing off, nobody getting a tackle in, nobody showing for the ball.
"We didn't work hard enough. If we don't work hard enough, we're not good. That's the bottom line.
"We've got Fermanagh next week. Genuinely, it's not a cliché (but) let's switch our attention to Fermanagh and see what happens. I'm still struggling to get my head around this game here, and I'm utterly disappointed that we didn't get something (win) out of it."
You can listen to the full interview below: 
LMFM Radio / SoundCloud
The42 is on Instagram! Tap the button below on your phone to follow us!