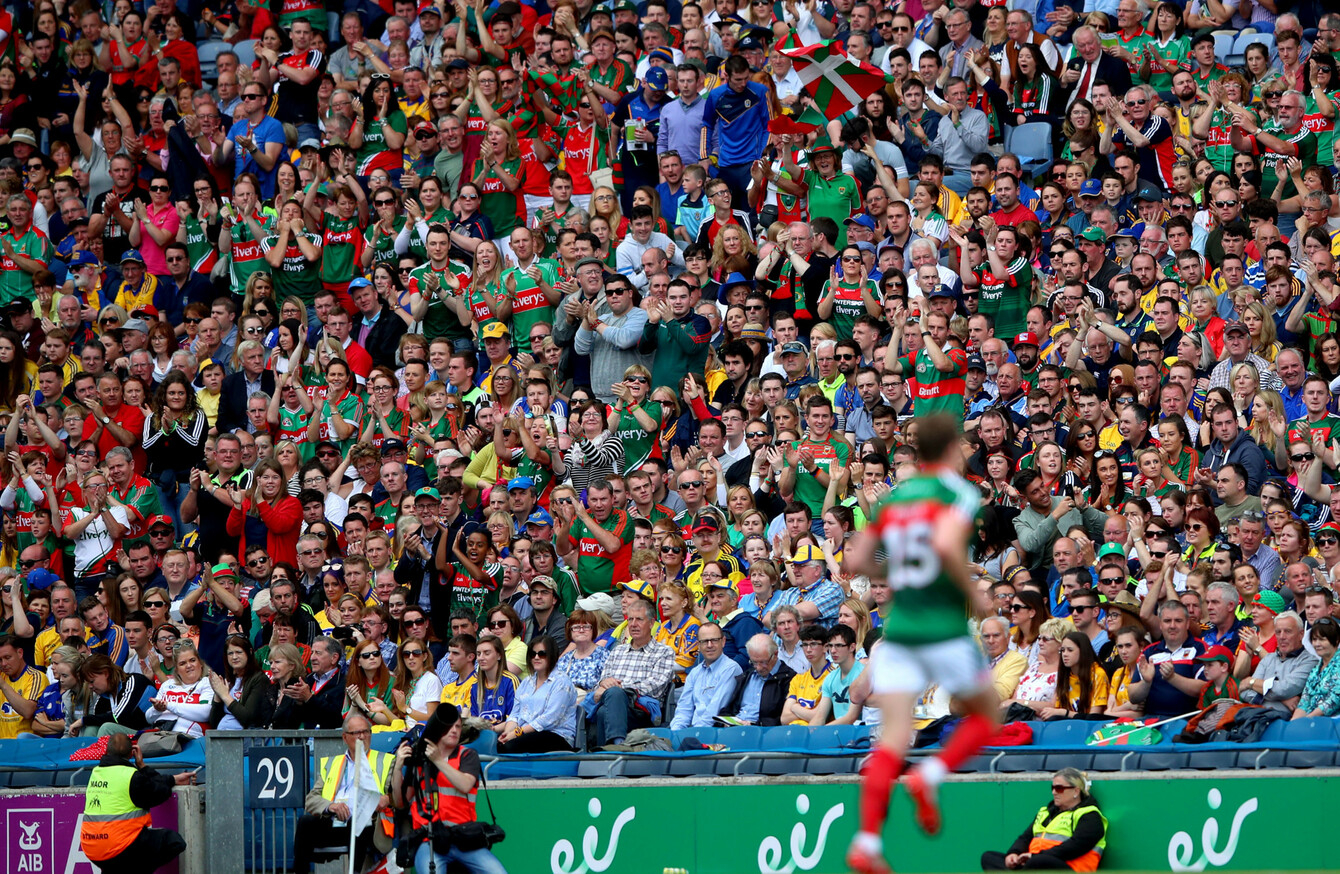 Image: James Crombie/INPHO
Image: James Crombie/INPHO
HE'S BEEN POUNDING the championship road for over a decade with Mayo without getting the ultimate September reward but not only is Andy Moran intent on being back himself in 2018, he's adamant that the county's football faithful will be as interested as ever.
Mayo fell agonisingly short again of lifting Sam Magiure when they were pipped by a point by Dublin by a couple of weeks ago yet 2017 will still be remembered as an epic campaign.
"There was an awful lot of good things," admitted Moran, the PWC All-Star player of the month for August.
"I've said it previously and I'll say it again: the Mayo fans had an awful lot to do with that [being a good season].
"We've a remarkable group of fans who connect with the team. Next February for our first league game at MacHale Park, we'll probably have 15,000 people at the game. We're a weird auld bunch but we stick together, you know.
"We did the function on Sunday, which we thought was going to be tough. It was actually very good, the Mayo supporters were very good.
"We went to the homecoming on Monday and we thinking 'How many homecomings can you actually do?' The Mayo supporters come out in force and it makes it very easy.
"We just went out together then on Monday and stayed together. I didn't go Tuesday now but the lads went out again on Tuesday and most of the week.
"They're probably just really reflecting on it this week if I'm honest. The boys play club championship this week and once you're out of club championship, you really reflect on it."
The thought of returning for the effort of another year is not difficult in Moran's eyes, it's the absence from his county team-mates over the winter months.
"Going again isn't the tough part. It is what you do. It's actually very hard now because you've got no training to go to and you miss the lads.
"County football is now that intense that the county team is nearly a club team at this stage because you spend so much time together.
SEE SPORT
DIFFERENTLY
Get closer to the stories that matter with exclusive analysis, insight and debate in The42 Membership.
Become a Member
"Will I watch it before November? No. The All-Star awards will be tough. Awards like this are tough. You're kind of going through it in your head again. The little clips and stuff online, you miss them.
"We're a fairly united bunch. I'd say the boys will get a bit of a holiday now in December or January time. I'm sure they'll be ready for action come February again."
Moran enjoyed a terrific summer as the focal point of Mayo's attack, chalking up 3-24 in the process. He's a Footballer of the Year nominee and is in pole position for an All-Star award, six years after winning his previous accolade in 2011.
What's more impressive is the manner in which Moran has bounced back from a couple of severe injuries and adapted his game.
"I broke my leg in 2011 at the Compromise Rules. I did my cruciate famously in 2012. From then, I just couldn't get my body right.
"In the pre-season between 2014 and 2015, I met Eanna Falvey with my strength and conditioning coach Barry Solan, the two of them sat down and made a programme for me.
"My body has been a work in progress since then. We've got a brilliant medical team headed by Sean Moffat and Martin McIntyre. (The) strength and conditioning coaches Barry Solan and Conor Finn, they kind of look after me, wrap me in cotton wool a lot of the time.
"I've been used in different roles. I played wing-back for Mayo in 2009. I've been used as a ball winner inside for a lot of the time. The way it's been this year, in terms of scoring, definitely, it's been my best year.
"In terms of other things, I'd be confident that I've done a lot of things well over my career when I've been asked to do them for the team."
Subscribe to The42 podcasts here: