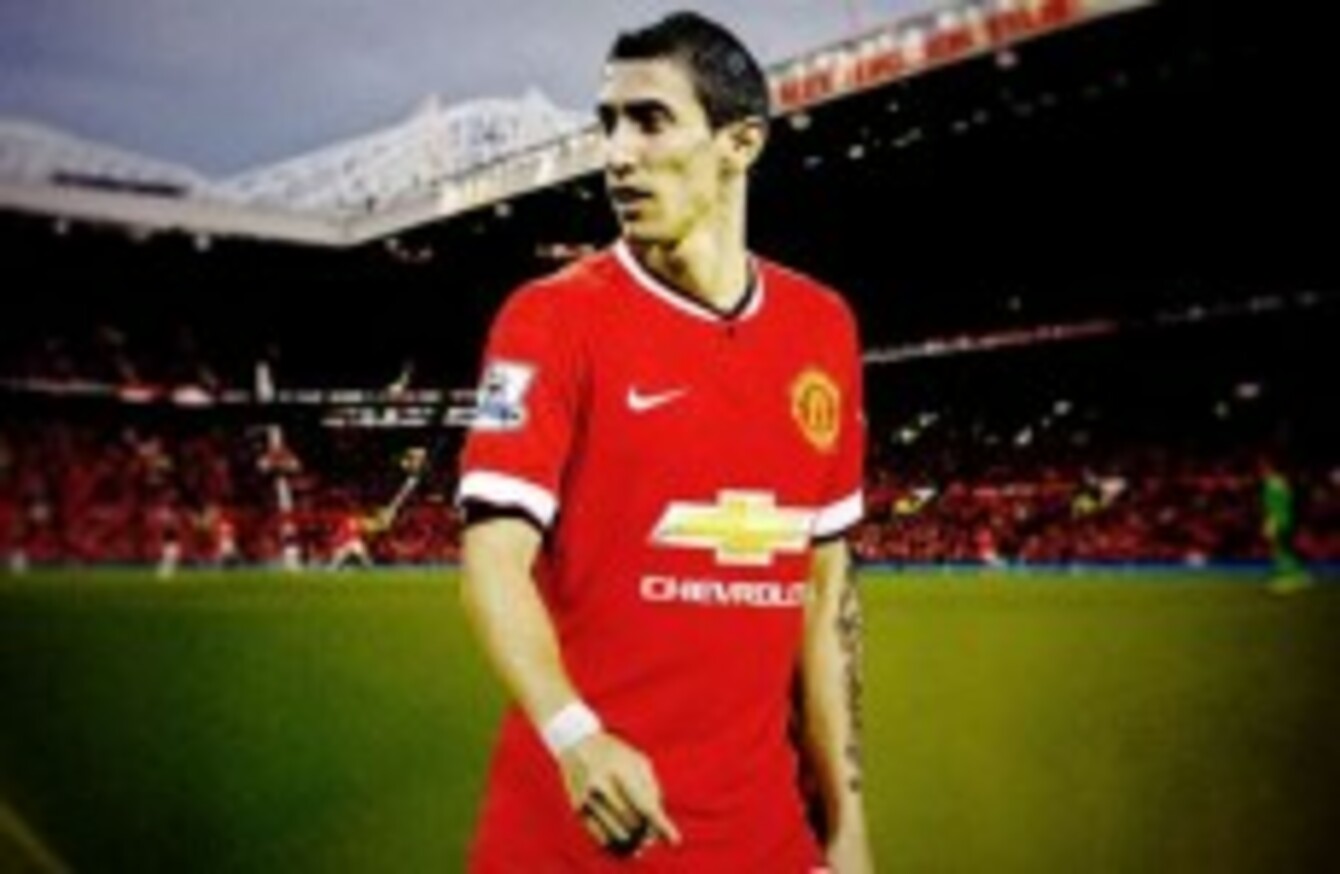 ED WOODWARD WAS positively beaming when he took his seat at Stadium:mk on Tuesday night, visibly pleased with his role in luring Angel Di Maria to Manchester United. At the final whistle, though, that smile would have been wiped from his face as he realised a great deal more needs to be invested into Louis van Gaal's first team before the end of the transfer window.
The winger completed a €84 million move to from Real Madrid shortly before United's humiliating Capitol One Cup elimination to League One side MK Dons. Whichever way you look at it, Di Maria is a proven world-class player and a great signing. However, one shouldn't expect the Argentine's arrival to instantaneously turn the club's fortunes around.
The biggest difference between the two sides on the night was not their contrasting wage bills or reputations. Instead, it was the fact that one was a team and the other was a disjointed group of players fumbling in the dark while they try to get to grips with a system they don't fully understand. From a positional aspect, United were all over the place.
Last season, David Moyes' side severely lacked drive, innovation and penetration in midfield. United's play was pedestrian at best and that's been carried forward into the current campaign. Di Maria's arrival will serve to improve that aspect of their game to a great extent.
Balance
When Carlo Ancelotti struggled to find the right balance for his star-studded team at the start of last season, Di Maria proved to be the answer. The likes of Cristiano Ronaldo and Gareth Bale may have stolen the limelight more often than not but it was the Argentine who operated as the side's engine in midfield, driving them forward to great effect.
There's no doubt that he will give United an almighty boost in that area of the pitch, but he also offers Van Gaal the option to vary his tactics and change the shape of the team. Di Maria has the pace, guile and dribbling ability to star on the wings.
His direct style ensures that he will create and score goals for his new team but to thrive in unfamiliar surroundings, Di Maria needs United to be far more cohesive than they have been. Since the start of the season, the passing has gone from sloppy to downright atrocious.
Van Gaal's philosophy, regardless of the formation he employs, largely depends on the defenders being comfortable and confident on the ball. From what we've seen so far, United's centre-backs in particular have been sloppy in their distribution and clumsy with the ball at their feet. Even their midfielders have been ponderous in possession and struggle to win the ball back.
Does this mean United require four or five new signings before the transfer season concludes? No, not necessarily. Of course, another midfielder and defender should ideally be targeted but that's as far as it should go for now. It's time to accept that there is no 'quick-fix' in store for the Manchester outfit.
That realisation has long since dawned on Van Gaal who warned fans before the start of the season that it would take "two or three months" for the players to function properly under his philosophy. United simply need to pull together, work hard on the training pitch and eventually leave this nightmare behind them.
The arrival of Di Maria will no doubt help speed up the process, as will any other signings that may be completed in the next few days. The new recruits may act as adrenaline shots, so to speak, but the healing process will still need to run its course.
At this stage, you sense that Burnley will be counting the minutes until they get the opportunity to heap more misery on United come Saturday. Rival fans will no doubt refer to their fixture lists as they look forward to their own encounters with the Red Devils. For Van Gaal, that first win cannot come soon enough as his troops search for a shot of confidence.
That is precisely why Di Maria's signing is vital. His is not a "luxury" acquisition but far from it. When he's going past defenders and creating space for his teammates to exploit, it will automatically put United on the front foot, where they need to be to recapture a snippet of the threat and intimidation they once boasted.
His arrival does not solve all their problems overnight but an extra dose of stardust may be just what the team needs to boost their confidence and start to respond to the new blueprint their boss has laid out for them.
- Brendon Netto