CORK CAPTAIN ANNA Geary knows a thing or two about winning All-Ireland finals.
The Milford defender has over 20 All-Ireland medals from her playing days in school and with club and county. Still only 26, Geary also proudly donned the Cork colours while representing her county at the Rose of Tralee earlier in the summer.
She has been doing her best to promote women's sports in recent times, most notably when she partook in RTÉ's documentary last year, Skin in the Game. Geary understood it was an opportunity to showcase just how much work it takes to make it to the top of women's sport and was happy with the reaction afterwards.
"When I was approached to do it first of all I was very conscious that I was representing women in sport as well and not just camogie," she said.
"I was worried would it interfere and how much would be seen and shown because you really are very vulnerable you are putting your life out there for everyone to see.
"We train just as hard as the lads we put in just as much commitment balance and juggle our work life just the same as they do. It is an opportunity for people to see we are on a par with them in terms of commitment."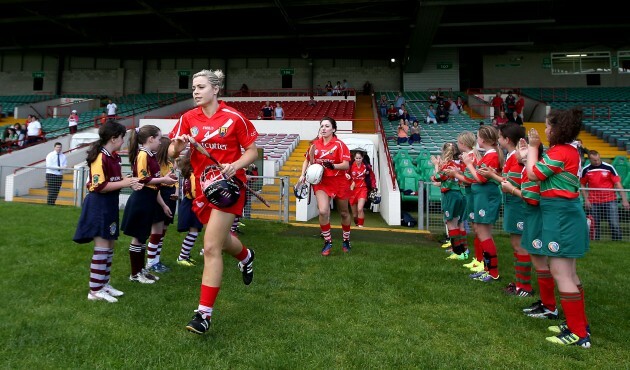 Ryan Byrne / INPHO Ryan Byrne / INPHO / INPHO
But Geary was keen to stress that all the sacrifice will be well worth it when she takes to the field tomorrow.
"The one thing I wanted to get across in the documentary is that while there is sacrifices involved in playing at this level the honour far outweighs the sacrifices. I think people go on about, 'oh, poor us, there's so much sacrifice involved in doing this'.
"But there's so many people in the country that would give their right arms to be doing this. I don't ever forget that every time I go playing with Cork because you don't know how long you're going to be in that position."
So which does she find more nerve-racking, an All-Ireland final or competing for the Rose?
"There's great solace that comes from the fact that you've got 14 other women behind you on a field. It really I suppose did increase the understanding of team work because everyone is in it together. With the Rose, you're really in it on your own.
Cathal Noonan / INPHO Cathal Noonan / INPHO / INPHO
"Gor forbid anything happened or you said something silly, or the equivalent of that, because it's just you out there. So they both have pressures but, like anything, if you let that pressure get to you then of course it's going to have a really negative affect on you.
"But I embraced the whole Rose experience like I hope to do in Croke Park on Sunday. We might never get the opportunity to do this again so why worry about what might go wrong."
Geary could cap a remarkable year on a personal level, having already won an All-Ireland title with Milford in the Spring, but she's remaining focused on the Cats this weekend.
"2014 has been amazing. I suppose really if Milford can do well, Cork can do well, being the Cork Rose, oh yeah, it would probably go down as one of those years when you ticked all the boxes.
"But, look, I'm not going to take anything for granted. We're so close to getting there but on Sunday if we take anything for granted we'll easily come out the wrong side of it."