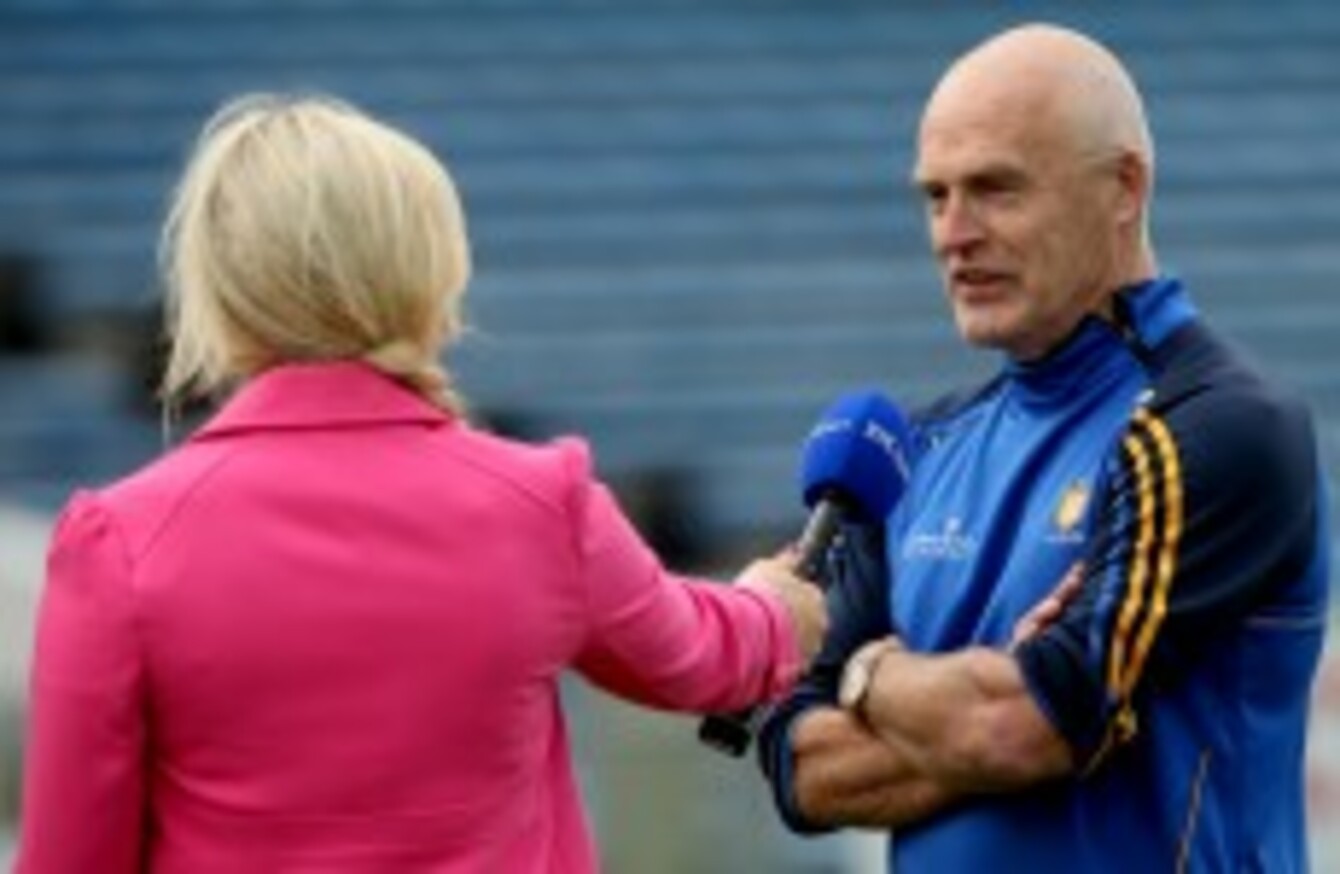 Anna Geary interviewing Clare camogie manager Colm Honan.
Image: James Crombie/INPHO
Anna Geary interviewing Clare camogie manager Colm Honan.
Image: James Crombie/INPHO
SHE WAS A role model during her playing days and now Anna Geary is determined to continue her work of promoting women's sport as the next chapter of her career takes shape.
The Cork camogie star brought the curtain down on an illustrious inter-county career in May and has since become one of the foremost female media personalities through her work with RTÉ.
Geary made regular appearances on The Sunday Game throughout the course of the championship summer as well as being a member of the The Marty Squad on RTÉ Radio 1.
The three-time All-Ireland winner received widespread recognition for bringing insightful, knowledgeable and sharp analysis to the state broadcaster's coverage.
And her stock continues to rise as she settles into life after retirement.
"I had been working in marketing with Dell which was a very structured role," she tells The42. "Changing careers allowed me the time to take up these opportunities and I made that decision to leave and look at pastures new.
"Certain elements of retirement have been hard but the constant work alleviates the sense of loss. Sitting in Croke Park isn't the same as running out onto the field but live television or radio gives you a similar buzz.
"It will never be a direct replacement for playing but it's a great substitute."
As well as working with the Women's Gaelic Players Association (WGPA), Geary started her role as a coach on RTÉ's hit series Ireland's Fittest Family at the weekend.
She is one of two new additions, alongside former Munster flanker Alan Quinlan, and admitted the time was right to take up the opportunity.
"I had spoken with the producers twelve months ago but I just couldn't commit," the Milford native says. "Then the day of announcing my retirement in May, Darren [Smith] called me.
"If I didn't retire when I did, I wouldn't have had the chance to do all this media stuff. I couldn't have gone to my manager to say I wasn't going to be at training because I was filming or on air with The Marty Squad.
"I just couldn't do both and there are no regrets at the decision I made. It's worked out well so far."
In the third series' opening episode on Sunday, Geary went head-to-head with Clare hurling manager Davy Fitzgerald to pick her three families for the show.
Viewers were instantly given a taste of what the 27-year-old will bring to the programme and it was clear from the off she won't be daunted by the bigger personalities on set.
"If I told you I didn't get involved and you watched the show, you'd know I was completely lying," Geary says of her competitive streak. "You begin with the best intention to watch your Ps and Qs and act graciously but your instincts as a sportsperson quickly take over.
"It's a competition at the end of the day and I made no secret that I want to help my teams get as far as they can."
Geary follows in the footsteps of Derval O'Rourke and former Irish hockey star Nikki Symmons as female coaches on the show but she doesn't feel any more pressure to impress the viewer.
"I am very honoured to be on the show and being the only female is at the back of your mind because you want to represent and come across and be perceived as a strong sportsperson.
"But it's never been a case of beating the drum for women. I'm very proud to be a sports woman and be striving for equality but I don't want to be singled out because I'm a woman.
"I do want people to get to know me better and use it as a platform to show my character and how I can hold my own against the lads – that's the way to do it."
Her debut appearance on Ireland's Fittest Family was universally applauded on social media but there will always be critics – it comes with the territory.
"As I always say, sport is a male-dominated environment and there is that tendency to pick out women as easy targets. 'She's only a woman, what would she know?' is something I always her.
"Of course I'm conscious of it but it doesn't let it affect me. But I want to be taken at face value.
"Don't call me out for being a woman talking about a man's game, call me out if I'm a bad coach or bad analyst – but not because I'm a women.
"I, or any other female media personality, shouldn't get an extra or less credit because I'm a woman."
Anna Geary is one of four coaches on Ireland's Fittest Family, Sunday's 6.30pm on RTÉ One. Episode one is now available on the RTÉ Player.