PETER O'MAHONY TRIED his very best to answer the first question, but hesitated and tears came instead of words.
One of the bravest characters in Irish rugby, fronting up again in an effort to pay tribute to a man who was his hero, his friend, his mentor, his coach, his idol – Anthony Foley.
Sitting alongside a shaken Rassie Erasmus in Munster's High Performance Centre in UL, O'Mahony dropped his head as the grief washed over him.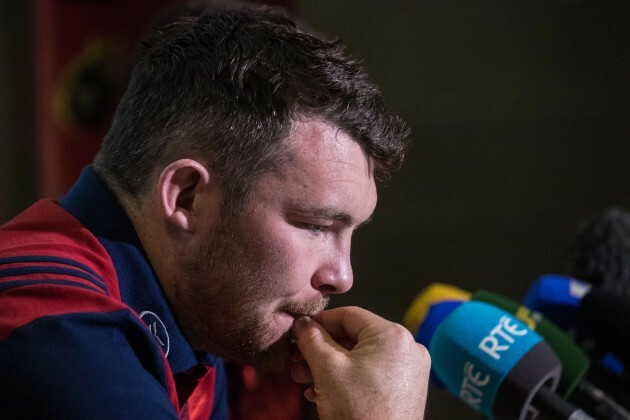 Billy Stickland / INPHO O'Mahony was brave in paying tribute to Foley. Billy Stickland / INPHO / INPHO
An unimaginably difficult situation to be in and once again, the disbelief that Foley has left us flooded into the consciousness. While Munster have now committed to play Saturday's game against Glasgow at Thomond Park, dark days lie ahead for them.
This is not about rugby; this is about Munster's loss of a man who will forever be part of their lives. O'Mahony and Erasmus stressed that they are only thinking of Foley's family, his wife Olive, his children Dan and Tony, his parents and all of those close to him.
"My first game that he coached me with Munster was an U20s game in Thomond Park," said O'Mahony when he had steeled himself. "We won it 3-0, ironically enough, and that suited Axe as good as if we'd beaten them by 60 0r 70 points.
"He was a man who wanted any Munster jersey to win at any cost…
"I'm not going to do him justice here, all the words I could say, to be honest.
"Personally, he's meant a huge amount. He's been there, I haven't supported a Munster team that he wasn't involved in, he's been there from the start. Every Munster team I supported that wore a red jersey, he's been in or coached.
"The amount he's meant to the club, you can't put that into words."
O'Mahony always looked up to Foley, particularly as he came through the ranks as a fellow number eight.
"I was lucky he was in my position as well, the knowledge he could give to me," said O'Mahony. "At times it was frustrating for him, because he was such a good footballer and he found it hard at times to understand why we couldn't see what he could.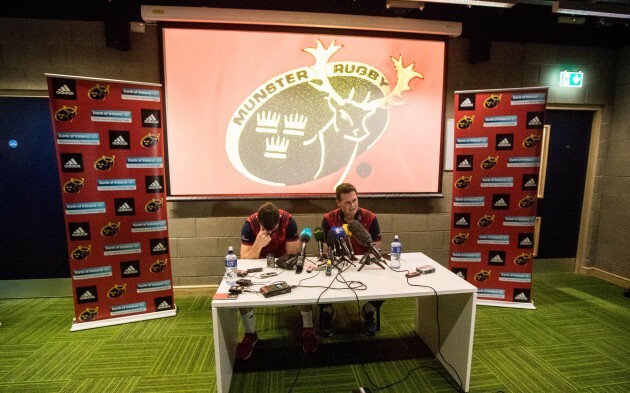 Billy Stickland / INPHO O'Mahony and Erasmus spoke in UL. Billy Stickland / INPHO / INPHO
"He was blessed with a rugby brain and a rugby mind.
"The amount we've lost now that he's gone is incredible. The rugby knowledge, the brain.
"The man, the friend, the coach, the brother that we've lost. It's mad…"
Again, O'Mahony's head dropped. Cruel, cruel circumstances.
Munster trained yesterday and today as they look to gather themselves for Saturday's meeting with Glasgow. Even that seemingly normal part of their routine was tinged with sadness, however.
"It was tough not to see him standing there, not to go and talk to him before and afterwards," said director of rugby Erasmus, who was also clearly still rocked by the loss. "That's the tough part."
The South African said this weekend's game is secondary, but that Munster will play for their fallen friend.
"It's difficult and everyone knows it's difficult but I know that the players have so much respect for him that they're trying to get on with it, trying to do their job.
"The way we know Anthony would want us to go on with it – that's the thing that drives us. We're committed to get a proper performance out there because that's the way we're trying to handle it, knowing that that's the way Axel would want us to have done it.
"That's what drives us."
The42 is on Snapchat! Tap the button below on your phone to add!