IT'S BEEN A demanding first season as Munster head coach, but Anthony Foley is not finished just yet.
He'll watch the Champions Cup semi-finals this weekend with a heavy dose of regret over his side's failings in the European competition, before attention turns swiftly back to plotting trophy success in the Guinness Pro12.
Dan Sheridan / INPHO Foley is hoping to end his first season as Munster head coach with silverware. Dan Sheridan / INPHO / INPHO
This is the job Foley seemed destined for since he called time on his playing career in 2008. The former number eight immediately moved into the province's coaching set-up at that point and learned his trade from within.
Last summer saw Foley finally handed the reins as head coach and he has had to battle through some testing times. From the highs of a double over Leinster and home victory over Saracens to the lows of an email leak and exit at the pool stages of Europe, it's been a whirlwind ever since.
"I think you're learning everyday," says Foley in reflection of the season so far. "It's a massive job, it's something that gets a bit understated at times, but I think when you have a group of people around you that want you to be successful, it's always a help.
I think we have a good coaching group who are nice and tight, we're well looked after by Garrett [Fitzgerald, Munster's CEO].
"It's important that we strive to win and we work hard to do that. By no means are we finished yet this season, we have a lot of work to do and we've got to make sure we remain in the top four of the Pro12."
Munster certainly look likely to achieve that and home fixtures against Treviso and the Dragons, as well as a visit to Ulster, in the coming weeks should allow them to remain inside the top two and secure a home semi-final.
Still, Foley will watch Leinster face Toulon tomorrow with a little envy. Munster's Champions Cup efforts will be remembered for that heavy defeat away to Saracens, but Foley says the regret centres on events at Thomond Park against Clermont.
"It is disappointing to miss out on Europe, but where did we miss out on Europe? It wasn't away from home, it was at home. We've got to learn from that and make sure it doesn't happen again."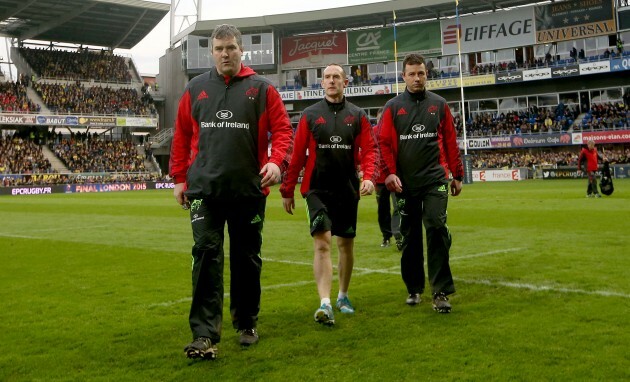 James Crombie / INPHO Foley with assistant coaches Ian Costello and Brian Walsh. James Crombie / INPHO / INPHO
The 41-year-old is as experienced a rugby man as you'll come across but readily accepts that he is still acquiring the craft of head coaching. The best in the world will never accept that they have reached an ending point of knowledge, and Foley is no different.
Beyond the big learnings of European defeats, the very nature of how to approach games tactically is a constantly shifting thing.
"The game changes with law interpretations and what is looked for by referees," says Foley. "We've got to adapt and change with that, you've got to try and push other elements of the game that maybe you haven't looked at before.
The one thing you feel when you come into the job is that you're ready, set and good to go, but you're not. It's only a starting point and what you have when you finish up [a season] is far greater than what you had starting."
Foley has always been open to outside influences, while remaining true to his own strong beliefs on how the Munster set-up should operate. He says he regularly speaks to former players and coaches in search of viewpoints that contrast and challenge his own.
There is also a willingness to accept outsiders into the group at Munster, as evidenced by the visit of Italian rugby's technical director, Franco Ascione, to training in Limerick this week.
Foley says he found Ascione to be a "very interesting man" whenever their paths crossed at coaching weekends or Six Nations conferences in the past.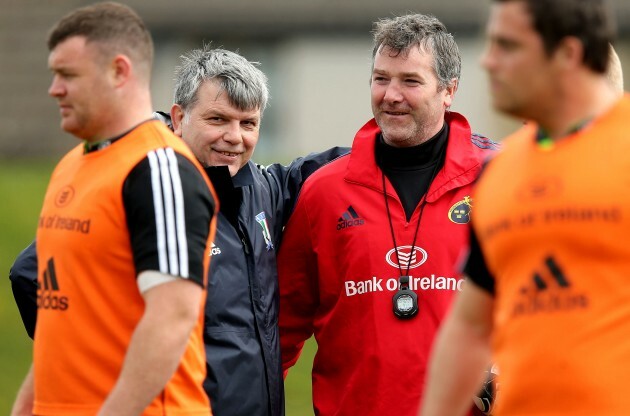 Ryan Byrne / INPHO Foley and Ascione at Munster training earlier this week. Ryan Byrne / INPHO / INPHO
"It was good for the players to have a different voice, to have somebody else present to them, somebody else take an aspect of training and have some fun.
"It's quite interesting because we operate in a bubble, we operate in an environment where you sometimes become very defensive because you know what's going on in the background, you know what your players are doing, you know what they're sacrificing
Sometimes having conversations outside of it and getting a different perspective is good."
The job is a consuming one for Foley and even when he's not on the training pitch, he's often watching video footage of Munster's next opposition or the opposition after that.
He stocks his laptop with Super Rugby games too in order to "stay on top of the changes in the game. Surely the constant slog of review, preview, analysis, game day can take the joy out of rugby?
Does Foley ever sit in the stand and feel able to enjoy watching Munster playing?
"No, it's work," says the Limerick man. "You're thinking, 'what's next?' You've got your coaches either side of you and we're asking what went wrong, what went right, what are they going to do next? We're not at a game as spectators, we're not at a game to have fun.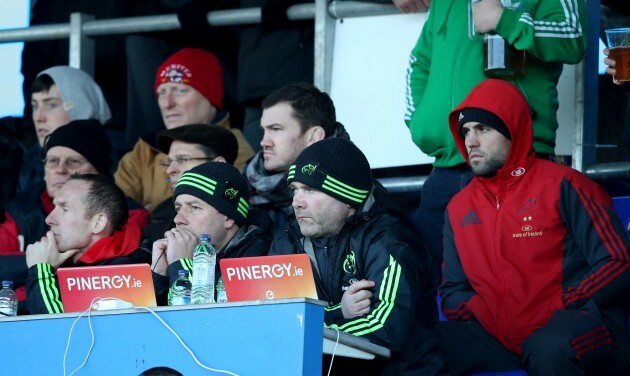 Dan Sheridan / INPHO Foley and his coaching team, along with Conor Murray and Damien Varley, watch the defeat to Saracens. Dan Sheridan / INPHO / INPHO
"Now, it was nice the last night in the last five minutes of the game [against Edinburgh, a 34-3 win] to understand that we'd a job well done, we'd won the game and we were making sure no one got injured.
"But when you're at the game, you're working and making sure that you're future planning or problem solving before the problems are even problems!
It's that and it's looking at the player output on the pitch, making sure that fellas aren't walking, aren't making mistakes, aren't making other fellas have to cover up for them.
"It's managing those situations. It's only when you sit down that evening and you get out the laptop to watch the game again that you can actually enjoy it."
That may be the case, but if Munster can continue their Pro12 drive into the semi-finals and beyond, you get the sense that Foley might just be able to relax and take pleasure in the show
Originally published at 0730