NEXT FRIDAY AT the RDS, Anthony Horgan will tog out for a rugby match for the first time in three years.
The 40-year-old has played in the fixtures between Ireland Legends and England Legends a number of times in the past, but now he's dusting down the boots once again in memory of a very special friend.
Anthony Foley will be honoured at this year's Legends game, which kicks off at 6pm on Friday, and Horgan didn't think twice about being involved in the tribute to his former Munster team-mate.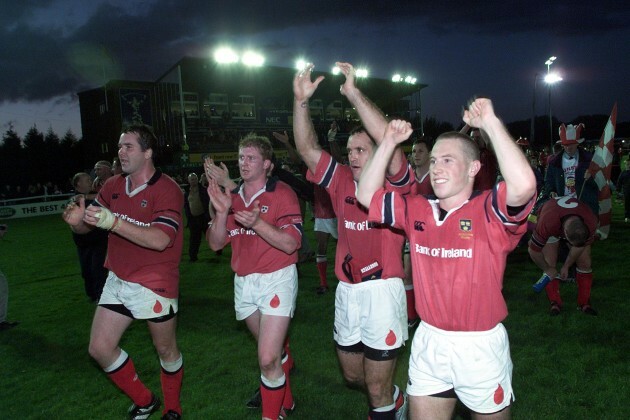 Billy Stickland / INPHO Foley, Horgan, Mike Mullins and Peter Stringer. Billy Stickland / INPHO / INPHO
"Axel is the motivation for me," says Horgan. "When I saw that it was being pushed on the Axel side of things, I was straight onto the guys saying I wanted to be involved. I might regret it afterwards!
"I swear to god, I played in one in Dublin about four years ago and I couldn't walk for two days afterwards I was so battered."
The physical toll will be worth it for Horgan, who manages Flannery's pub in Cork these days – having spent the entirety of his professional playing career with Munster, helping them to their historic 2006 Heineken Cup success.
Horgan played alongside Foley with Munster from 1997 onwards and remembers the man as a brilliant team-mate and a dear friend.
"He was a huge leader but had a savage rugby brain," says Horgan. "He was good at soccer, a superb golfer, good at most things he turned his hand to. You enjoyed his company, he'd make you laugh, he'd make you smile.
"You had 100% respect for the fella, so when he said something, you did it because you knew he'd do it too.
"He was a funny man to be around, I enjoyed his company. Off the field, he wasn't afraid to have a few pints and I would have been in the same boat. We had good old craic and it's been so hard to take. It's a strange feeling when you think of him.
"But getting together on Friday is a good way to remember him."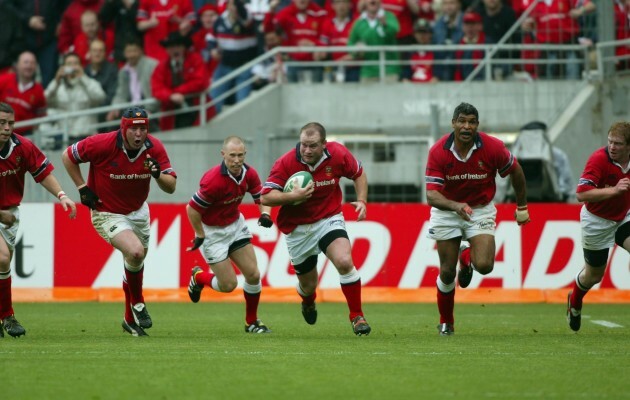 INPHO Foley and Horgan help support Frankie Sheahan in 2003. INPHO
Horgan was a prolific part of Munster's rise into European champions, with his record of 41 tries for the province only broken by Simon Zebo last year.
The ginger-haired wing came through the club ranks at Cork Con initially, before moving into a professional sport that was still learning the true meaning of professionalism in 1997.
"It was pretty much train twice a week and play on a Saturday back then, but you only had the inter-provincial games. You always got knocked out in the pool stages of Europe. The Celtic League came in and added to it, but it was semi-pro back when I started."
Horgan rapidly established himself as a key part of the Munster team with his finishing ability and dogged work rate, playing alongside legendary figures like Mick Galwey and Peter Clohessy in the early years.
Horgan was just one in a crop of emerging talent, as the likes of Ronan O'Gara, Peter Stringer, John Kelly, David Wallace, Foley and John Hayes also began to impose themselves.
The development of the collective took time, of course, but Horgan remembers fondly how hard that Munster group pushed themselves in the those years.
"We were very lucky with the core group we had there," says the Cork man. "We really played for each other. We were afraid of not performing, individually and collectively, in case we let each other down.
"We pushed ourselves. There were training sessions back in those days where we kicked the absolute living shit out of each other. There was nothing held back. If you were on the wrong side of the ruck, you expected Claw or Gaillimh to give you a good shoeing, and you wouldn't do it again.
INPHO Horgan on the charge for Munster in 2002. INPHO
"We probably gave more abuse to ourselves than we did to the opposition sometimes. It was wanting to go that extra little bit for each other that really spurred us on."
Munster began to grow up off the pitch too, and Horgan recalls the 2000 Heineken Cup semi-final win over Toulouse in at Stade Chaban Delmas in Bordeaux as a pivotal moment for all involved.
"It was a massive result for us, and if you remember the crowd that was there, players and supporters started to believe. It really kicked on from there."
Of course, there were deep disappointments still to come for Munster, as they lost 9-8 to Northampton in the 2000 final and also suffered a 15-9 defeat to Leicester in the 2002 decider.
Indeed, Horgan and co. waited until 2006 to see captain Foley lift their holy grail after the famously thrilling win over Biarritz in Cardiff.
"The more you fail, the sweeter it is when you finally do win something," says Horgan. "We had fallen twice at the last hurdle and there was such an amount of pressure on us from within and externally from supporters, that it was a huge monkey off our back.
"It made it that much sweeter being through what we went through."
Horgan started the 2006 final on the right wing, but says the game itself remains something of a blur. What he does recall are the emotions beforehand, which Munster managed more maturely at the third time of asking.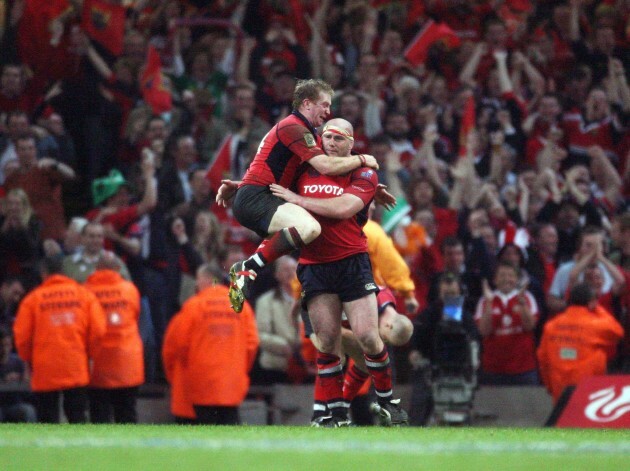 Billy Stickland / INPHO Horgan celebrates with John Hayes in 2006. Billy Stickland / INPHO / INPHO
"I was shitting myself! But that works both ways. You can use that nervousness and anticipation to your benefit, or let it get the better of you – which we probably did in 2000 and probably learned from it.
Exclusive Six
Nations Analysis
Get Murray Kinsella's exclusive analysis of Ireland's Six Nations campaign this spring
Become a Member
"We channeled it in the right way in 2006. In 2000, most people would say we played that game in a meeting before we took to the field, and the emotion of that got the better of us. You learn a lot from losing."
The Munster team of the early 2000s are remembered as one that was built on their forward pack and controlling halfbacks, although they scored some remarkable tries.
Horgan – always chief among the try-scoring – doesn't argue with the perception of Munster at that time, however, instead taking some pride in how they excelled.
"Look, I've no problem saying that we were known as a 10-man rugby team, to a certain extent.
"Trevor Halstead in 2006 gave that little bit where it slowly started pushing out a bit, Shaun Payne came along and we played a more expansive game, but we were never the flashiest team.
"We were never the flashiest team on paper either, but we played our hearts out. Referring back to 1999/2000, we were very much a homegrown team bar John Langford, Jimmy Williams, a few others. 90% of the team was Cork or Limerick and maybe that made a difference."
Horgan has many scores to pick from, but ask him which one of his Munster tries is his personal favourite and he points instead to "the best team try" – that brilliant breakout from their own 22 against Toulouse in 2000.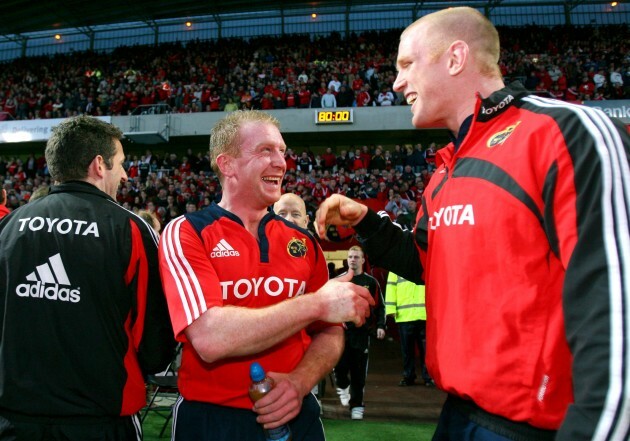 Dan Sheridan / INPHO Horgan scored a try for Munster on his final appearance in the 2009 Magners League final. Dan Sheridan / INPHO / INPHO
Horgan never cared for the headlines himself, merely happy to be part of a Munster pride that played for each other.
He made his Ireland debut in 2003 and went to the World Cup that year, but his Test career wasn't extensive. Despite the limited opportunities, Horgan has no regrets whatsoever.
"Not at all. I got seven caps for Ireland, I wouldn't change a thing. I'm very lucky, I had 12 years as a pro rugby player. Everyone would have liked to play a bit more for their country, it was fantastic.
"I went to a World Cup in 2003, I didn't tog out, was on the bench for the quarter-final but didn't make it on. But it's a fantastic experience and people would give their right finger to experience that. I count myself very lucky and I wouldn't change a thing."
Subscribe to The42 Rugby Show podcast here: