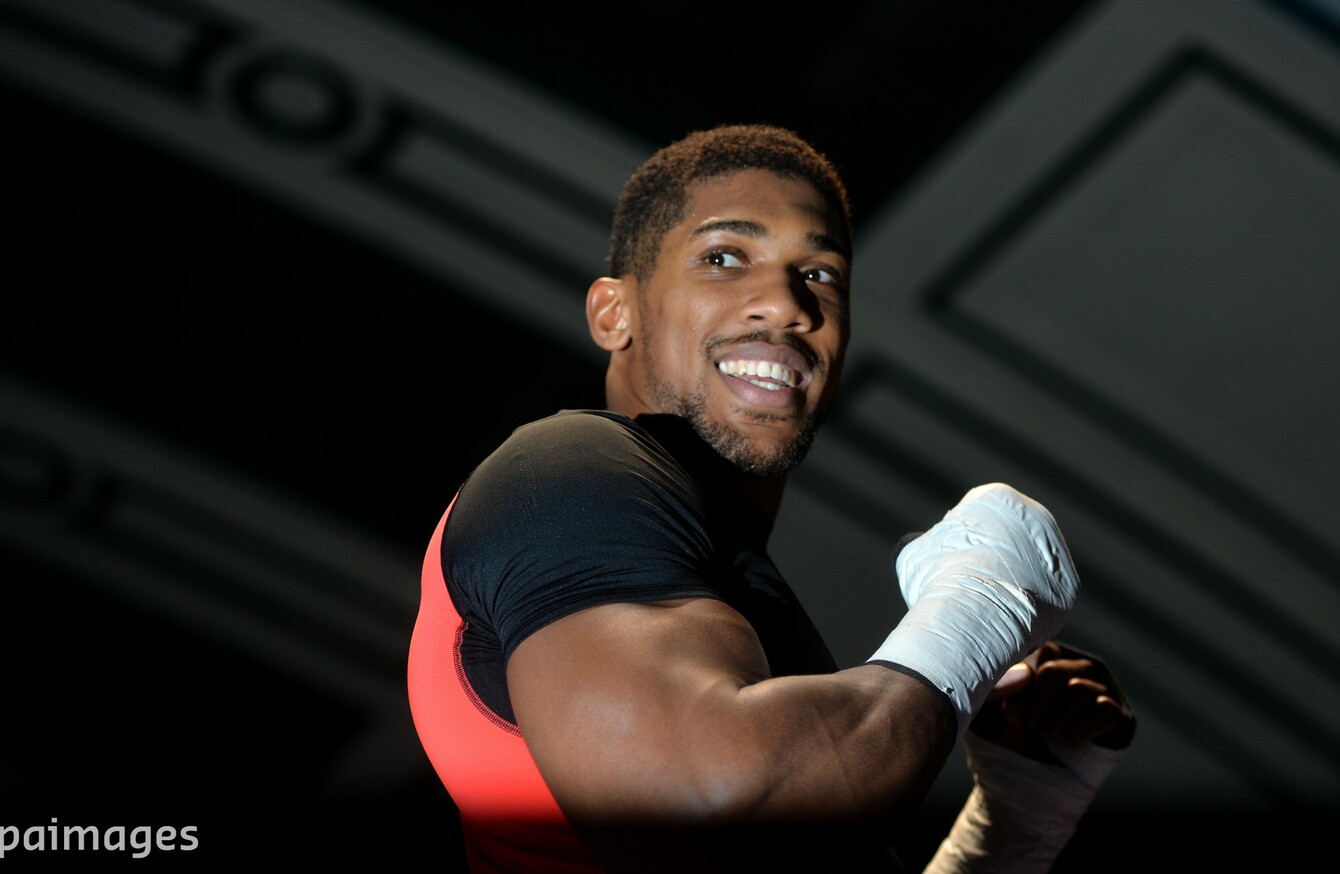 Image: PA Archive/Press Association Images
Image: PA Archive/Press Association Images
BRITISH SPORT HAS never been averse to succession plan.
Barely had its public reconciled Ross Barkley's coronation as 'the next Steven Gerrard' than had Deli Alli emerged as 'the next Ross Barkley'.
Dealing in comparisons is only natural, though. 'Success' has always been a relative term.
And yet, our keenness to seek out yardsticks from the past often serves to hamper our appreciation of the present. Few sports ride the nostalgia wave quite like boxing in that respect.
By in large, its dissipation from the mainstream has very much been a case of 'out of sight, out of mind'. Not since the heady days of Chris Eubank and Nigel Benn has the sport truly captured the imagination on these isles.
Shoots of life have emerged in the intervening years; Prince Naseem Hamed and Lennox Lewis' tours de force at the turn of the millennium made them household names on both sides of the Atlantic.
Pretenders aplenty have had their moments in the sun, from Haye and Hatton to Froch and Calzaghe. Sizeable though their success might have been, it existed by and large within the vacuum of a dwindling fraternity. Their status on Britain's broader sporting stage was that of supporting characters rather than leading men. Boxing's shift from the top table to the singles' table did little to help their cause in that respect.
Tonight could see a turn in that particular tide, however, the sport's heavyweight hopes falling squarely on the broad shoulders of one Anthony Joshua.
At six-foot-six, the Londoner has always sported plutonium grade raw material; 15 knockouts from 15 pro outings suggest he's already harnessed it into a rather potent weapon of mass destruction.
That his success in the paid ranks has come hot on the heels of a gold medal effort at London 2012 seems testament to the fact he is no overnight sensation. And yet, given that he only picked up the sport at the ripe age of 18, one could offer quite an ardent case to the contrary.
Joshua's keenness to make up for lost time was apparent from the get-go, however, the rookie prospect crowned English champion after just 17 licensed bouts. Domestic success soon parlayed into international ambition, an ever-less green Joshua blazing a trail to the final of 2011's World Amateur Boxing Championships in Azerbaijan.
Despite being bested by Baku's own Magomedrasul Majidov in the final, his trek to the mountaintop had begun in earnest. That silver-medal salvo earned him his feted slot on Team GB's Olympic team. The rest, as they say, is history.
If the in-ring procession from Finchley's ABC to Greenwich's O2 Arena may have appeared an unhampered one, hurdles outside the ring were a dime a dozen. Extra-curricular activity threatened to derail the Joshua hype-train before it had even left the station, his life trajectory skewing rather more towards Maidstone Prison than Madison Square Garden.
Prior to his ABA win in 2009, Joshua was put on remand in Reading Prison and later electronically tagged for 'gang-related offences'. A year later, his pursuit of world honours was almost prematurely thwarted when eight ounces of herbal cannabis was found hidden in his car. A subsequent two-pronged charge left Joshua staring down the barrel of a decade-long jail sentence. He ultimately escaped with a 12-month community order and 100 hours' unpaid work.
It was juncture from which never looked back, the Cinderella story he would pursue thereafter one seemingly unique to the romantic world of boxing.
And yet, the transcendental nature of his mainstream appeal speaks for the fact that his journey is in fact an overtly relateable one, a point of reference for those of a like mind.
That appeal outside the ring, coupled with the throwback nature of his seek-and-destroy style inside it, have pedestalled the Londoner as boxing's next superstar-in-waiting.
That his defeat of Dillian Whyte on 12 December boasted more pay-per-view buys than Tyson Fury's world title win two weeks earlier speaks for the magnitude of his allure. That fight sold-out out The O2's box-office in 42 minutes. Tickets for tonight's fare went in a little under three.
"Anthony Joshua appeals to such a broad market and genre of people," said promoter Eddie Hearn of the record-breaking numbers. "You can see it by the profile of the live audience in the crowd. Everyone's dressed up, there are a lot more women coming than normal. There's something very likeable about the way he conducts his business, in training, in the ring or in interviews. He has mass appeal.
"It doesn't matter if you're a rival of Joshua's or a rival promoter or a rival network: everybody should cross their fingers for a Joshua victory, because what it will do for the industry is give it a huge boost. British boxing is absolutely flying at the moment, but if a guy who won Olympic heavyweight gold in London can win the heavyweight title in London, we're cooking on gas. I'm buzzing. I'm nervous. I'm excited."
Missourian enigma Charles Martin, for his part, has been portrayed as something of a lamb to slaughter in the pre-fight pageantry, bringing the belt to Britain seemingly the height of his role in proceedings.
Martin's status as heavyweight champion of the world would seem to fly in the face of such dismissive tones, and yet his résumé does little to dispel the doubters. Likewise, the fact that a hotchpotch of boxing politics gifted him the IBF title on a technicality has done little to warm the cockles of boxing purists.
The 29-year-old will thus enter the ring as a betting underdog, bookmakers giving him a 1/5 chance of boarding the plane back to St Louis with hardware still in hand. And while Martin's skills of elusion and southpaw stance afford him more of a fighting chance than the hometown fans might care to admit, his resistance is likely to be futile one.
Anthony Joshua is the man who would be king, after all. Tonight he takes his crown.