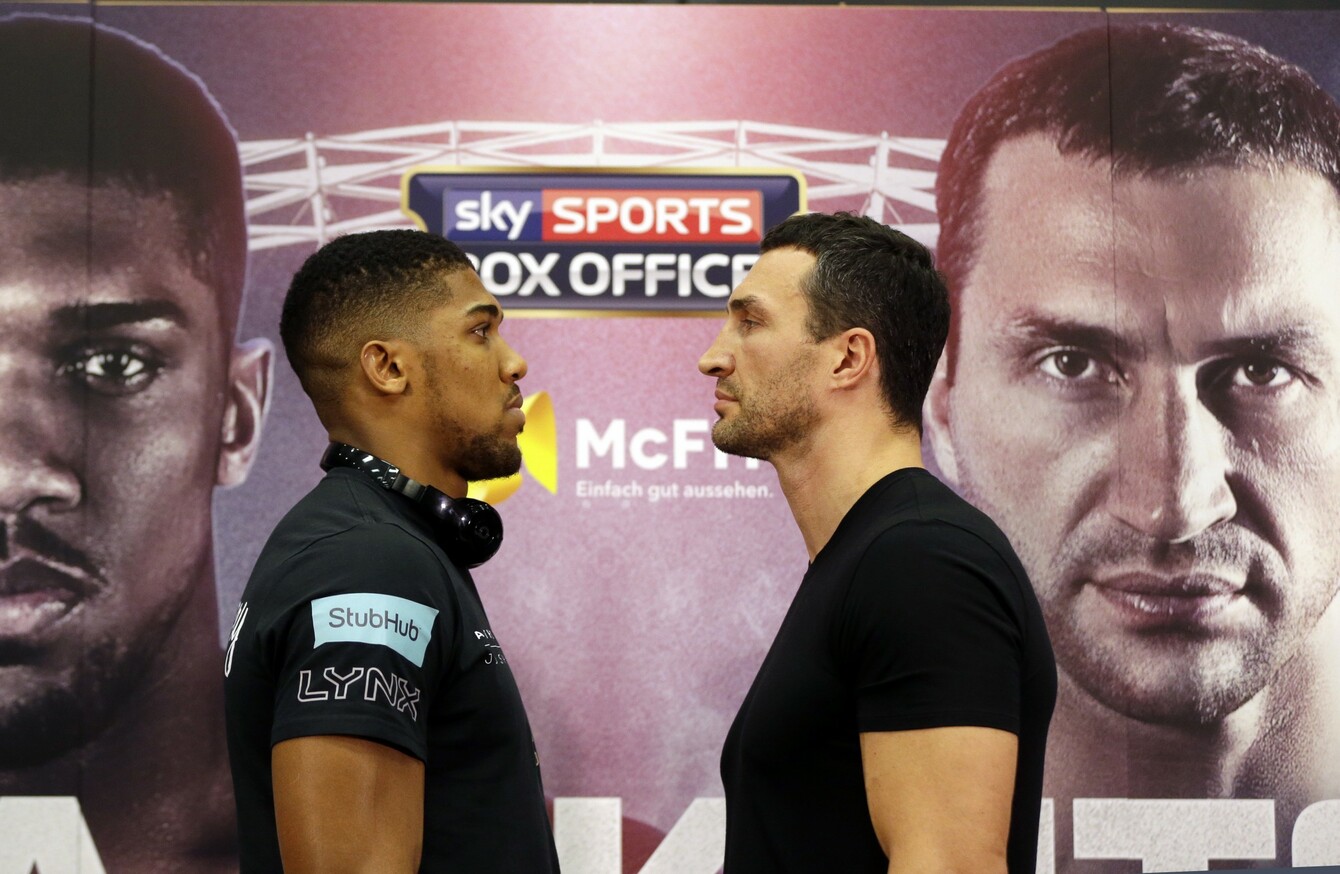 The two fighters standing toe-to-toe during today's press conference.
Image: Alastair Grant
The two fighters standing toe-to-toe during today's press conference.
Image: Alastair Grant
WORLD HEAVYWEIGHT CHAMPION Anthony Joshua says beating Ukrainian veteran Wladimir Klitschko in their showdown for the IBF and WBA crowns next April would entitle him to be called a legend.
The 27-year-old 2012 Olympic champion — who defended his IBF title successfully last Saturday against American journeyman Eric Molina — will face off against Klitschko on 29 April at Wembley Stadium and said the bout could be a life-changing experience for him.
"A knockout is the cherry on top but to win, whichever way, is very possible," said Joshua at a press conference also attended by Klitschko at Wembley today.
"This is a fight that can change one from champion to legend overnight.
"It will draw masses of attention and they are the type of fights that can change the way people view you."
Klitschko, who will be 41 by the time the bout takes place, said he has stayed in the sport since losing his WBA, IBF and WBO belts in a surprise defeat by troubled British pugilist Tyson Fury in November 2015 expressly to regain his titles.
I am obsessed with my goal to become the champion again," said Klitschko, who has not fought since that defeat.
Johsua, who is 18-0 in his professional career and has never been taken the distance, conceded that while Klitschko might be on the elderly side for a boxer contesting a world title it did not make him any less dangerous.
"I know what they mean when the say the old lion still roars and I know what that obsession is like because I live with that same obsession, it's just a clash of the titans," said Joshua, who was a sparring partner for Klitschko early in his professional career.
"In life you have to prepare for the unpredictable so you just never know.
"This is the step up people want to see, what more can I ask for? I'm true to myself, true to my sport and that's why I'm ready for any challenge."
Their press conference was conducted in a dignified and respectful manner which would have delighted the promoters after two rowdy recent press conferences.
Former world heavyweight champion David Haye threw a punch at his next opponent Tony Bellew and Dereck Chisora — who lost to Klitschko in a title challenge — hurled a table.
"It's amazing that two fighters aren't throwing tables or punching each other or saying what they're going to do to each other," remarked Klitschko.
Klitschko said his respectful attitude would not change towards Joshua.
I was, I am and I will be very complimentary of him (Joshua)," said Klitschko.
"The first time I saw him perform in 2012 when he became Olympic champion here in London, I felt he was following in my footsteps.
"Whatever the outcome, I truly believe he is one of the best heavyweights right now. I think Anthony is an absolutely outstanding athlete. It's great that eventually we meet."
Klitschko admitted even to addressing Joshua as 'little bro' — although he added it didn't mean he would go easy on him in the ring.
"We are friends in a certain way," said Klitschko.
"I did call him little bro but even when I am in the ring with my bro, I am very competitive."