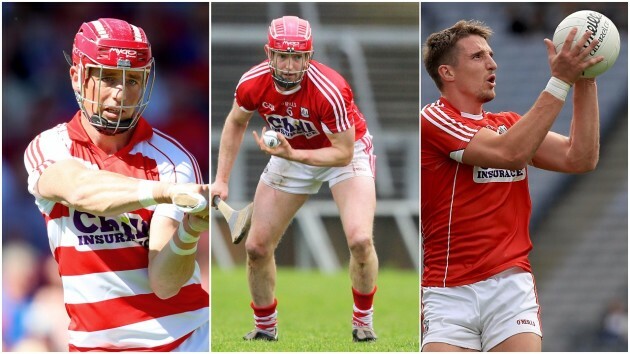 Nash, McLoughlin and Walsh helped Kanturk triumph
IN TERMS OF notable journeys to the senior club stage, this will rank high.
Anthony Nash and Lorcan McLoughlin won Munster senior hurling medals with Cork last July, Aidan Walsh did likewise in 2014 and has an All-Ireland senior football medal from 2010 in his trophy cabinet as well.
But for all those inter-county triumphs, they'll deeply appreciate a success at local level on Saturday night.
Kanturk graduated to Cork senior hurling status with victory in the county premier intermediate hurling final over Mallow by 0-17 to 1-12.
Two-time All-Star Nash was between the posts, McLoughlin chipped in with 0-8 – divided equally between play and frees – from midfield while Walsh bagged 0-3 from his post at the edge of the square.
They'll ply their trade at senior level in 2018, a feat embellished all the more given their location in the Duhallow division, the north-west area of Cork that skirts the border with Kerry and is traditionally a football heartland.
They're the trailblazers from that division, the first club that will feature in the senior hurling championship, just four years after they won the lower intermediate grade in Cork.
James Crombie / INPHO Kanturk players celebrating their county intermediate final win in 2013. James Crombie / INPHO / INPHO
Nash can savour it all the more, having solidered in their days as a junior hurling club.
"Incredible, I can't put it into words really," he told Cork's 96FM after the game.
"I started back in 2001 really with this team when we were junior. It shows my age, what is it 16 years later, we're gone up senior hurling.
"For a team in Duhallow, which is supposed to be a football area is incredible. I can't speak enough about the boys inside.
"It's unbelievable. We're welcoming the likes of the Glen and Erins Own and Sars, whatever about the championship, we're gone to senior hurling league."
Tommy Grealy / INPHO Nash will face Cork team-mates Patrick Horgan and Daniel Kearney at club level next year. Tommy Grealy / INPHO / INPHO
Nash was keen to apportion credit for their rise to the senior ranks. Aside from producing three marquee senior players of late, they have had John McLoughlin involved in Cork football squads, Darren Browne captained the Cork U21 hurlers this year while Ryan Walsh was centre-back for the Cork minor side in 2016.
Ken Sutton / INPHO Darren Browne in action for Cork against Waterford in this summer's Munster U21 semi-final. Ken Sutton / INPHO / INPHO
"That group inside, I don't play football but the boys inside have a football final in a few weeks time. They're picking from a selection of only 26 or 27 players.
"We started out 16 years ago junior and every player that's been involved along the way, every coach that's been involved along the way, has to take some credit for that.
"There's a fella walking into a dressing room there, Lorcan McLoughlin and if any team had Lorcan McLoughlin, they'd have a chance.
"Jesus he's awesome, every day he goes out for us. He just goes and does his business. He's a leader. I could go through the whole team, there's just a great buzz there."
For Nash the club campaign was a welcome distraction after Cork's inter-county season culminated in August.
Lorraine O'Sullivan / INPHO Anthony Nash in action for Cork against Waterford in August. Lorraine O'Sullivan / INPHO / INPHO
"On a personal level, we lost to Waterford in the semi-final of the All-Ireland and I said it straight out to the lads on the field that I didn't want to pick up a hurley or see one.
"I came back into training on the Wednesday night, he (trainer Jim McCarthy) gave me the Monday off and I just enjoyed the training session. We just thoroughly enjoyed the year.
"Everyone knows the club scene is just a volunteer, but look at least everyone of them is getting to do something tonight, we made history. Playing Cork senior hurling championship with your club is just dreams."
Kanturk's 2017 season is not over yet. A Munster club intermediate hurling campaign now begins when they face St Mary's, the club of Tipperary senior Seamus Kennedy, on 22 October at the quarter-final stage, while they also have a Cork intermediate football final date.
A few more chapters to pen in a year to remember.
Subscribe to The42 podcasts here: