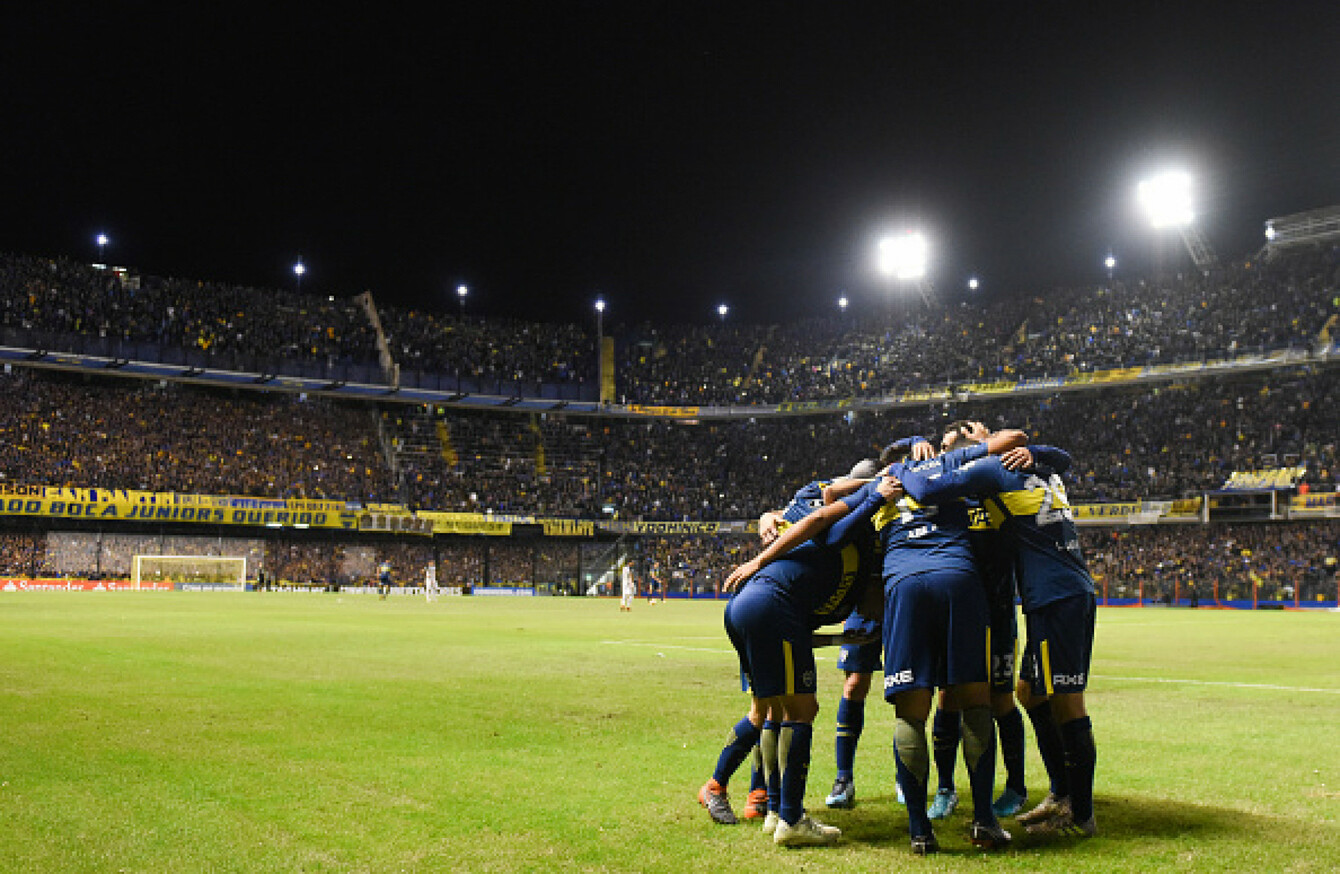 Image: Marcelo Endelli
Image: Marcelo Endelli
WHEN YOU SCRATCH the surface, there's a lot more than meets the eye. A rich tapestry not just of sport but politics, revolution and sociology.
The history of the Irish in Argentina seems to date back to the 16th century and two settlers who arrived on the east coast – Juan and Tomás Farel.
Later, names like McNamara and O'Gorman wielded military influence in the country. In 1814, the Mayo-born William Brown became Admiral of the Argentine navy. And not long after, another immigrant – John Thomond O'Brien – a native of Wicklow – was encouraged by the local government to entice more Irish to build new lives in Buenos Aires.
Inevitably, religion played its part too and when Fr. Anthony Fahy arrived in 1844, the catholic community began to grow.
By 1869, almost 11,000 British citizens were registered as living in the country but over 8,500 of them had Irish names and over 5,000 were Irish-born. In total, it's estimated that as many as 45,000 Irish arrived in Argentina throughout the 19th century.
Naturally, the wave of migrants ensured certain sports sprouted. Within four years of football effectively being invented in England (when the laws of the game were drawn up at the Freemason's Tavern in London in 1863), there was a club, Buenos Aires FC, already up and running and some even claim that there were two Irish men (one from Dublin, the other from Armagh) involved in the foundation of the team.
Still, there are two Argentinean sides with a definitive connection to Ireland: Lobos Athletic Club and Boca Juniors.
Lobos is over 100km outside Buenos Aires and the emergence of the club aligned with the settling of Irish immigrants and their desire to create something for the developing suburban communities to get behind. An incredible photograph, featured on the Society for Irish Latin American Studies' website (along with some excellent insight from Victor Raffo), shows the team in 1894.
Sitting in the bottom row and pictured with a ball at his feet is captain Tomás Moore. Some of the other names involved in the club at the time included Tomás McKeon, Eugene Seery, Santiago McKeon, Tomás Garrahan, Juan Geoghegan, Lorenzo Owens, Felix Dolan, Hugo Lawlor, William Weir and José Joyce.
The team grew to be one of the finest in the region. And despite the domestic game still being amateur at the time, they were the first Argentine side to play games in another country and took in some friendlies in Uruguay in 1899.
Simultaneously, the Irish kept arriving in their droves. And one in particular, Paddy McCarthy from Cashel, would have quite an impact.
Working as an English and physical education teacher in the Escuela Superior de Comercio (Commerce School), he made his name (and history) locally in 1903 by taking part in the very first professional boxing bout. The sport was still illegal but immensely popular and McCarthy was a keen fighter, even training amateurs at the time. His success in and out of the ring set him up with a strong network and, having decided against pursuing boxing as a career choice, he was attracted to administration instead and became a member of Buenos Aires' municipal committee for sports.
From there, he also began to coach football. Given the Irish influence at the club, he was inevitably hired by Lobos but – especially as the development of the game saw various communities start their own sides – he moved around other teams too.
He spent some time with Estudiantes, founded in 1905, but his association with Boca began that same year. The story goes that five Italian immigrants were coached by McCarthy and were greatly influenced by the Tipp native's love of the game and his work with other sides. The quintet wished to start up a club of their own based in La Boca, a neighbourhood in Buenos Aires.
Not long after, Boca Juniors were born and McCarthy was asked to assist, quickly going on to become the team's very first coach. Later, he served as 'president' – an honorary role that reflected his contribution to the birth of the club – for 17 years.
Professionalism was still decades away but, even still, McCarthy's impact can't be overstated.
For a long time, a common myth was that Boca's iconic shirt (blue with yellow trim) was inspired by McCarthy's home county. A good yarn but certainly coincidental. In fact, the inspiration comes from Sweden, not Ireland, and was a tribute to the very first ship that entered the La Boca port.
McCarthy continued as a football administrator for quite a while. He served as a referee for 18 years and, in 1913, it's said that he took charge of a game between the two rival teams from the same neighbourhood: Boca and River Plate.
So, by all accounts, the very first Superclasico was officiated by a man from Tipperary called Paddy.
McCarthy kept on teaching and coaching until his retirement in 1943. But there's one more football-related story that binds Argentina – and more particularly, the city of Buenos Aires – with Ireland.
The tale begins in the final days of 1909 and centres around three men who sought refuge in a train station, west of Buenos Aires' main hub, after relentless rain brought a premature end to their football match.
While huddled together in their impromptu sanctuary, they discussed the possibility of forming a new club, complete with a crest and team colours. And within a few weeks, it became a reality. When it came to deciding a name, the three friends remembered that fateful day in the rain, when they had schemed and speculated.
So, they called the club after the train station where they formulated their masterplan: Velez Sarsfield.
But, the station had been named after Dalmacio Velez Sarsfield, a famous legal figure in Argentine history and the man responsible for the country's civil code. Inevitably, given his surname, Sarsfield was of Irish ancestry, his forefathers having arrived in Argentina in the mid-18th century.
In terms of modern-day legacy, the Irish links have evaporated somewhat.
Lobos Athletic Club, originally founded by a group of Irish men and who boasted Paddy McCarthy as a coach at one stage, are active again but now play in a regional Buenos Aires league.
Still, subtle links remain strewn around the domestic game that continues to link both countries.
Two clubs (and four in Argentina overall) are named after the navy hero William Brown and one – Club Almirante Brown – ply their trade in the second division.
And, as always, some tales continue to carry weight regardless of the lack of detail.
One claim was that Alfredo di Stefano's ancestors originated in Swinford, Co. Mayo.
Given the volume of Irish immigrants that landed in Buenos Aires in the 19th century, perhaps that's not as ridiculous a story as it seems.
The42 is on Instagram! Tap the button below on your phone to follow us!