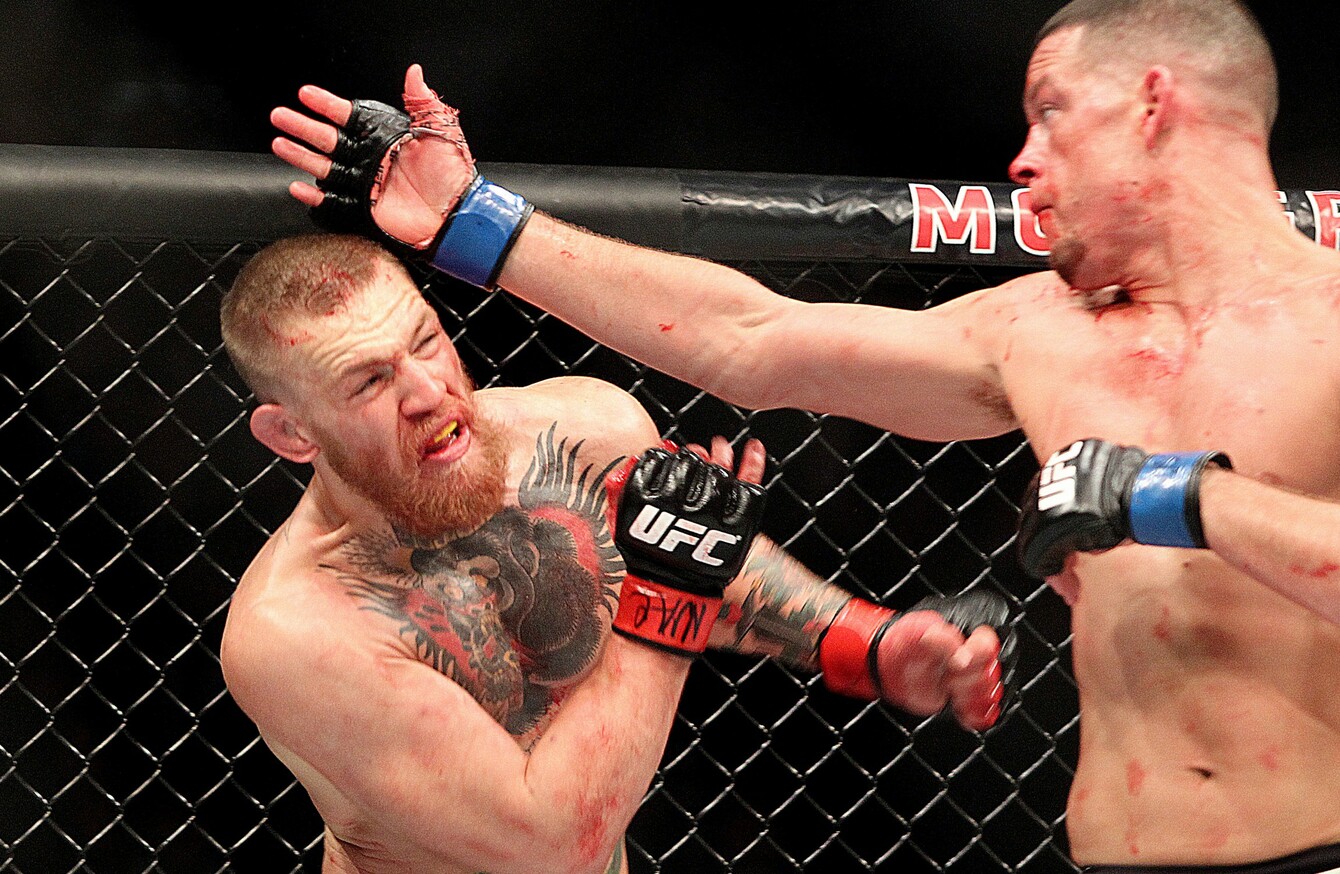 Conor McGregor and Nate Diaz trade blows during their bout at UFC 196 in Las Vegas on 5 March.
Image: Raymond Spencer/INPHO
Conor McGregor and Nate Diaz trade blows during their bout at UFC 196 in Las Vegas on 5 March.
Image: Raymond Spencer/INPHO
THE FIGHT HAS yet to be officially confirmed, but the man who first reported that Conor McGregor will face Nate Diaz in a welterweight rematch insists it's much more than just a rumour.
Not for the first time, Ariel Helwani of MMAFighting.com had his ear to the ground on Friday when he revealed that McGregor is in line to face Diaz in the main event at UFC 200, which will take place at the brand new T-Mobile Arena in Las Vegas on 9 July.
Many fans were surprised by that development, particularly in relation to the prospect of the fight taking place at 170lbs. Subsequent reports and discussion questioned whether that was accurate, with some observers pointing out that a 155lbs bout was more likely.
McGregor, the reigning featherweight (145lbs) champion, was due to face current lightweight (155lbs) title-holder Rafael dos Anjos at UFC 196 on 5 March. When dos Anjos withdrew due to injury, Diaz stepped in to submit McGregor in a contest which took place at welterweight (170lbs) due to the short notice.
"The UFC is working towards a UFC 200 main event involving Conor McGregor and Nate Diaz. Yes, Conor McGregor and Nate Diaz II, the rematch of the fight that happened just a few weeks ago in Las Vegas at UFC 196," said Helwani on the latest episode of The MMA Hour, which aired last night.
The vast majority of Nate Diaz's fights have been contested at lightweight, but Helwani explained that McGregor didn't want the rematch to take place in a different weight class to their initial meeting as he's keen to make amends under the same set of circumstances.
Helwani: "Oh, by the way: It's not happening at a more natural 155lbs, it's happening at 170lbs. An interesting thing has happened since I put out this report. A lot of other media sources confirmed it, and that's all well and good. They did it right, they credited, I have no beefs.
"But a lot of what was said and reported was actually incorrect. By the time that news came out, a lot of people said: 'Well, they're working on it but there are no contracts verbally agreed'. I can assure you that the contracts had already been issued — not signed, but anyone who told you that there were no contracts issued, thus making it a little less of a real thing, that was inaccurate.
"The contracts are already out there and that's what they want, and make no mistake about it: The reason this is happening at 170lbs is because — to be frank — Conor McGregor is a bit of a wildman. He's obsessed with the idea that he lost to Nate Diaz at 170lbs. He feels like he should have won and he wants the same circumstances, the same rules, the same stipulations. He wants to do it again and he wants to prove that he's the better man."
In the immediate aftermath of his defeat to Diaz at the MGM Grand, McGregor suggested that a featherweight title defence against Frankie Edgar or Jose Aldo would be next. But Helwani says a rematch of his welterweight debut is likely to be announced this week.
"I feel like I have to come out and say this, and I don't want to go on a rant right off the top, but I'm not in the business of reporting rumours, and I see some other people — even some colleagues saying: 'Oh yeah, it's going to be at 155[lbs]' — that this is unconfirmed.
What are they
really like?
Rare insights on sport's biggest names from the writers who know them best. Listen to Behind the Lines podcast.
Become a Member
"Trust me — I hope by now the track record speaks for itself — when I say 'in the works', when I say 'targeted', the only reason why I don't say 'official' is because I have enough respect for the UFC and its brass to say: 'Alright, it's official only when they say it's official'.
"But, I mean, this is the plan, my friends. This is the plan. I'm not just throwing out a conversation… a pie-in-the-sky idea. This is what they want — all parties involved. You think Nate Diaz doesn't want that payday again? It's going to be better than the first one.
"Conor wants to run it back, the UFC wants to make money and they believe that the most money to be made is with this fight as the main event at UFC 200."
The42 is on Snapchat! Tap the button below on your phone to add!