A ONCE IN a lifetime experience, only twice.
It's four weeks out from the Rio Olympics. Arthur Lanigan O'Keeffe is putting the finishing touches to his preparation ahead of a second appearance at the Games.
But all of this is new territory. He was in London four years ago but the build-up this time around couldn't be any different. Sitting on a beach on a Greek island, Lanigan O'Keeffe received a call from his coach asking would he be interested in competing in London.
One of the Polish qualifiers had failed a drugs test and the 24-year-old was in — with just a month to get himself in the right frame of mind, and condition, for the biggest event of his career.
It was so much of a rush that he couldn't enjoy it. Months of preparation had to be squeezed into a couple of weeks and he even questioned was it all worth it.
"Getting the call was unbelievable, suddenly my luck had changed," Lanigan O'Keeffe recalls.
"I was living a dream. That was a pretty special moment but it's an experience I'm never going to forget.
"It was completely manic. I remember I was home for a few days before I had to head out to London. The amount of interviews and things I had to sort out, you wouldn't believe. Even just getting the kit. I remember thinking, "is this even worth it?"
James Crombie / INPHO Lanigan O'Keeffe qualified for Rio by winning European gold last August. James Crombie / INPHO / INPHO
"I was so stressed out at the time. I didn't even have tracksuits that fit. I had extra, extra large pants and small tops. It was just nuts. This time it's a lot more calm, relaxed. I've had nice build-up. I'm a lot more confident as I've had all that training under my belt."
Lanigan O'Keeffe is in the best shape of his life. Shortly after our chat in the opulent Marker Hotel in Dublin last week, he heads out for a short training run. It's meant to be his day off.
As a modern pentathlete, it's all a balancing act. The Kilkenny native divides his rigorous training programme between fencing, swimming, show jumping, pistol shooting and running.
His sport is the ultimate test of physical and mental endurance. For Lanigan O'Keeffe — the current European champion — every session and every event has been building towards Rio.
He's even allowed himself dream of standing on that podium — but for just an hour a day, he insists. And then it's back to business.
"Every action is so that I will perform in Rio but I'm trying to stay in the moment," Lanigan O'Keeffe continues.
"I'm trying to do each day the best that I can. I'm not stressing about it or overly obsessing about it. It's mostly so I just nail the technical and day-to-day parts of life.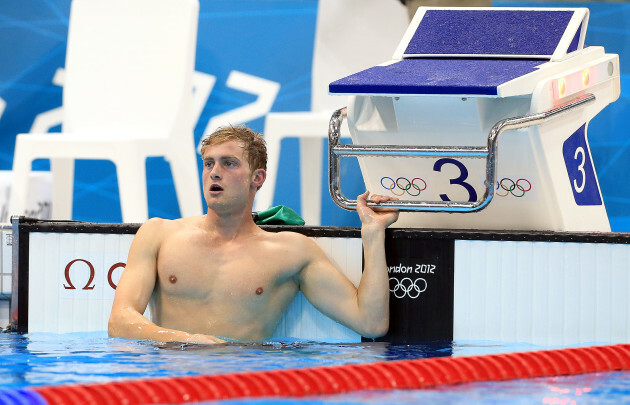 Dan Sheridan / INPHO Swimming is just one of five different sports in his event. Dan Sheridan / INPHO / INPHO
"Last time I had zero pressure at all because everyone knew the circumstances in which I qualified. I was the only junior in Europe to qualify and I was very much there just to compete and that was my goal at the time was just to get there. I was delighted, I'd almost done my job before I even got there.
"This time is very different. Pressure is a really good for me. Usually when I work under pressure I get my best performances. It's there but I don't feel nervous or anything about it which I thought I would. I feel calm because, touch wood, I haven't been injured in the past two years. Physically I've never been as strong."
There's a maturity about Lanigan O'Keeffe now. He knows his body and strengths better and knows exactly what he's capable of. There's the experience too.
Four years ago may have been a bit of a blur but he came away from London enlightened. He got a taste of the Olympics, the crowds, the media attention and the pressure. He learned to shut it all out and focus on getting his job done.
"To have that experience of competing at an Olympic is huge," he explains.
"It's a massive advantage. A lot of the guys I'll be competing against will be very strong but will have not gone to a Games before. I know myself I made a lot of mistakes that I would never make at any other competition. But that was because it was the Olympics. I picked up epees, which are the swords, that were completely wrong. The occasion gets the best of you.
"It was stressful but the whole thing didn't pass me by. I've got lots of different memories the one that stands out was when I was walking down the dining hall and I remember Ryan Lochte and Michael Phelps walked by me. They're my childhood heroes.
"I remember waking up and moments later I'm in the middle of the dining hall having completely lost myself and everyone I was with. I think I got to take in that experience the last time. This one will be just a job. It'll all be very focused."
Lanigan O'Keeffe and Natalya Coyle are currently in the UK trying to separate themselves from any distractions at this crucial stage. They will then head to Brazil and spend a couple of weeks in a holding camp in Uberlandia.
Billy Stickland / INPHO The Kilkenny native couldn't be in better shape heading to Rio. Billy Stickland / INPHO / INPHO
As his event isn't until 20 August — the final day of the 2016 Games — Lanigan O'Keeffe won't head into the athlete's village until the very last minute. The Olympics will be in full swing but he'll be 900km north gearing himself up for his moment.
"I've been working ten years of my life to experience this. I'm just going to enjoy. I'm sure two or three days before the event it will get very real. I think I've a lot of experience behind my belt and will be able to handle it even though I'm quite an emotive person.
"Even the process of the things like getting qualified, getting the kit are emotional. But emotional in a good way. They're not a sad time, it's living a dream. It's really cool.
"Each time you experience that it makes you more ready to push yourself at the end of the day. Whenever I have a crowd and family there I always do better. I had a lot of family come over for the Europeans and it was my best competition ever. I love letting them see what I do best and getting to show them what it's all about."
And there will be a big Irish contingent in Rio. A group of his school friends from Glenstal Abbey in Limerick are making the trip, as are his family.
The last time they were on the sidelines, Lanigan O'Keeffe surged to European gold. He's not one to tempt fate but in the 104-year history of the modern pentathlon, a European has finished top of the podium on every occasion.
"Success for me would be to hit all my targets and all my personal bests," he says. "If I do that and I come fourth theres's nothing else I could have done but I think if I do that I most likely will win a medal.
"The goal will be winning. I'm going there now to do a job and hopefully that job is getting that medal."
The42 is on Snapchat! Tap the button below on your phone to add!