"We had a small black and white TV. We had no electricity so it was connected to a car battery. Every time someone would drive past the house, we'd lose signal. But after every game, we'd head out into the street and take a plastic bottle and fill it with grass. We'd run around and play until the lights went out."   
Before the gangs and the drugs and the violence, Ashwin Willemse was just a wide-eyed kid watching South Africa's coronation as world champions of rugby.
"A young and innocent time", he tells The42.
He talks of Chester Williams as having been the poster boy and a personal hero.
The black winger was an apparent symbol of change, of understanding, of acceptance – a sign that apartheid was in the past. Years later, Williams would argue that owing to the racism he suffered at the hands of a team-mate (James Small), his was a convenient story for marketers to push. It was a ploy. An advertisers's dream. But it worked on two levels. Firstly, as much as the country still struggled with racial tension, unity secured them the Webb Ellis trophy. Secondly, for young black children, Williams was finally someone they could relate to. Finally, they had someone to emulate.
Mike Egerton / EMPICS Sport Chester Williams scores his first try in the 1995 Rugby World Cup clash with Western Samoa. Mike Egerton / EMPICS Sport / EMPICS Sport
"I looked up to him and was a massive fan and that was where the dream started", Willemse says.
"Imagine being a young boy who loved the game of rugby. It inspired a new sense of belief and hope that one day I could be on that field in green and gold."
For Willemse though, the fantasy didn't last long.
Growing up on the outskirts of Cape Town, he lived in poverty with his mother and grand-parents. His father had walked out when Willemse was just two years old. Representing his country was as far-fetched a notion as there could've been. A father-less black kid born and raised in the South African ghetto? His life was already mapped out. He wasn't supposed to amount to anything. As much as he excelled at sport, he wasn't buying into the dream. Something else made more sense – the seductive and intoxicating world of gang-crime.
Willemse became a member of The Americans – a notorious organisation which boasted of around 10,000 members in their 1990s heyday. He got the gang tattoos, he became a drug mule, he carried out various orders.
GuinnessEurope / YouTube
He became drunk on the power, the acceptance, the inclusiveness. But he was an easy target too. Willemse came from a broken home. He had no influential male figure in his life. His grand-parents, deeply religious, struggled to keep a watchful eye. He longed for a proper family. He thought he had found one in The Americans.
Quickly and inevitably, things spiralled. He stole. He took drugs. He sold drugs. He shot people. He was shot at. He became, what he later admitted, 'his biggest client' because he consumed the drugs he was supposed to sell.
In one way, it was exhilarating. But in another, it was as make-believe as his dreams of playing for the Springboks. Because he was empty inside. He was merely searching for something. And when he reached the really dark places, rugby – not drugs or guns – was the one constant.
At 16, he tried to kill himself.
"Any person, at any age, at any stage of their lives, who contemplates suicide must be carrying a heavy burden. I got to a point where I could no longer carry the weight. I gave up on my dreams. I gave up on my goals, my ambitions. I quit on myself and I wanted to quit on life because it was just too hard and too tough. It was a very low point. I was in the basement of my life. The lights were out and no one was around me. It was a lonely place. A place from which I felt I could not escape.
But it's because of where I am today that I can reflect and it was a very selfish way of living. I was occupied with my needs and my desires and I was not considering anyone else's feelings but my own. Because what if I had not made it through alive? Imagine the confusion, the hurt, the heartache, the pain, the loss that I would've left behind? But we become the accumulation of our experiences. And today, I'm still here and I'm a little bit stronger than yesterday."
When Willemse later woke up in hospital, his rugby coach was there – along with his school rugby team. It was a touching moment. He finally had the family he always wanted.
Phil Noble / PA Archive/PA Images Ashwin Willemse in action against Uruguay in 2003. Phil Noble / PA Archive/PA Images / PA Archive/PA Images
There were other key moments around that time. One of his friends was also a talented athlete but ruined by his off-field excesses. He was 21 when he walked up to his girlfriend, with whom he had an infant child, and shot her in the head before turning the gun on himself.
One night, Willemse left his house and went to rugby training. Fifteen minutes later, a rival gang showed up and opened fire, killing a close friend and two other members of The Americans who were in the house at the time.
On another occasion, one of Willemse's cousins was raped by four members of his own gang.
"In many ways, I can't associate with a large part of who I used to be", he says.
I think my experiences have given me a deep sense of empathy toward other people. Never once was I in a position where I yearned to go back to a certain place. It was always about how I was going to get to the next place. I accept everything that happens to me and make it part of my armour."
There was another moment too, one that Willemse describes as 'a life-changer'. He was seventeen when then-Springbok Breyton Paulse visited his school.
Another black player. Another winger. Another hero. But where Chester Williams seemed a world away on television in 1995, here was Paulse up close, in the flesh. This was real.
Willemse was a gifted talent. But, as his coach explained to Paulse that day, he had nothing. He came from nothing. A few days later, Willemse received a gift from Paulse in the post.
Inside the box were boots, training kit and money.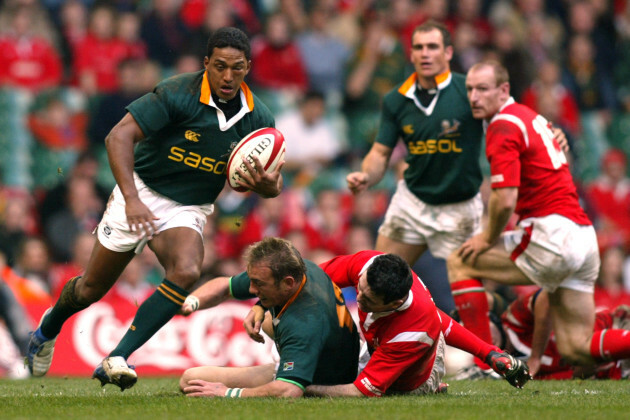 Nigel French / EMPICS Sport Breyton Paulse, seen here against Wales, was a crucial influence on Ashwin Willemse realising his goal and playing for South Africa. Nigel French / EMPICS Sport / EMPICS Sport
"I will probably never be able to adequately capture that moment in words. I felt helpless because all I had was a dream. But the dream was accompanied by a lack of resources. So that gift, that opportunity, changed my world in a way that no-one could've imagined. It renewed the burning desire I had. It basically empowered my belief and it elevated me to a higher sense of consciousness."
That was 1999. Five years later, Willemse and Paulse lined up on opposite wings as the Springboks took on Ireland at Lansdowne Road.
The dream, seemingly lost forever in a haze of drugs and violence, had been rescued and realised.
Exclusive Six
Nations Analysis
Get Murray Kinsella's exclusive analysis of Ireland's Six Nations campaign this spring
Become a Member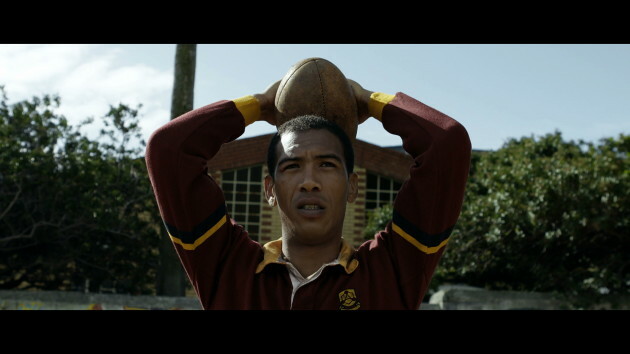 A new Guinness film tells the uplifting story of ex-Springbok, Ashwin Willemse, and how his teammates were there for him when he needed them most.
It was Paulse's 50th cap that day. In the dressing-room afterwards, Willemse asked his idol for his jersey because it had his name stitched on the front to commemorate the special occasion. Paulse was confused so Willemse filled in the blanks.
"I told him, 'There was a day in 1999 when you came to Caledon and you spoke at a school. There was a boy who you sent a bag to. That boy is me.' Breyton didn't know it was the same boy standing in front of him.
The shirt is one of my most prized possessions, together with a jacket that my grandmother bought for me in my final year of high school. They are the two items I hold dear to my heart. They are symbols. Reflections of the goodness of people. It captures the true essence of humanity."
Willemse got out, somehow. He was one of the lucky ones. Still, he doesn't try and hide from his past. He abandoned attempts to remove his gang tattoos, intent on not erasing reminders of where he'd come from. And as much as there were a litany of bad influences when he was younger, there was also his family. And where he spends little time now thinking about the fate of those who only served to bring him down, he sometimes stops and reflects on the few who offered love and affection and support.
There is one person that I dearly miss. And every so often I will sit and will have a conversation with her. I will be with her. And that's my grandmother. It feels so real. She passed on in 2011 but I miss her so much that I allow myself to engage with her. And I reminisce on the beautiful memories that we shared. I go back to those moments where she touched me in a profound manner."
Willemse retired from rugby in 2009, aged just 27. He had played 19 times for his country and scored 25 points – the most memorable score coming in the 2003 World Cup when he raced clear under the posts against Samoa – just like he watched Chester Williams do on a battered black and white TV set all those years before.
"Rugby has given me an opportunity to transform my life". he says.
"It has been that light, that beacon of hope that was able to redirect my focus and create an entirely new opportunity for me. It has changed my world beyond my wildest imagination."
The World Cup carries special significance for Willemse. It conjures beautiful memories. He hopes that today's clash will bring about more for his country.
"In light of what transpired earlier this year in Durban in the Rugby Championship, when South Africa lost to Argentina, I think the rugby Gods will unite and provide South Africa with the opportunity to go into the final and rectify the mistake we made against the Argentine team and they'll arrive back in the first week of November with the William Webb Ellis trophy."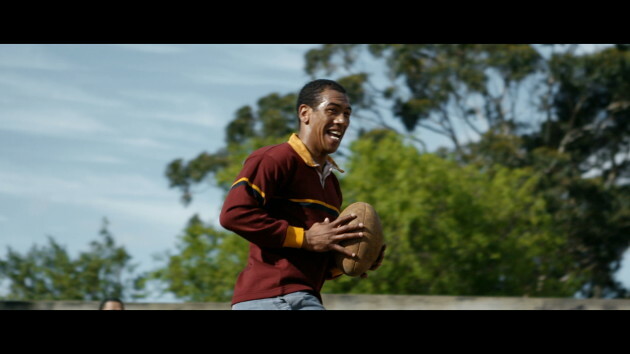 When we talk, Willemse, who's 34 now, mentions how he had been busy with exams that morning. He's been studying philosophy and industrial and organisational psychology for the last number of years.
"I'm studying to enrich myself. But, man! The pressure of writing an exam!"
So, given the choice, he'd prefer to face the All Blacks than an academic test?
"Any day! Education has never been a part of my life. So this journey has given me so much respect for the education system. To grasp the concepts, to understand them, to remember them, it's an amazing experience.
"We don't have a university graduate on either side of my family. So, I have committed myself to the fact that I'd like to be a university graduate at some point in my life. This morning I wrote a subject called 'Engaging with Society'. I'm not quite sure how it went but I feel that way after every paper."
Something tells me he did okay.