Our players are enjoying it. If we finish in the top spot, brilliant. But nobody can take away how many Villa supporters have come to this ground this season and have seen – with two or three exceptions – smashing football. They've seen players express themselves and enjoy it and that's the sort of thing we want to try and take through right to the death."

Ron Atkinson, March 1993 
FOR QUITE A while it seemed Aston Villa would land the very first Premier League. On 20 March 1993, they were top of the table and two points clear of Manchester United and Norwich after victory over Sheffield Wednesday.
They had got close before – with Graham Taylor pushing them to a runners-up spot three years earlier. But inevitably – given owner Doug Ellis' curious ways – they crashed through the floor only to be resurrected.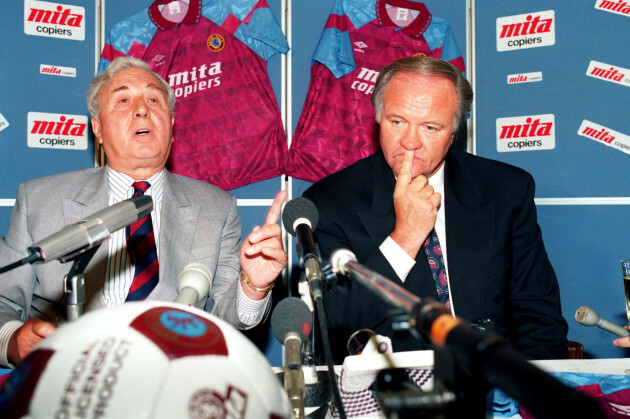 Ross Kinnaird Ross Kinnaird
After the miserable Jozef Venglos experiment backfired, it was left to the charismatic Ron Atkinson to swagger into town and splash some much-needed colour on the walls.
And he pieced together an exciting side. There was a superb attacking partnership with Dean Saunders – signed from Liverpool for a club record of £2.5m in September '92 – alongside Dalian Atkinson and the pair racked up an immense return between them.
In the first 15 games of the season, they accounted for 16 of Villa's goals. And that's with Saunders having not been there for the first seven fixtures.
But, around them, there was a neat mix of personalities too.
In the middle of midfield were the solid and dependable Kevin Richardson and Garry Parker. Earl Barrett was an uncompromising full-back, with Ryan Giggs offering him up as the toughest opponent he'd faced at that point of his career. When Villa needed to offer something a bit different, they could turn to Dwight Yorke and Tony Daley. And even when veteran goalkeeper Nigel Spink was unavailable, they had a young, raw but impressive Australian by the name of Mark Bosnich.
There was also a trio of experienced Republic of Ireland internationals.
Paul McGrath would finish the season as the PFA Player of the Year. Considering his personal problems and the injury issues that always plagued him, he played in every one of Villa's 42 top-flight games. Overall, he missed just a single fixture and ended up with a remarkable tally of 51.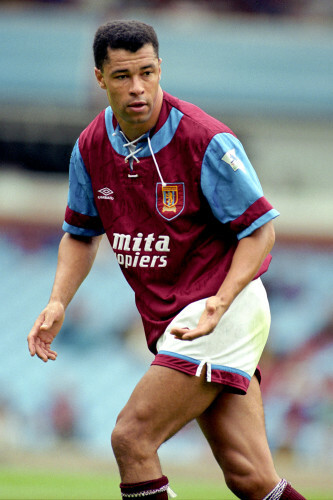 Phil O'Brien Phil O'Brien
But Steve Staunton was a relentless ever-present too while Ray Houghton was first-choice on the right side of midfield.
It was Houghton who put the icing on a 3-1 win at home to Manchester City in late-April. The three points were badly needed because they'd wobbled since beating Wednesday the previous month. They lost to Norwich, were held to an unforgivable scoreless draw at home by Coventry and squandered their place at the summit as a result.
On Sky Sports, Martin Tyler described the victory as 'a real revival' after Niall Quinn had given the guests the lead and a stunned Villa struggled to find any rhythm.
But they battled back and got themselves to within a point of leaders United with midweek fixtures to come.
"The first Premier League season giving all football lovers a captivating conclusion," was how Tyler wrapped up his commentary.
"There's no room for doubters in either camp now," he continued.
Ultimately, it was Villa's self-doubt that ensured a massive collapse.
Ross Kinnaird Ross Kinnaird
Their next game was at Ewood Park and from a low Houghton cross early on, Atkinson strained to reach the ball with his left foot. It was an awkward height and a struggle for him to properly get control of the shot. It struck the inside of the near post and bounced to safety.
Blackburn went on to score three times in the first half and ran out 3-0 winners. Barry Davies, reporting for BBC, didn't hold back at full-time.
"The miss by Dalian Atkinson proved to be crucial and was, maybe, the moment when Aston Villa's championship hopes disappeared."
It was tough on the striker, who missed a large chunk of the second half of the season because of a stomach problem. In his absence, Villa could rely on Saunders for a while. But then his goals dried up.
In the final 15 games of the season, Saunders scored once. Certainly not fully fit upon his return to action, Atkinson's final goal of the entire campaign came on 5 December.
During the run-in, the team completely crumbled and from their final three games found the net just once.
Considering things had been so close for so long, United ended up claiming the championship at a relative canter. They won the title without having to kick a ball as Villa lost to Oldham and were 10 points clear come the end of the season.
And that was the opportunity for Villa.
The following season started brightly and Atkinson scored a brace in a big win over QPR. And there was a terrific, absorbing evening clash with United at Villa Park that echoed the competitive battles of previous years and hinted at life still in the old dog.
Atkinson was on target again, Saunders was impressive and Richardson struck a fierce volley that cannoned off the post. But, Lee Sharpe scored twice and Villa were beaten again.
Still, it was the post-Christmas hangover that ruined the campaign once more and the same failings weren't dealt with properly. Bringing in Guy Whittingham from Portsmouth didn't work, from the final 15 games they managed 10 goals and everything went up in smoke.
There was a League Cup triumph and some retribution as Villa got the better of 10-man United which put an end to the talk of a Treble.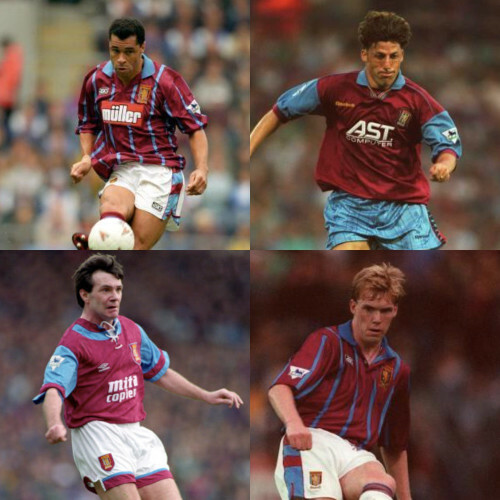 And four Irish internationals claimed a medal that day as Andy Townsend had joined in the summer.
In keeping with tradition, Villa almost fell through the trapdoor immediately after.
Atkinson was sacked after an awful run that saw them win twice in their opening 14 games. Brian Little was tasked with keeping them in the top-flight and transitioning Villa to a better place and he managed both: investing smartly in young players, sweeping out the deadwood and retaining those he couldn't do without.
The likes of Ian Taylor, Alan Wright, Gareth Southgate and Mark Draper all flourished while Yorke stepped up and delivered consistently.
The reward was the 1995/96 campaign that saw the club finish fourth in the league and reach the FA Cup semi-finals.
And, they picked up more silverware too as captain Townsend – voted Man of the Match in the comprehensive 3-0 win over Leeds – climbed the Wembley steps and lifted another League Cup.
It remains the last major trophy they've won.     
Subscribe to our new podcast, Heineken Rugby Weekly on The42, here: