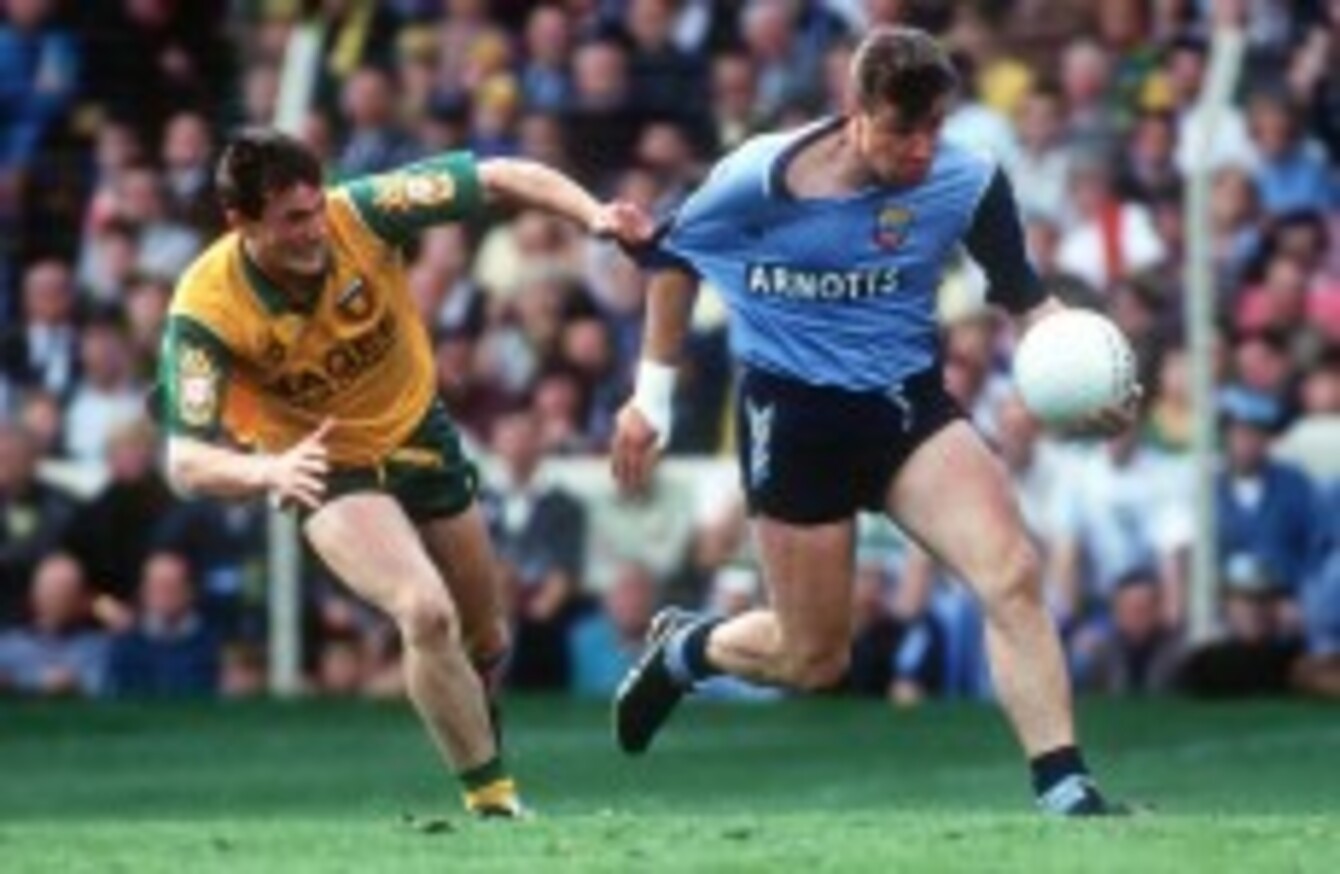 JJ Doherty gets to grips with Charlie Redmond in 1992
Image: Inpho.
JJ Doherty gets to grips with Charlie Redmond in 1992
Image: Inpho.
TIME IS TICKING down. All the tickets are sold. 20,000 Donegal supporters are ironing their yellow and green jerseys in anticipation of Sunday's All-Ireland SFC semi-final at Croker.
In the capital, the bunting is up and expectations are at the seasonal high. On Sunday it's winner takes all.
As is typical of a Dublin game this time of year, all facts and form have long been thrown out the window and the Dubs have been listed as 'favourites' for the game. Donegal are expected to play their part with spirit and determination, but lose when push comes to shove.
However if history is anything to go by, if Dublin aren't careful, they will be in for a shock. The sides have been paired together three times in the Championship and the head-to-head reads one win a piece.
The teams first met in the 1992 All-Ireland final. Dublin, who went into the game as heavy favourites in many people's eyes, squandered a hat full of goal chances through-out the game (including Charlie Redmond, the fireman who sent his first half penalty blazing high and wide) and it was Martin McHugh's Donegal who won their first Sam by 0-18 0-14.
The victory would inspire many Ulster counties, including Derry, Armagh and Tyrone, to believe that the All Ireland was there to be won by northern counties and not the birth right of Kerry and the southern chasing pack.

The sides would have to wait 10 years to meet again. Tommy Lyons led a resurgent Dublin into the quarter-final showdown having won their first Leinster in seven years. Donegal came through the back door and the Dubs were favourites once more. Ray Cosgrove was bang in the middle of his red hot season and his 2-2 on the day looked like it would send Dublin to victory. However Donegal's Adrian Sweeney had other ideas. The corner forward kicked 0-3, as the clock ticked down, to drag the sides to a replay the following Saturday.
Dublin found their top gear in the replay and a further 1-3 for Cosgrove eased Dublin though by 1-14 0-7. It is well documented that after the game several Dublin players went on a lap of honour, soaking up the adulation of their fans. The footage was used as motivation by the Armagh players in the build up to the semi final, a game the orchard county won by a point.

There will need to be no such complacency in the Dublin camp on Sunday if they hope to leave Croke Park the victors.
Donegal's relentless never say die attitude has dragged them over the line on more than one occasion this season. While Dublin's display against Tyrone was impressive, their early season form was worrying and they will have to prove that they can put back to back performances together or they will be caught out again.
Donegal were equally as impressive in their quarter-final win and won't fear the Dubs one little bit.
An All-Ireland final date with Kerry is the prize that awaits the winner. Both sides will feel that Sam is in sight and will be gunning for each other on Sunday. Training is complete. The teams are picked. Time is ticking down.
Donegal v Dublin tale of the tape
Head to head:
2002: Dublin 1-14 Donegal 0-7 (All-Ireland quarter-final) Replay
2002: Dublin 2-8 Donegal 0-14 (All-Ireland quarter-final)
1992: Donegal 0-18 Dublin 0-14 (All-Ireland final)
Paths to the Semi-final:
Donegal
Donegal 1-10 Antrim 0-7 (Ulster 1st round)
Donegal 2-14 Cavan 1-8 (Ulster quarter-final)
Donegal 2-6 Tyrone 0-9 (Ulster semi-final)
Donegal 1-11 Derry 0-8 (Ulster final)
Donegal 1-12 Kildare 0-14 (All-Ireland quarter-final); (After extra-time)
Dublin
Dublin 1-16 Laois 0-11 (Leinster quarter-final)
Dublin 1-12 Kildare 1-11 (Leinster semi-final)
Dublin 2-12 Wexford 1-12 (Leinster final)
Dublin 0-22 Tyrone 0-15 (All-Ireland quarter-final)
Top scorers:
Donegal
Colm McFadden… 1-12
Michael Murphy… 1-11
Patrick McBrearty… 1-5
Dermot Molloy…1-4
Mark McHugh…1-2
Dublin
Bernard Brogan…0-19
Dermot Connolly…1-10
Alan Brogan…0-11
Stephen Cluxton…0-8
Paul Flynn…1-4
Last Five All-Ireland semi-finals:
Dublin
2010: Cork 1-15 Dublin 1-14
2007: Kerry 1-15 Dublin 0-16
2006: Mayo 1-16 Dublin 2-12
2002: Armagh 1-14 Dublin 1-13
1995: Dublin 1-12 Cork 0-12
Won 1, Lost 4
Donegal
2003: Armagh 2-10 Donegal 1-9
1992: Donegal 0-13 Mayo 0-9
1990: Meath 3-9 Donegal 1-7
1983: Galway 1-12 Donegal 1-11
1974: Galway 3-13 Donegal 1-14
Won 1, Lost 4.