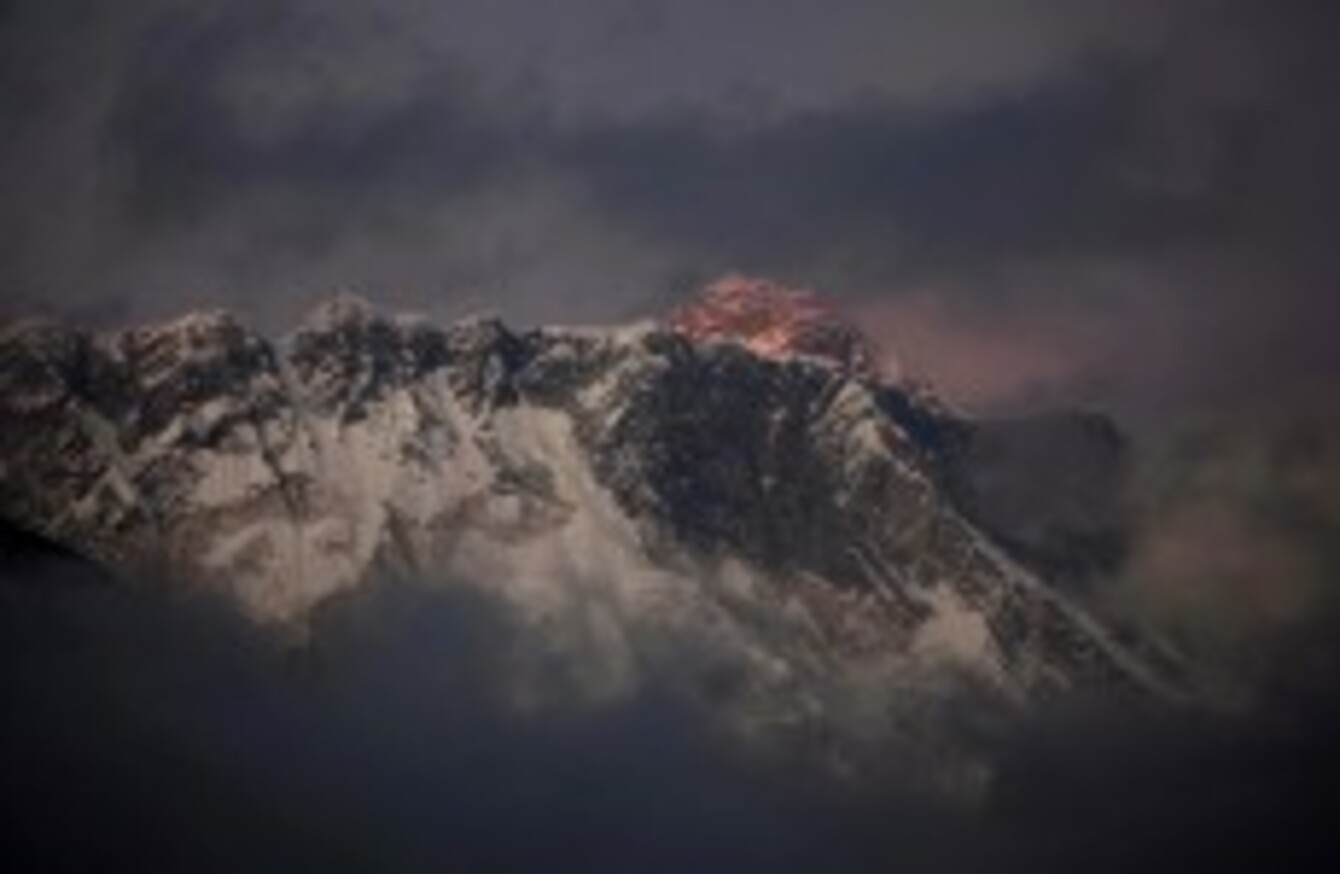 In this Oct. 27, 2011 file photo, the last light of the day sets on Mount Everest as it rises behind Mount Nuptse as seen from Tengboche, in the Himalaya's Khumbu region, Nepal.
Image:
AP
/Press Association Images
In this Oct. 27, 2011 file photo, the last light of the day sets on Mount Everest as it rises behind Mount Nuptse as seen from Tengboche, in the Himalaya's Khumbu region, Nepal.
Image:
AP
/Press Association Images
THE SEARCH FOR Nepalese guides still missing after the deadliest accident on Mount Everest was suspended Sunday due to bad weather, as a climber recalled the frantic minutes immediately after the avalanche hit.
13 guides were killed and nine were plucked to safety after an ice avalanche smashed into their expedition on Friday, but thick cloud has halted rescuers' efforts to find the remaining three.
"We will resume search and rescue operations when the weather clears," said tourism ministry official Dipendra Paudel.
"It's just too cloudy and windy at the moment, we don't want to risk more lives," Paudel told AFP.
The sherpa guides were among a large party that left Everest base camp, carrying tents, food and ropes to prepare routes for international clients before the main climbing season starts later this month.
The avalanche hit the sherpas at an altitude of about 5,800 metres (19,000 feet) in an area nicknamed the "popcorn field" due to ice boulders on the route, which leads into the treacherous Khumbu Icefall.
Dozens of guides were on the move when a huge block of ice broke off from a hanging glacier, before splitting into smaller chunks and barrelling down into the icefall, one of the most dangerous areas en route to the summit.
Moments after climbers heard the sound of crashing ice, they sprang into action, calling helicopter companies for help and trudging through snow to rescue stranded colleagues, an American climber said from base camp.
"Our guys got their gear and were out the door in minutes," said Joe Kluberton, Everest Basecamp Manager for Seattle-based Alpine Ascents International.
Kluberton, whose team lost four sherpas in the accident with another still missing, told AFP the local and foreign guides' speedy response saved at least three lives.
"We got nine men off the mountain including three who were critically injured and needed immediate medical attention," he said.
Just 24 hours before the accident, Kluberton's team had held a day-long prayer ceremony at base camp, asking priests to bless their climbing gear and putting up Buddhist flags, in line with local customs which consider Mount Everest to be sacred.
"We basically ask the mountain for permission to climb, we don't cross base camp until we finish the puja (prayer)," he said.
The next day, Ang Tshering Sherpa, the team's cook who had spent 12 summers working on the mountain, would make his final trip to the icefall.
Two young members of the team, Nima Sherpa and Mingma Nuru Sherpam who also lost their lives in the accident, had recently been promoted to climbing guides after spending four years working at base camp.
"They knew the risks, we are all familiar with the dangers of Everest, but it doesn't make it any easier to lose your friends," Kluberton said, his voice cracking with emotion.
- Base camp in mourning -
The disaster underscores the huge risks borne by local guides who ascend the icy slopes, often in pitch-dark and usually weighed down by tents, ropes and food for their clients.
News of the accident sent shockwaves among the mountaineers, leaving some climbers and sherpas considering whether to continue with their expeditions.
"At this point, we are in mourning, we are not ready to think of the future," Kluberton said.
More than 300 people, most of them local guides, have died on Everest since it was first climbed by Sir Edmund Hillary and Tenzing Norgay in 1953.
The previous worst accident on the 8,848-metre peak was in 1996 when eight people were killed during a storm.
Every summer, hundreds of climbers from around the world attempt to scale peaks in the Himalayas when weather conditions are most suitable.
The government has issued permits to 734 people, including 400 guides, to climb Everest this season.