Brendan Rodgers and Mario Balotelli.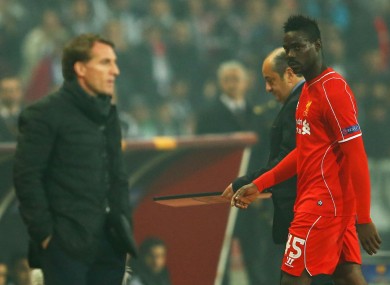 Brendan Rodgers and Mario Balotelli.
MARIO BALOTELLI AND Brendan Rodgers are seemingly both unconcerned by the assertion that sarcasm is the lowest form of wit.
Rodgers took a chance on signing Balotelli from AC Milan for Liverpool in 2014, with the enigmatic striker going on to endure a nightmare season at Anfield.
Balotelli scored once in 16 Premier League games as he proved a wholly inadequate replacement for Luis Suarez and returned to the San Siro on loan a year later.
Rodgers was sacked early on in the 2015-16 campaign, but both men have gone about rebuilding their reputations this term — Balotelli netting 14 Ligue 1 goals for Nice, while Rodgers' Celtic are unbeaten domestically and a game away from winning the Scottish treble.
Nevertheless, their ill-fated alliance on Merseyside still apparently leaves a bad taste. Speaking at Celtic's end-of-season-awards event, Rodgers was asked who was the best player he had ever coached.
"Mario Balotelli… he was a fantastic player," the 44-year-old responded, clearly in jest. Italy international Balotelli then took to Twitter to offer similarly false praise of the Northern Irishman.
"Brendan Rodgers you are also the best manager I ever had," he tweeted. "Amazing."