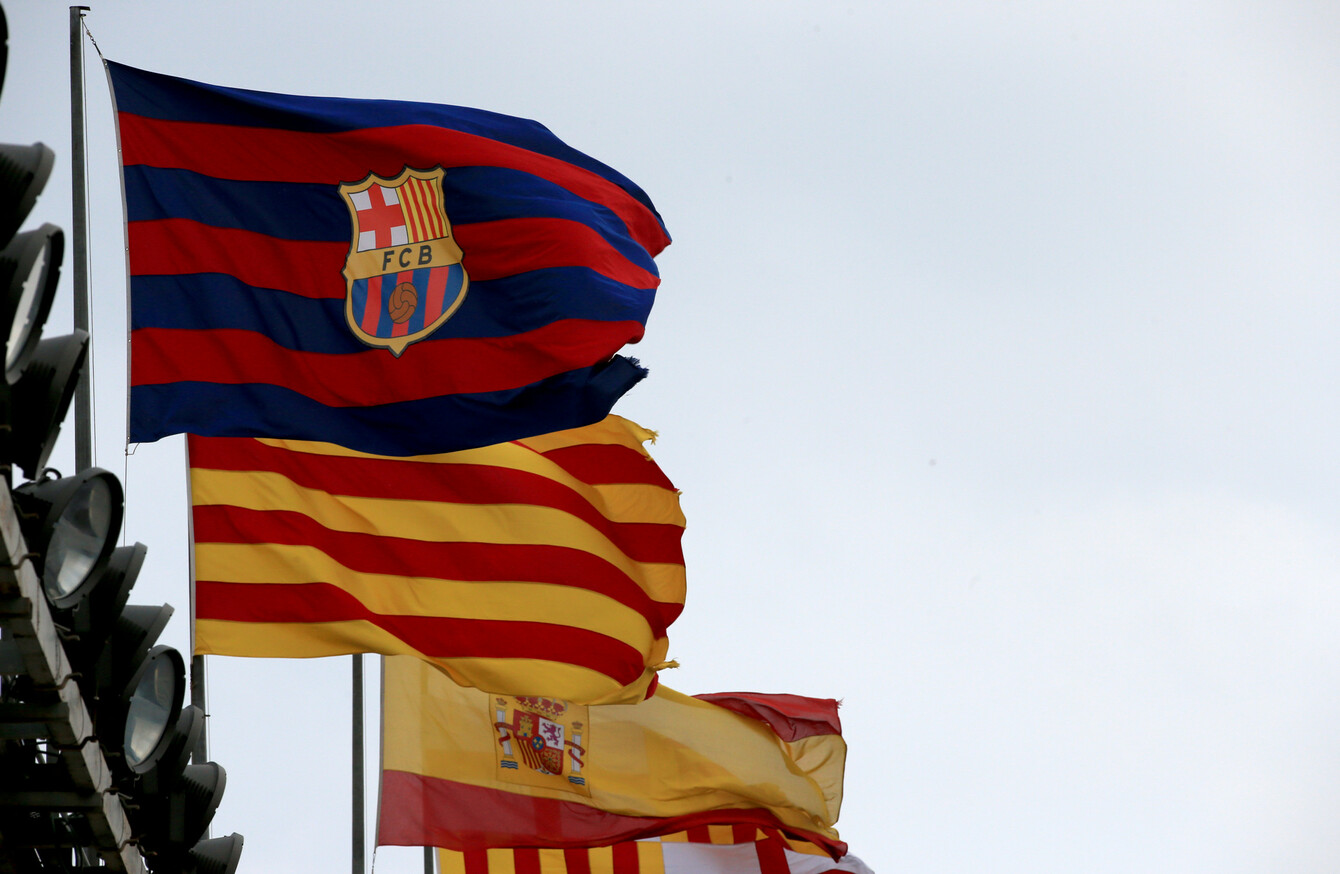 Even the letters FCB on their crest are key to identifying Barcelona's Catalan roots.
Image: EMPICS Sport/PA Images
Even the letters FCB on their crest are key to identifying Barcelona's Catalan roots.
Image: EMPICS Sport/PA Images
THE BROADCASTER HOWARD Cosell might be best remembered for his repartee with Muhammad Ali, but he's also the man who made the phrase "sports is the toy department of human life" famous.
The original quote comes from another boxing reporter, Jimmy Cannon, but not only is it an opinion that has failed to age well, it may never have been true in the first place.
The concept of sport being something trivial, an aside to real life, dates all the way back to the 19th century and the emergence of commercial sporting bodies who really didn't want to pay their athletes.
From there, the 'stick to sports' attitude emerged but, in the case of FC Barcelona, they've been at the heart of Catalan cultural, social and political autonomy from as early as the 1910s.
According to Ramon Spaaij's brilliant book 'Understanding football hooliganism: a comparison of six Western European football clubs', this started when the club changed its official language from Castilian to Catalan, after which it evolved the "més que un club" — more than a club — identity.
That identity was further solidified during the military dictatorships of Miguel Primo de Rivera and Francisco Franco.
While the former's regime threatened to close the Nou Camp for six months for booing the Spanish national anthem, the identification of Catalan independence with the football club really came to the fore during the latter's 36-year rule.
Under Franco, any sign of outward opposition was swiftly dealt with, but Barcelona, like Athletic Club Bilbao in the Basque country, became a subversive means of expressing independent sentiment.
That's not to say Franco didn't have an impact on the team. When he came to power he made the club use the Castilian version of its name, with the letters FCB on the club crest changing to CFB and the Catalan flag was excluded.
While the four red bars of the flag returned in 1949 to mark the club's 50th anniversary, the original lettering and Catalan name did not return until 1974, a year before Franco's death.
Fast-forward 43 years and it should come as no surprise that the club finds itself, once more, at the heart of the battle for Catalan identity.
In the weeks running up to last weekend's independence referendum, fans in the Nou Camp could be heard chanting "let us vote" while the club staff announced a work stoppage on Monday in response to Spanish police trying to block voters.
"The basic situation is that there's a lot of tension on both sides," says George Mills a reporter with El Pais.
"There's a lot of social tension both within the Catalonia region and in Spain.
"There's obviously a huge amount of support for independence, we saw that in the poll where 42% voted but there's definitely a strong, mostly silent or invisible majority of Catalans who either don't support independence or are unsure.
So when [FC Barcelona] appear to back the Catalan independence cause, it's not as clear cut as all their fans jumping on board."
Mills points out that the fear in the Spanish government is not necessarily about losing Catalonia to independence, but the domino effect that will have on the Basque and Galicia — home to the likes of  Celta Vigo and Deportivo La Coruna — regions.
"One thing I think is forgotten is that Barcelona is a really popular club outside of the Catalonia region," Mills says.
A lot of Spaniards tend to support their own team and then have a favourite between Barcelona and Real Madrid because of their rivalry and they have all the best players. Basically, if you want to watch Spanish football, you kind of have to pick a side in that fight.
"And whether Barcelona's stance affects their support within Catalonia, I don't know, but a Barcelona fan in the south of Spain may well decide 'I'm not supporting them any more.'"
With high profile players such as Gerard Pique saying he considered stepping away from the Spanish set-up, the issue is one affecting all aspects of FC Barcelona.
That he was booed during a training session earlier in the week shows the level of hostility that surrounds the issue.
"It was difficult because obviously you don't like the fans to be against you and to address you with that hostility," the defender said.
"Nobody likes to be insulted and booed. I think this is a challenge for me and I believe I can turn things around.
"There are people that were offended by my words but there are also many others in Spain that understand how I feel.
Whether I think one way or another, through respect and coherence, we can find a way to reach a common understanding."
In addition to Pique's comments, after Barcelona's 3-0 win over Las Palmas on Sunday, Jordi Mones and vice-president Carles Vilarrubi stepped away from their roles with the board because they believed the match should have been postponed, not played behind closed doors.
And more than that, on Friday the club's president, Josep Bartomeu, insisted they would stand with the people of the region and requested the Spanish government to engage in talks with Catalonian authorities.
"These last few days, Catalonia has been going through one of the most transcendental periods in its recent history," said Bartomeu.
"FC Barcelona, as one of the leading institutions in the country, demands a process of dialogue and negotiations to find political solutions to the situation happening in Catalonia, and for this to be done with the utmost respect for the wish of the majority of Catalan people to decide on their future.
We are more than a club. And it is precisely because of that that we feel that it is our duty to stand by our people, under such difficult circumstances as those that are being experienced right now.
"We are therefore officially supporting the Independent Commission for Mediation, Dialogue and Conciliation promoted by the Barcelona Bar Association.
"Together with other bodies from civil society, we want to build bridges with dialogue that contribute to resolving the conflict in a peaceful and consensual fashion."
But will it work? Mills is not so sure.
"Everyone is so angry at the moment, it's unlikely there'll be much constructive dialogue between the two sides.
Neither side will want to be seen to back down. I hate to use a journalistic cliché on you but it's basically uncharted territory, everyone is just holding their breath to see what will happen next."
Whatever does happen, as they have for almost their entire history, FC Barcelona are likely to be at the heart of it.
Subscribe to The42 podcasts here: