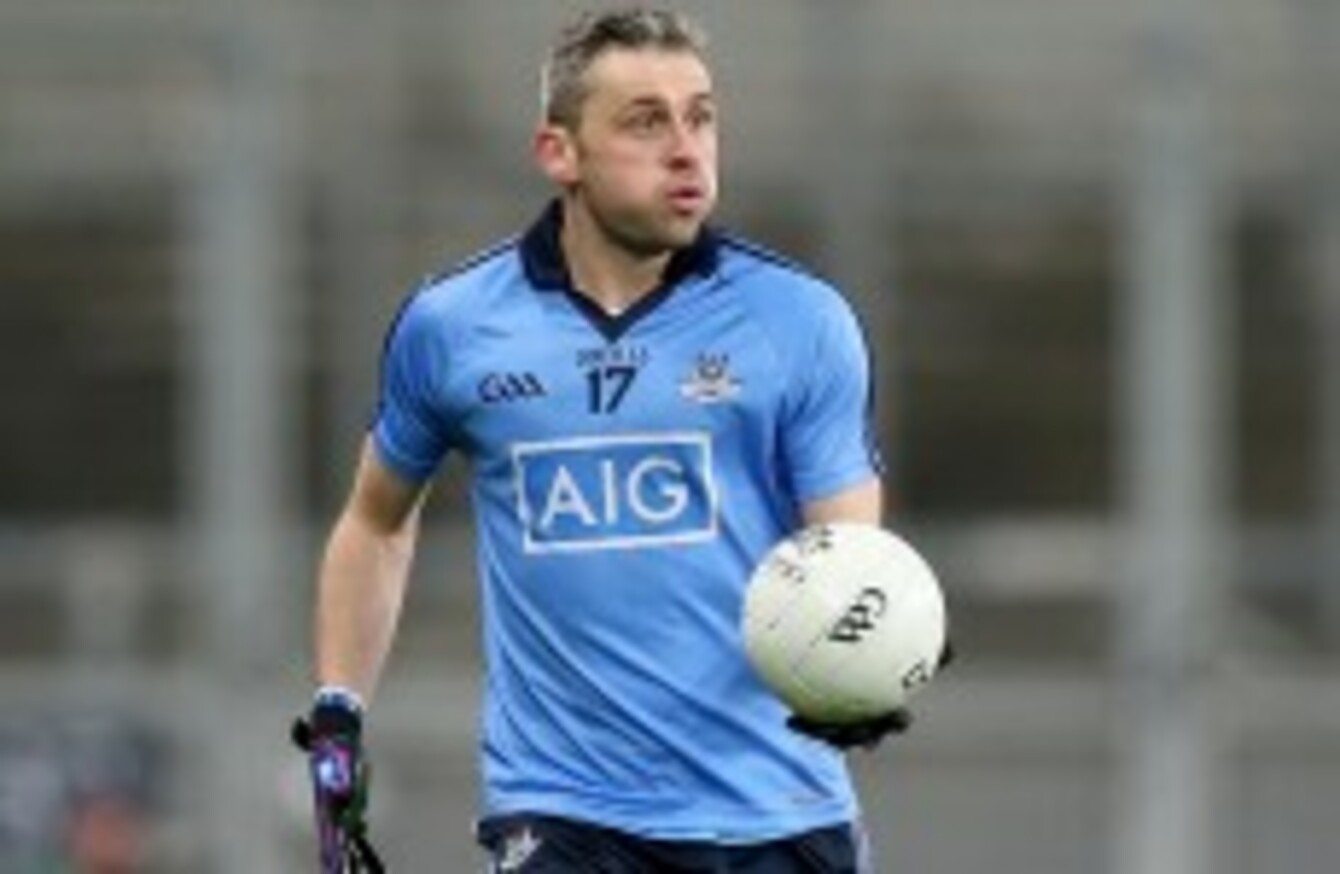 Brogan in action against Kerry earlier this month.
Image: ©INPHO/Dan Sheridan
Brogan in action against Kerry earlier this month.
Image: ©INPHO/Dan Sheridan
BARRY CAHILL KNOWS better than most about the quality the returned Alan Brogan can offer for Dublin this year.
After overcoming the troublesome pelvic and hamstring injuries that plagued him in 2013, Cahill stresses that his former teammate will be hungry to make up for missing out last year. Indeed, he believes that Brogan might not even be available had it not been for those injuries.
"From knowing him well, I think his play was maybe for 2013 to be his last season but obviously the year didn't really unfold the way he would have hoped and it was a very frustrating time for him," says Cahill.
"He was obviously back playing well and training well for a two or three-week period around July and hoping to feature in the Cork game. If he got a few minutes under his belt there he would have got more for the Kerry game and possibly could have pushed for a starting place going in to the All-Ireland final a few weeks later."
That wasn't to prove the case however, with the forward cruelly missing out on the run to All-Ireland success. Having started and finished the Division 1 league opener against Kerry at the start of the month, Brogan demonstrated that he still has class in abundance.
He was never really going to lose that," according to Cahill. "Now its about managing the injury, and getting more match practice under his belt. It will be interesting to see how he gets on.
"He got through the full 70 minutes against Kerry, which will stand to him. I'd day Jim (Gavin) will use him, on and off, during the national league. But he's a great option to have then for the summer, coming off the bench for 20 minutes, or starting and getting 50 or 60 minutes out of him."
But can the creaking body cope with the demands of those momentous occasions in the championship? Cahill understands the difficulty of playing on as a veteran, retiring from inter-county football in this time last year.
"It won't be easy. Once you get over the 30 mark, it is difficult to keep it going. Playing on a hot day in Croke Park in July and August, it is hard to keep up with some of the younger guys. You need to use your experience as much as you can."
Dublin have enjoyed wins over Kerry and Westmeath to get their league campaign underway this year, and Cahill thinks they have the necessary elements to make this another victorious season.
"I think the 2014 approach for Dublin will be a lot different than the 2012 one. Dublin hadn't won an All-Ireland in 16 years and there was a sort of a novelty element to it but I think this Dublin group is by far the best equipped to do back-to-back All-Irelands than any other team for a number of years."
And still, it is too early to truly judge which teams will be in the mix come the summer. Cahill points out that the games in March will be the best indicator of the relative strength of the challengers.
I think from a player's point of view, you're still getting rid of the cobwebs in the first few games in February. Then there's a three-week period there where teams actually do a lot of training and get a lot of good fitness work under their belt.
"Having four games back-to-back is great because they can't actually flog you that much on a Tuesday or Thursday knowing that you're playing every Saturday for the next month or so.
"Then you've guys coming back from the Sigerson. I think things start to take shape once you get into March. A lot of the older guys tend to come back as well after maybe taking a break in the early part of the season, a few injuries tend to clear up, and especially if a team like Dublin are going well you want to make yourself available and try to get back into the team as much as possible.
"It's an interesting four-week period ahead."