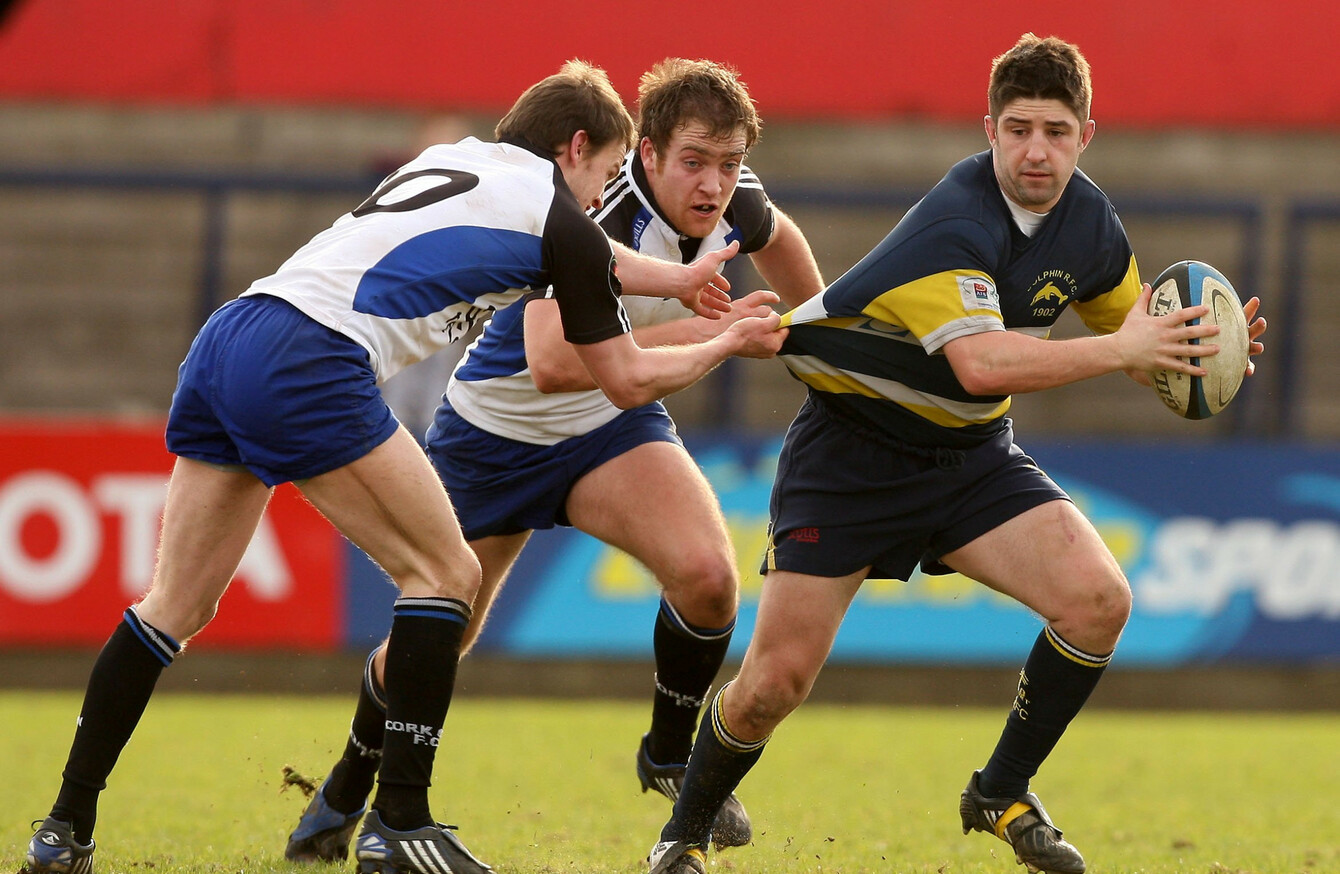 Image: James Crombie/INPHO
Image: James Crombie/INPHO
"LOYALTY," OFFERS BARRY Keeshan with only the briefest of beats after a query as to what has kept him coming back to the All-Ireland League and to Dolphin for 16 long seasons.
A native of Douglas, a legend of Musgrave Park, the out-half will hang up his boots – even that trusty left one – on a bittersweet note after Dolphin's trip to Naas today.
Last Saturday was a chance to bid farewell to his home turf and the club's luminaries duly laid on a reception for Keeshan and his long-supportive parents Denis and Margaret to mark the end of one chapter of Keeshan's immense service to the club and the AIL.
"It was a bit strange, but I did just enjoy it more than anything. With the league position we're in… I probably wouldn't have said anything if we weren't fighting relegation or going the other way for the top four.
"The fact that (relegation) was done after the Shannon game, I told the family and then the lads in the dressing room."
Though he would love to feel able to help the club chase promotion from Ulster Bank League 2A to put right the relegation suffered in this campaign, with his 34th birthday ahead of him this summer, it's a natural time to put an end to his playing days.
Keeshan's legacy was already steadfastly secured last season when he overtook Richie Murphy (Ireland's skills and kicking coach) as the AIL's record point-scorer. It's scant consolation to Keeshan, but in the midst of a disappointing campaign he was able to grow his haul from the 1608 that earned him a City Hall reception to the present total of 1733 — and still not out.
Not bad for a man who doesn't even use a kicking tee.
"I take a lot of slagging for the cone, but it seems to work anyway," Keeshan tells The42 with a laugh as he explains his choice to kick from equipment more commonly used as a means of temporarily lining out a playing surface.
The French great Christophe Lamaison used the same low-tech to kick Les Bleus to the World Cup final 1999, so Keeshan didn't see a need for anything more complicated.
There is science behind the kicking, so I don't think it varies much by tee."
As his peerless stats suggest, there's never been much wrong with Keeshan's method. Torn between football with Douglas Hall and rugby before he hit his teens, the great Fred Casey helped him commit to the oval ball and Cork Constitution.
He went on to star in schools rugby for PBC, guiding Pres to the 2002 Munster Senior Cup final, and a 16 – 10 half-time lead over St. Munchin's, only for a Donnacha Ryan and Damian Varley-powered pack to take the title the way of the Limerick school.
His first appearances and points in the AIL came with Cork Con, and the brightness of his prospects were underlined with international U21 honours. In the class of 2005, he rubbed shoulders in a green shirt with Tommy Bowe, Andrew Trimble, Stephen Ferris and Gareth Steenson. And around Musgrave Park they trumpet a clash with England in Dublin when Keeshan kept one Jonathan Sexton as an unused replacement.
From Keeshan's perspective it wasn't quite as simple as that. It happened alright, but Sexton is over a year younger than the Corkman and was brought into the squad primarily as injury cover late in the campaign.
Besides, he has his own painful experiences to deter him from glorying in anyone else's lack of game-time when they're close enough to taste the level of rugby they've been working relentlessly to reach.
There's no quick and easy salve for his close-but-not-close-enough experience with Munster in the 2005/6 season.
Twice Declan Kidney included Keeshan in Celtic League matchday squads while Ronan O'Gara was away on Six Nations duty, so Keeshan's headshot appears deep in the archives of the southern province's senior squad profiles. But Keeshan twice watched the 80 minutes tick by without a need for him to cross the line, and so there are no stats to accompany his profile pic. Paul Burke and Jeremy Manning kept Kidney well-stocked for ROG deputies.
It's an all too common story in the All-Ireland league: talent comes out of school with a belief that he can break into his province. If that effort fails, every AIL club would gladly act as a safety net, but the discouraged talent can often prefer to bow out of the game altogether.
The dropping age profile of the UBL is a subject touched on by the league's detractors and promoters alike. But it's the men that stick around, and play for the love of it long after the professional game has written them off, who keep the whole scene alive. Even when it means sacrificing valuable tracts of time at a stage of life when it's natural to explore outside possibilities.
For his entire adult life, Keeshan has planned five days of most weeks around rugby; four nights of training before a matchday to look forward to. As an out-half, coaching was never out of his remit, but he has been formally Dolphin's backs coach since 2015.
As a day job, 'Keesh' plies his trade as a senior fund accountant with Citco. We ask how he manages to balance the coaching, playing and working and speaking after a day's work he responds with a slightly weary past-tense answer.
"I wouldn't like to be going with the current situation in the club. But the mind and the body, there's a lot of mileage there.
When you're playing or coaching or doing analysis (it's manageable), but I'm doing all three.
"Anyone working nine to five or six will find that hard, and that's on a good day. Rushing home to training…
"To do anything well, you've to do it properly and it's very hard to do all four."
Why do it then? Why bring on the feeling that you're squeezing work and play into too tight of a space rather than letting one or the other flourish?
That word again, a word that will gain extra importance when Dolphin begin life in 2A next season:
I think it's largely loyalty. Loyalty to a group of lads and working to not let them down. Over the years, lots of people went travelling or went to Dublin.
"Over the years you probably make all the sacrifices without realising it, missing weddings, maybe only going to the afters… but at the end of the day, you're with these lads three or four nights a week and then the weekend as well."You're probably with them more than anyone in your life. It's hard to turn your back on them. That's probably my worst attribute too!"
The camaraderie of an extended family who inspire this loyalty is certainly an extra reason to play on for 16 seasons. As is the search for moments of victory, of satisfaction, that make every ounce of collective blood, sweat and tears feel like inconsequential prices to pay.
As Keeshan is asked to peer back down memory lane, the personal highlights come in the shape of a late drop-goal into a gale to complete a dramatic comeback win over Young Munster in the 2006 Division 2 semi-final. Further back, there was a promotion push for Division 2 which culminated in back rows George Finn and James Coughlan giving an extra-muscular look to the back-line.
There's the stressful 2007 recollection of having to remain calm and composed enough to kick a tricky conversion that earned a crucial losing bonus point in Lansdowne while all around him lost the head celebrating a last-gasp try by the irrepressible Donnacha Murphy.
And then there's what Keeshan terms 'a personal one'.
Exclusive NZ - IRE
Rugby Analysis
Get Murray Kinsella's match analysis and Garry Doyle's updates from New Zealand exclusive to members
Become a Member
"I got a knee in the ribs away in Belfast Harlequins about four or five months before, broke a rib and punctured a lung. It's one of the worst injuries I've ever encountered."
Speaking with The42 this week as he winds down his playing days, Keeshan calls the act an 'off-the-ball' incident. But when the fires of competition still burned at their brightest, he phrased it slightly differently to the Evening Echo:
"It was the first time in my career that anybody took a cheap shot like that."
Lung punctured in October, Keeshan was back in commission by February when it was time for the reverse fixture.
The visiting Harlequins were on the verge of heaping salt on the out-half's wound and led 22 – 13 approaching the closing minutes. Though Keeshan speaks with calm, it's easy to imagine the venom fueling him as he steered Dolphin to a dramatic comeback.
"If we had lost we could have been dragged into a relegation battle ourselves. We played poorly, but we got a long-range kick (from half-way) from Cian McGovern then we scored a try and were one point down and I had the conversion to win it."
Revenge felt cold and sweet as Harlequins went down, but two years older and wiser he feels their pain now as Dolphin wear their own relegation.
A consistent feature of his favourite memories are the times Dolphin played relatively poorly and still found a way to win. It was a trait to be celebrated when they were stringing together results to earn promotion or power safely clear of relegation last season. Unfortunately, this campaign has seen a litany of fine margins shaded the wrong way.
Rather than Keeshan the record-setting player, it's now Keeshan the coach, working behind head coach Chris Rowe, who must find ways to tilt the balance back the way of the navy and yellow club.
Keeshan has always been a hard taskmaster on the field. That fiery drive for improvement isn't likely to dwindle when he can no longer shoulder the responsibility of playmaking and striking game-changing points.
Yet in these final weeks as a player, sadly with the rest of the table out of reach, Keeshan has every right to stop and smell the roses and add to a sensational record that will see few challengers.