BEING A TOP sportsperson is seldom easy — something Irish swimmer Barry Murphy knows all too well.
If you are talented enough to aspire towards competing in one of the few highly popular sports, the competition to reach the top and stay there is immense. Whereas in the other sports, even once you have attained a position of relative prestige, the difficulty in earning a living while maintaining such excellence can be extremely burdensome.
This week provided a stark reminder of the difficulties, outside of sport, which the majority of Irish athletes routinely face.
Several top performers, including Ciarán Ó Lionáird, on Friday discovered the unwelcome news that their funding had been cut.
Ó Lionáird seemed particularly peeved at these developments, as his funding was reduced from €20,000 to €12,000 for the year, despite winning a 3000m bronze at the European Indoor Championships in 2013.
He consequently lambasted the authorities' decision, tweeting: "You wonder why kids in Ireland don't want to do athletics? Medal and you're cut. What does that tell young dreamers? Terrible message."
Murphy, meanwhile, merely retained his €12,000 funding, despite enjoying what he describes as the "highlight of my career so far" last December, winning a bronze medal at the European Swimming Championships.
Was he consequently as disappointed as Ó Lionáird at the news?
"Realistically, I knew where I stood with the Sports Council," he says. "As far as they're concerned, they're only going to be investing in Olympic events. The 50 breaststroke isn't an Olympic event, but it's a World Championship event and it's a European Championship event. If it's bringing in medals for the country, I think it still should be recognised and appreciated.
"Anytime an Irish athlete wins a medal on the international stage, I think it should be celebrated and supported. But that's their position — they're looking at Rio 2016 and trying to get success there. It's definitely understandable. But I've always been a sprinter, I've always been a 50-metre swimmer and I've always been a breaststroker."
Nonetheless, there may yet be light at the end of the trouble for beleaguered athletes such as Murphy. Currently studying a full-time Master's in Digital Marketing in UCD's Smurfit Business school, he recently met fellow student Richard Pearson in one of his classes.
As fate would have it, Pearson was simultaneously working on an initiative that sought to help ease the financial toll on Irish athletes. And Murphy was impressed enough to become part of this plan.  The subsequent project, Pledge Sports, has grown considerably since these early days, and it was officially launched last Monday.
"There was about four or five [athletes] involved initially — John Coughlan was involved at the time — he's my cousin, and I didn't know he was involved until Richard told me. James Cluskey was involved as well, and I knew James through going to Belvedere together. So when I saw those two guys involved and having known they're good guys, who are really ambitious and always striving to make gains in sport, I knew I was dealing with the right guys and that it was the right initiative to get involved with.
YouTube credit: Pledge Sports
"I was about the fifth athlete to get involved and it's kind of kicked off from there. I know one of Kevin Thornton's friends got in touch with me and I put him in touch with Richard, so that's how Kevin got involved. And once more and more guys see the level of athletes involved with the initiative and the attention it's been getting over the past week, it's only going to build from there."
The scheme provides a funding and sponsorship platform for athletes, teams and clubs, with sports fans encouraged to donate money to an athlete of their choice.
With that in mind, has Murphy received much funding so far?
"For me, it's not been great," he admits. "For some reason, people just don't really know who I am. If any other sport in Ireland had a guy who is top 6 in the world in an event, you'd think he'd be well known. But for some reason, swimming just doesn't get the attention of the other sports. The other sports are a lot cooler — there are a lot of people that do running. Tennis is really popular. MMA's been growing since McGregor's been involved and triathlon's now the new cool thing to do. With swimming, people don't seem to get it or appreciate it.
"I haven't had much involvement, but I've still been pushing the campaign. I'm just trying to get the word out there.
"I think Kevin's been doing well — nearly every middle-aged businessman seems to be doing triathlons these days. John's got a few, but not many. I think Kevin's doing the best by far — I just think it's the popularity of triathlons these days. But making people aware [of Pledge Sports] is the first step and going from there."
Unsurprisingly, the lack of funding he receives has long been an issue of deep frustration for Murphy
"Obviously, I'm grateful for every bit that I get, but the fact is — those five guys [in the world] that are ranked ahead of me in the breaststroke are probably getting more money than I'm getting. 12 grand a year probably isn't enough to fund a world-class athlete, which is what I consider myself to be — that's where the frustration is.
"I'm proud of that medal in December and I suppose it's the bit between your teeth that you have to get this done on the budget they give you. It's been tough and it's been challenging, but I get the head down and I get it done."
Murphy's bronze medal may not have earned him extra funding, but it had a significance on a deeper level. His disappointing performance at the London 2012 Olympics had caused him to seriously consider quitting the sport — thoughts that have persisted ever since.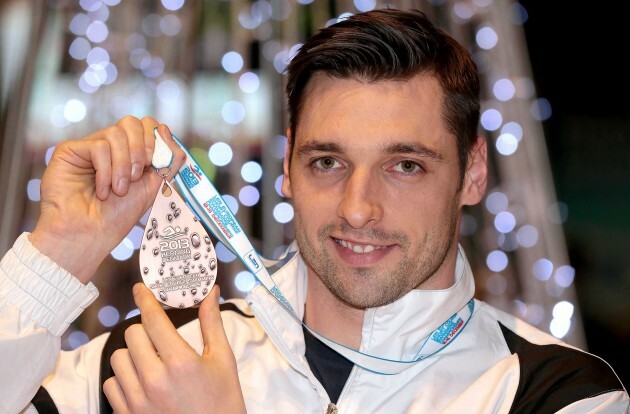 ©INPHO / Morgan Treacy ©INPHO / Morgan Treacy / Morgan Treacy
(Barry Murphy with his 50m Breaststroke European Short Course bronze medal)
Yet his momentous achievement at European Short Course Swimming Championships in Denmark provided Murphy with a renewed sense of hope and determination.
"After London, there was the contemplation of 'do I get back in or do I not?' Even after this summer and the World Championships, there was a  repeat of 'do I keep going or do I not?' I would have felt that I hadn't achieved what I wanted to achieve without coming away with an international medal. So I put the hours in and I put the mileage in and it kind of justified everything up until that point. It justified being in the States, it justified switching bases from Tennessee to Michigan, while I was over there, it justified the financial investment my family had put into me over the years.
"It was definitely one of the proudest moments of my career to be up on the podium at a major international event. It was a bronze medal, but the Irish tricolour was still being raised. It's something you dream about as a kid, and I just really felt it had all been worthwhile. If it hadn't gone the way I wanted it to go, I don't know if I'd still have kept going.
"The way I saw it was — I've got a medal, I think I'm a better long course swimmer anyway. It's going to be the same group of guys showing up this summer for the European Long Course Championships, so I might as well go back in and see if I can move up to podium there."
Yet despite his eventual success, Murphy's preparation for the event was far from ideal, given that it clashed with a heavy workload in college.
"To be honest, I'd kind of written off the meet going into it, because the week we had left to go to the meet, everything was due in college, and to be undertaking a full-time Master's at the Smurfit Business School was hectic. I submitted my last report at 10 to 12 on the Monday evening — it had to be in by midnight. Then we flew out at 5am to go to the meet on the Tuesday morning, and I felt like shit. My back was knotted up from leaning over the laptop.
"I kind of thought, we'll see what happens — if it goes well, it goes well, and if it doesn't, it doesn't. The priority is to get the Master's out of the way and get good grades. But thankfully, everything fell into the place. I had a good start off the meet. I felt it wasn't the best time but it was okay. I was fastest out of all the guys for the 50 and I knew if I could recreate what I'd done in the summer, at the World Cup, there was a medal there. So it just fell into place. I was delighted to get the hand on the wall. We were looking at a hundredth of a second — I think it was two one hundredths separating second, third and fourth. It was definitely tight."
Such an outcome was a huge boost for an athlete who, by his own admission, lacks natural discipline and thus, is "not the biggest fan of training in the world," which invariably entails getting up at 5.30am every day.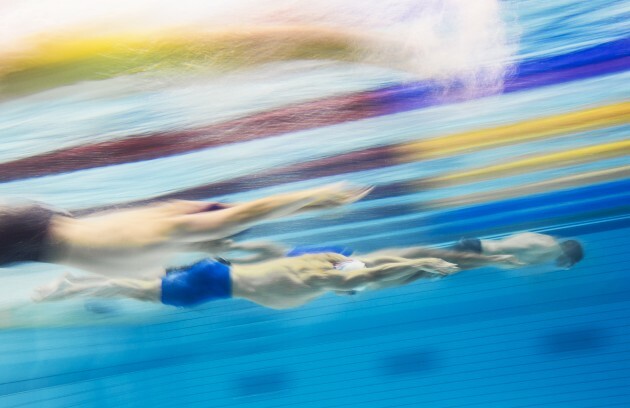 Gero Breloer Gero Breloer
(In this picture taken through an underwater viewing window with a slow shutter speed of 1/5 of a second Barry Murphy of Ireland, Fabio Scozzoli of Italy, Hendrik Feldwehr and Christian vom Lehn both of Germany, bottom from left, start in a Men's 100m Breaststroke heat at the Fina Swimming World Cup in Berlin)
Yet Murphy's hunger for the big occasion remains undiminished, especially with the Rio Olympics getting closer.
"We're two years out now, and for me, the Olympics is the pinnacle of the sport. I think it's bigger than the World Cup.
"I've gotten more involved with the Olympic movement since I've come home. I'm on the athlete commission with Darren O'Neill, Scott Evans and a few others. We're the link between the Olympic Council and the Olympic athletes, so we've been given the brief on the plan so far and the building of the Olympics. It looks like it's going to be a spectacular Games and I feel like I'm good enough [to qualify]. I've talked to my coaches and we're training right now for the 100 again. If we can get the Olympic standard this year, we're definitely going to go for it.
"I dealt with the disappointment of missing out in 2008 [in Beijing] and although I was an experienced athlete in 2012, I didn't have the Olympic experience. Unless you've been to a Games, you can't really figure out what the difference is between a normal meet and an Olympic Games meet. If I went to Rio, I'd definitely be a much better athlete than I was in 2012 and I can guarantee you I'd have a much better Games than I did. "
Murphy is optimistic that as many as eight Irish swimmers will make Rio, although he feels that Tokyo 2020 could be the time for these athletes to truly flourish.
"I think Peter Banks [High Performance Director with Swim Ireland] is implementing the right kind of procedures and protocols to guide people from the ages of 14,15 and 16, where they might previously have dropped out of the sport, putting in systems and squads that are keeping the kids interested. There's always a trip in the summer away for a big meet and we want them to see what's going on in world swimming.
"It was a national squad sent over to the US nationals this summer. Andy Meegan was good over there, Brendan Hyland set a new Irish record, but a lot of them came back in shock that they went to the US nationals and they weren't getting second swims. I know the depth of world swimming and I know what it takes to push through and be successful, but these guys who had just been involved in national swimming came back and couldn't believe it.
"30 people were getting second swims in the A, B and C final and they weren't getting into the mix and I think it was an eye-opener that we've got to work harder. We can't just be happy with winning national titles because on a world scale, swimming is weak  and there's no secret about that. So we've always got to work abroad and see what's going on in the US. These are the guys that are winning medals at Olympic level and they're doing that for a reason. And I think if we don't engage ourselves with where they are, we will get left behind.
"We had our short course national this December — it was the fastest ever and it was the deepest ever. That's a clear sign that everyone's working hard and we're trying to improve. And I think there's a good system in place for us to have a good Rio Games."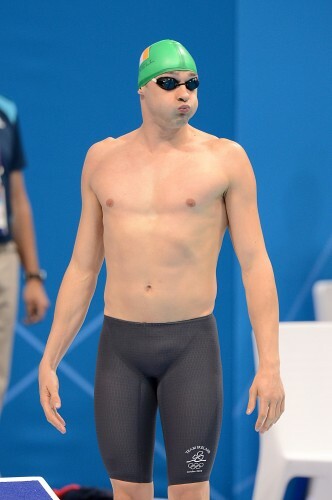 EMPICS Sport EMPICS Sport
(Barry Murphy pictured at the London 2012 Olympics — EMPICS Sport/EMPICS Sport)
And while the future for Irish swimming looks bright, Murphy is aware that at 28, in a sport that tends to favour younger athletes, the twilight years of his career are approaching.
Fortunately, swimming is by no means his sole passion. Having been an asthma sufferer since his teens, Murphy has served as an ambassador for the Asthma Society of Ireland since 2012.
Moreover, he is already beginning to act as a sort of mentor for younger swimmers.
"I do like to talk a bit. I'm starting to do my own swim clinics, where I'm trying to get kids involved and I'm teaching them the ropes, not just about swimming, but by showing what I think Irish swimming had been lacking — a leadership role. The kids need to be able to talk to people who have gone to the Olympics and who have been in the call room in finals. They need to be educated on what to expect and what not to expect.
"When people retire from Irish swimming, you never hear from them again. I'd like to stay involved and maintain an educational role if the kids want to talk to me about it. They've given me an official title — 'athlete advocate' — and any national camps that are involved, I give them a talk on nutrition, my dry land programme, competition mentality, training mentality and I think they enjoy it. And there are a lot of kids involved with asthma and they'll want someone to talk to about that, so I can point them in the right direction."
And will he miss anything about the grueling regime that all top athletes must endure?
"When I was younger, I thought: I don't want to be here. But now, I'm only training once a day while trying to balance this Master's. So if that opportunity slips by and I haven't had a good day or not done a good session, then that's a wasted day… When I do walk away from the sport, I'm going to try and stay fit, I think Irish people could do with getting out and moving around a bit more — especially younger kids.
"I'll be pushing them to be involved in sport more and I think it's a good thing, because it's going to have a knock-on effect and moving around and eating right and staying active is vital for life — it keeps you happy and it keeps you healthy."
To find out more about Pledge Sports and give a donation to Barry Murphy or any of the other athletes involved, click here.