JOEY BARTON HAS admitted that he "went down easy" to get Gervinho sent off in Newcastle's opening day draw with Arsenal in the Premier League.
The new Arsenal striker saw red after slapping Barton, who had run over to remonstrate with him over a perceived dive in the box.
Barton received a yellow card.
"I went down easy, no doubt. Still, can't raise your hands. Referee got it right," Barton tweeted.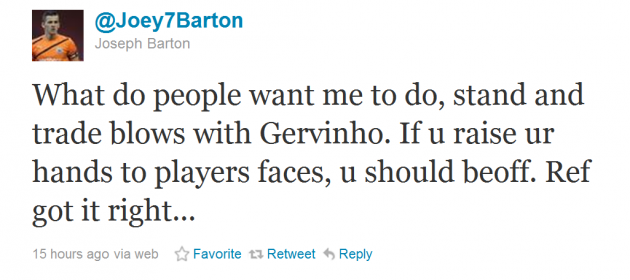 Arsene Wenger, an expert of selective sight, claimed the referee did not see the incident properly and should have doled out equal punishments to both players.
"I don't understand the red card," said Wenger. "I am 100% sure the referee did not see what happened.
"I think he has his back turned to the incident. If he had seen it, he would have sent both of them off, or nobody."