ENRIQUE HERNANDEZ SMASHED three home runs, including a grand slam to see the Los Angeles Dodgers safely into their first World Series since 1988 with an 11-1 win over the Chicago Cubs last night.
The 26-year-old Dodgers left-fielder, who has helped hurricane relief efforts in his native Puerto Rico, smacked a solo blast in the second inning, a four-run round-tripper in the third and a two-run shot in the ninth in a record-setting effort.
"People back home are having a really bad time right now," Hernandez said. "To do something like this is really special. To do something like this on this stage to get us to the World Series, it's incredible."
The Dodgers dethroned Major League Baseball's defending champions by capturing the best-of-seven National League Championship Series 4-1 and will play for their first World Series crown in 29 years starting Tuesday in Los Angeles.
"It feels good to hear World Series," said Dodgers winning pitcher Clayton Kershaw. "It has been a long time coming for this team. I never thought I would play in a World Series. It's tough to sink in right now."
They will face the American League winner, either the New York Yankees or Houston Astros, in the best-of-seven final. The Yankees lead that series 3-2 entering game six tonight in Houston.
Hernandez set a league championship series one-game record by driving in seven runs and matched another with three homers.
"It's unbelievable. It's amazing," Hernandez said. "It means the world to me. To do this right here, it's like a dream."
The Cubs had won five consecutive playoff games when facing elimination but managed only one playoff hit with runners in scoring position.
Dodgers relief pitchers will enter the World Series having hurled 23 consecutive scoreless playoff innings.
Ace left-hander Kershaw, a three-time Cy Young Award winner as best pitcher, allowed only one run on three hits with five strikeouts over six innings for his sixth playoff win, tying a Dodgers career record.
"Kike' (Hernandez), he told me he had my back today," Kershaw said. "He came through. It's a different guy every night. I'm having a lot of fun with them. It's unbelievable. It's a very special team to be a part of."
Los Angeles opened the scoring in the first inning when Chris Taylor walked and scored on Cody Bellinger's double to right field.
Hernandez swatted his first homer of the playoffs on the opening pitch of the second inning to give the Dodgers a 2-0 edge.
"I went out aggressive and was able to hit one out," Hernandez said.
Taylor doubled in the third and scored on Justin Turner's single to right field, putting the Dodgers ahead 3-0.
Turner and Taylor were named the series co-Most Valuable Players.
Bellinger and Yasiel Puig followed with singles to load the bases, prompting the Cubs to replace lefty pitcher Jose Quintana with right-handed reliever Hector Rondon.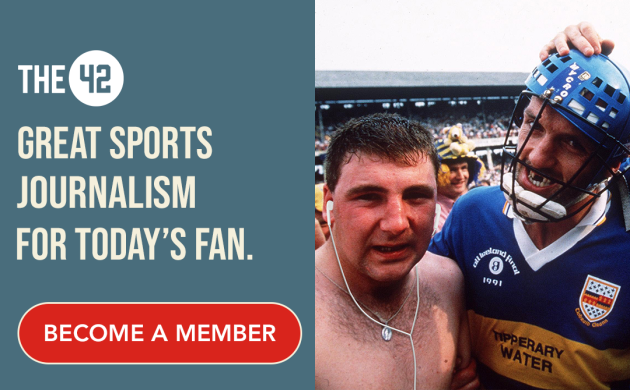 Hernandez returned to the plate and hammered the Dodgers' fourth-ever playoff grand slam — and the first since 2008 — over the Wrigley Field center-field wall, lifting the Dodgers ahead 7-0 and stunning Chicago supporters into silence.
"He gave me a good pitch to hit," Hernandez said of Rondon. "And I got all of it."
Los Angeles stretched the lead to 9-0 in the fourth on Logan Forsythe's two-run double.
Chicago's Kris Bryant smacked a solo homer in the fourth for the lone Cubs run.
But Hernandez smacked his third homer in the ninth, a fitting exclamation point on the Dodgers' rout, admitting, "The third one, I don't know what happened."
Subscribe to The42 podcasts here: