WILL YOU BE watching the Super Bowl from home this year but would still like to feel part of the game?
Fret not, here at TheScore.ie we have you covered, especially if you're trying to pick a team to support.
After some in-depth research, we've come up with everything you need to know about both the Denver Broncos and Seattle Seahawks, as well as the best food and drink each city has to offer.
Denver Broncos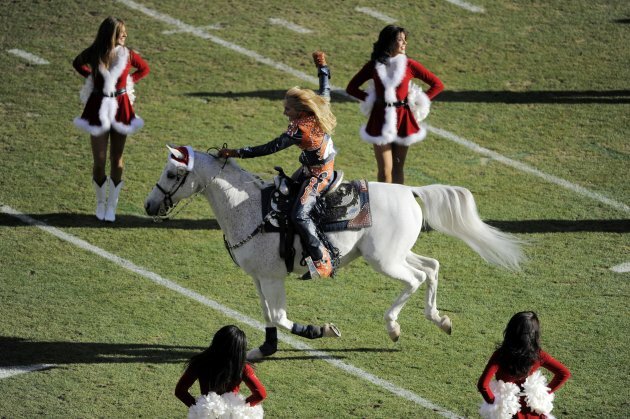 Thunder, the Denver Broncos mascot, will be at the Super Bowl.
Image: JACK DEMPSEY/AP/Press Association Images
Team
The Broncos came into existence in 1959 after Bob Howsam was awarded a charter franchise in the AFL for Denver. Despite winning the first ever AFL game and becoming the first AFL team to beat an NFL side, Denver nearly lost the Broncos to Birmingham, Alabama in 1965. However, the league gave them one more shot and the rest is history.
The Broncos have made the playoffs five times in the last ten years and twenty times in their history. However, their only two Super Bowl wins came back-to-back when they lifted the Vince Lombardi Trophy in 1997 and 1998.
Head Coach
John Fox played as a defensive back at San Diego State but never played in the NFL. Fox made his name as a defensive coach and — Broncos fans look away now — has lost two Super Bowls. He was defensive coordinator for the New York Giants when they lost Super Bowl XXXV and head coach of the Carolina Panthers when they missed out in Super Bowl XXXVIII ten years ago.
Key player(s)
It has to be Peyton Manning doesn't it? The 16-year veteran has come back from a career-threatening neck injury and this year set an NFL record for passing touchdowns in a single season with 55. He does have something of a patchy record in the playoffs but is looking to become the first starting quarterback to win a Super Bowl with two different teams after winning with the Indianapolis Colts in 2007.
City
Denver has a population of approximately 630,000 and sits exactly a mile above sea level making it one of the highest big cities in the US. Marijuana is also legal in Denver so insert your own jokes here.
Some of the Broncos most famous fans include South Park creators Trey Parker and Matt Stone as well as Hank Scorpio.
Food
If someone offers you a Rocky Mountain Oyster in Denver, run as fast as you can in the other direction. Unless, of course, you enjoy deep-fried bull's testicle.
Drink
Denver is home to the Great American Beer Festival and there's no shortage of microbreweries offering great craft beer. My personal favourite is Breckenridge Brewery's Vanilla Porter. It's a long way from Guinness.
Seattle Seahawks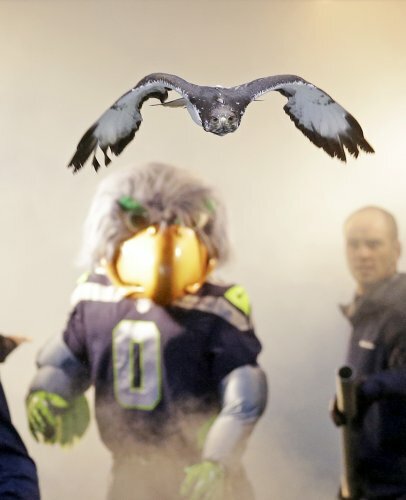 The Seattle Seahawks' fans are known as the 12th man.
Image: Elaine Thompson/AP/Press Association Images
Team
Among the many names suggested by the public when Seattle was awarded an NFL team in 1976 were the Seattle Sheep and the Seattle Apple Knockers. Luckily for all concerned, they opted for Seahawks. They are owned by Paul Allen, co-founder of Microsoft, so we're not sure why he didn't opt for the Seattle Windows.
Far from being the most storied franchise in NFL history, the Seahawks are making their third visit to the postseason in four years and just their 13th in total. Unsurprisingly, they have never won a Super Bowl, losing their only appearance in Super Bowl XL.
Head Coach
As the name suggests, Pete Carroll is of Irish stock and like John Fox played some college football but never made it to the NFL. His coaching career has been somewhat controversial, particularly in college, but he has transformed the Seahawks from a laughing stock in the NFL to legitimate contenders.
Key player(s)
The Legion on Boom. Not only does Seattle's secondary have the coolest name in the NFL, but they are also among the league's best defensive players. Richard Sherman, Brandon Browner, Earl Thomas and Kam Chancellor were the main reason why Seattle led the league in scoring defense and yielded just 203.1 yards passing per game this year.
City
Seattle has a population almost identical to Denver at 630,000 and is noteworthy for producing an array of musicians from Jimi Hendrix to Kurt Cobain. It is also home to Macklemore.
Some of the Seahawks' most famous fans include Drew Carey and the US Office's Rainn Wilson.
Food
As Marshawn Lynch well knows, Skittles are the most popular food in Seattle and you can bet it will be raining e-numbers if the running back scores in the Super Bowl.
Drink
Manny's Pale Ale from the Georgetown Brewing Company should hit the spot if you get thirsty Sunday night.