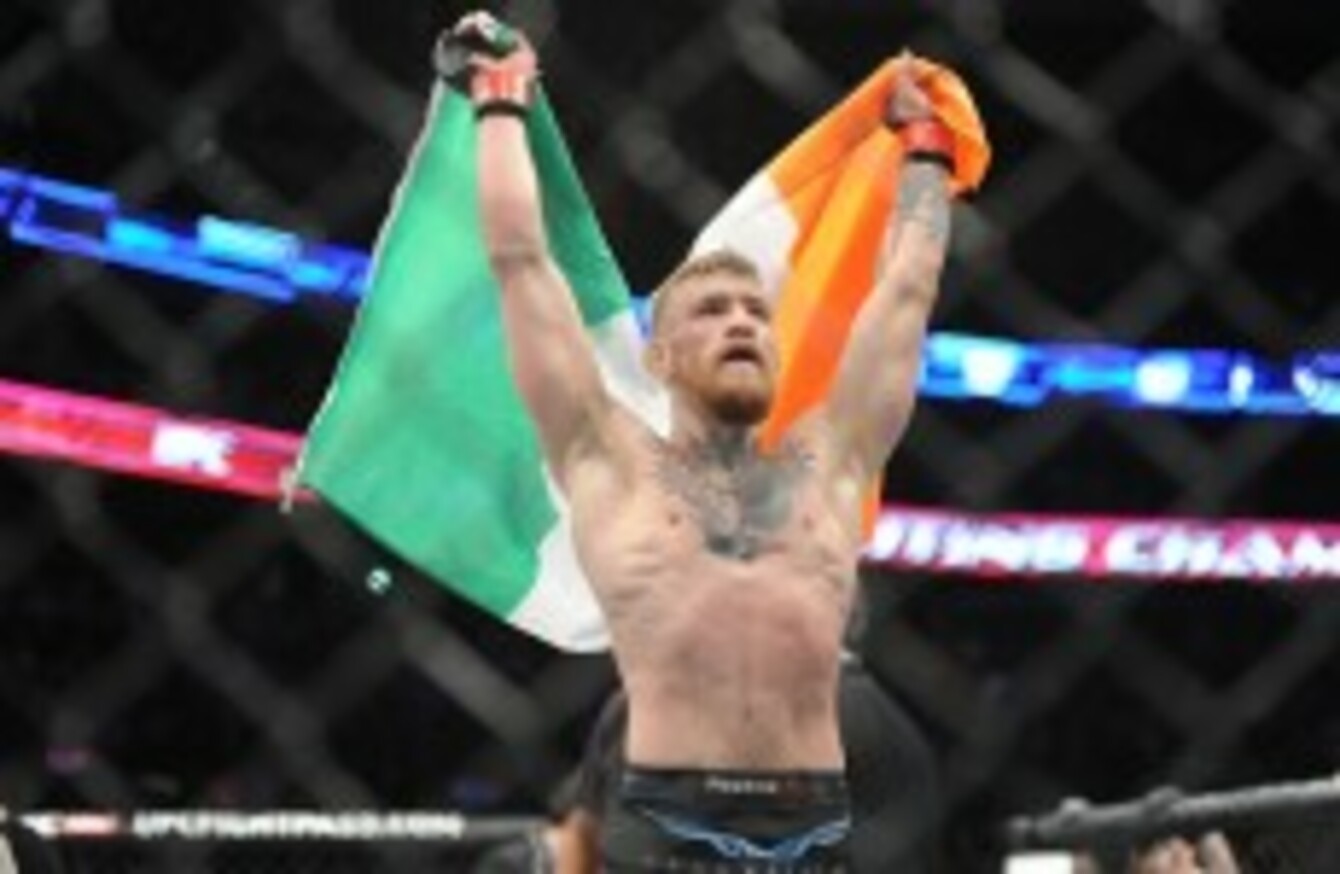 Ireland's Conor McGregor is one of the UFC's biggest stars.
Image: Emily Harney/INPHO
Ireland's Conor McGregor is one of the UFC's biggest stars.
Image: Emily Harney/INPHO
THE IRISH HAVE been at the forefront of the UFC's recent expansion in Europe — both inside and outside the Octagon.
Athletes like McGregor, Pendred and Seery are credited for the rapid growth of MMA on this island over the past two years, but another Irishman has also played a key role behind the scenes.
Dave Allen joined MMA's largest organisation just over a year ago as Director of Brand, Communications and Events, and in January the Dublin native was promoted to the role of Senior Vice President and General Manager for the UFC in Europe, the Middle East and Africa (EMEA).
In other words, Allen is responsible for ensuring that the UFC gets bigger and better in the EMEA region — something the organisation made a priority in 2012 by bringing in former Manchester City CEO Garry Cook.
Cook has since moved to the UFC's headquarters in Las Vegas, so Dave Allen is now leading the EMEA team from their London office.
Five events took place in the EMEA region in 2014 — more than in any year before — and there are more expected in 2015, including inaugural visits to Poland and Scotland.
"The appetite for the UFC in Europe is absolutely huge," said Allen, who previously worked for Nike and Adidas, and is also a former League of Ireland referee.
"I joined the company just over a year ago and it's been great. It actually takes me back in time. It's a bit like when I joined Nike over 15 years ago, and we decided we were going to go after the football market.
"Any kid growing up today associates Nike with football, but I remember back then going into retailers in Germany trying to sell Nike football boots and they looked at me like I was mad. But at that point in time, Nike had a vision that they were going to be the number one brand, and I can relate that to the UFC.
What are they
really like?
Rare insights on sport's biggest names from the writers who know them best. Listen to Behind the Lines podcast.
Become a Member
"We're a young organisation, a teenager in the world of sport. We're at the start of something new, especially with how the organisation has been set up in EMEA. It was a fresh start with a blank sheet of paper so it's a really exciting time, but we've got a lot more to do.
"EMEA is made up of 129 countries and we were only in five of them last year. There's a population and a reach of 2.2 billion people that we can bring our sport to, and the only sport that hits and resonates like that at this moment in time would be football. I believe that in the next number of years we will be as popular as football in this region."
In particular, the UFC's decision to increase its focus on the European market came at the right time for Ireland, from where a golden generation of MMA fighters was beginning to emerge.
Seven Irish stars, led by featherweight phenomenon Conor McGregor, have fought for the UFC since December 2012, and another — Joseph Duffy — will make his debut on Saturday night in Dallas.
Allen is full of praise for those involved at grassroots level in Ireland for their work in putting the country on the MMA map, and despite the recent growth, he believes the sport here has yet to reach its peak.
Allen told The42: "The way it goes in Ireland, if we've got a winner, someone we can jump on and support, then we'll do that. But fighting is also in our DNA. It seems we're not even at the bottom of the well yet. There's a lot more to come.
"I always relate things back to football because that's my past and where I've come from, but if you go all the way back to the era of Liam Brady, Kevin Moran, Frank Stapleton and all these guys who started playing in England, it sparked a huge interest in people supporting English clubs. I think we're at the same point with the UFC.
"When we came to Dublin last July for what was a fantastic event, there would have been kids sitting in that arena who will say, that's for me, I want to be a Conor McGregor, I want to fight in the UFC.
"You're going to see an explosion, which has already started, within the gyms around the country, and you're going to have kids looking up to these guys for years and years to come. We're only at the beginning of this."