'It's a high-impact game. I was in there, I was loving it. I knew what could happen because it's the nature of the sport but I wouldn't change a thing.'
Ryan Byrne / INPHO Ben Marshall in action against Ospreys in the final game of his career. Ryan Byrne / INPHO / INPHO
WHEN YOU LOOK back and chart Connacht's extraordinary journey from the nearly men to history makers, there are countless defining moments which deserve attention; Murrayfield naturally stands out, as does the resilience shown against Glasgow in the semi-final.
In the regular season, too, there were landmark wins. A first victory at Thomond Park in 29 years was a particular highlight and then there was that gutsy 7-6 triumph over Leinster to break free at the Pro12 summit.
Once they had assumed the lead, Pat Lam's men weren't prepared to surrender it as the western province ground out results even when they weren't at their thrilling best. As is the case in any title tilt, luck played its role.
26 February, 2016 
Connacht enjoyed their fair share in a controversial win over Ospreys at the Sportsground. With the game delicately poised heading into the final quarter, the visitors were left incensed when Sam Davies' try was incorrectly disallowed for a double movement.
Lam's side went on to record a 30-22 win that night and the celebrations at the final whistle spoke volumes of the significance of the result. It would prove to be a huge moment in their triumphant campaign.
As the celebrations exploded on the pitch and stands, Ben Marshall was left separated, and broken, in the changing rooms. He had started the game — his fifth in Connacht colours — but by the end was at the lowest ebb of his career.
Towards the end of the first half, Marshall went into a ruck or tackle — he can't quite recollect the exact collision or moment of impact — and sustained a blow to the head which would ultimately force him off the pitch and, subsequently, end his career at the age of 26.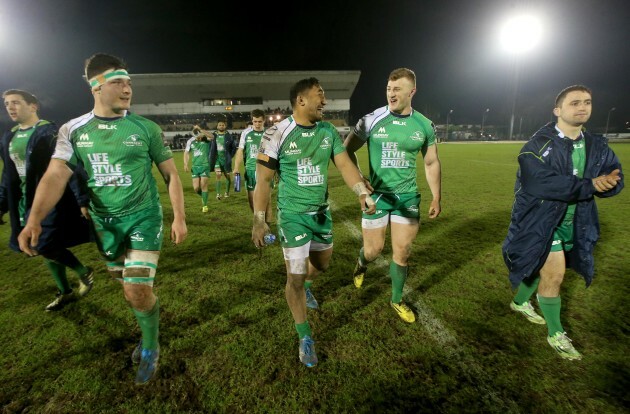 Ryan Byrne / INPHO Connacht celebrate their win over Ospreys last season. Ryan Byrne / INPHO / INPHO
Having stayed on until half-time, the second row was assessed by the province's medical team at the interval and went through the Head Injury Assessment (HIA) protocols. Something wasn't right and Marshall didn't return for the second half.
"It is all a bit of a blur," he tells The42. "To be honest even if I was to try and remember…the nature of the impact means I honestly can't remember. I spoke to the doctor at half-time and that was it.
"One of the distinct memories I have is being in the changing room after and I was extremely emotional. It's one of the symptoms and I was in floods of tears in the changing room by myself.
"I think I was texting my mum or dad or someone and I was basically saying 'I've hurt my head, I can't even play a full game' or something like that. I just remember it being an extremely low point and being in floods of tears in the changing room."
31 January, 2017
Almost 12 months on from that night in Galway and a press release circulated to media by Connacht last week delivered the unfortunate news: 'Ben Marshall retires from rugby.'
A cruel, cruel blow for a player who had just started to find his feet out west.
The Leinster Academy graduate now joins the growing number of professionals who have had to call time on their career on medical advice due to a concussion-related injury. He's not the first and certainly won't be the last, but that doesn't make it anymore unfortunate.
In Marshall's case, the severity of the injury was at an extreme level and despite his, and the Connacht medical team's, best efforts there was no way back. Hearing those words from a doctor is a bitter pill to swallow but he had come to that realisation himself. There was no other option.
"The symptoms were quite severe for that first period after the game," he explains.
"I don't know how long that period was but it went on a while, weeks like. I had trouble holding a conversation, had trouble going out in public and keeping my balance. I had big mood swings and it was tough on my girlfriend and family to deal with me during that time.
"I had started to improve then and after the summer break I was working my way through all the return to play protocols and hitting the targets. A lot of the pre-season work would be in the gym so I was fine with that.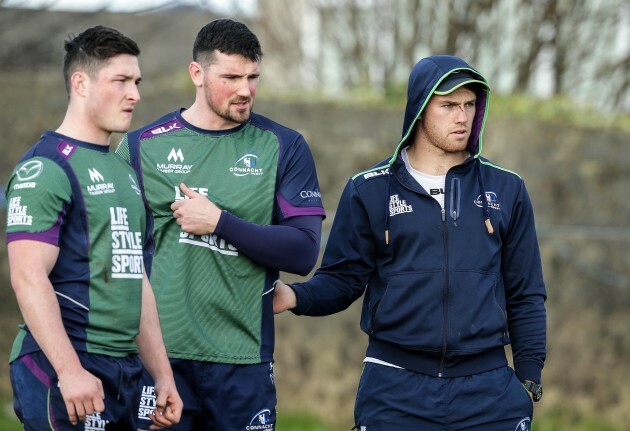 Morgan Treacy / INPHO Marshall alongside James Connolly and Jake Heenan at squad training. Morgan Treacy / INPHO / INPHO
"I then stepped into a contact session with the squad under medical supervision and it became apparent everything wasn't okay. The symptoms would come back even with very minor contact. The head pressure, the headaches, the concentration would go, the feeling of dislocation, that you're kind of separated from your body. It's a peculiar thing to explain. Once you've experienced it, you start to recognise the symptoms and know exactly when they come back. It's an extremely uncomfortable position to be in."
At every juncture of the recovery process, Marshall suffered a setback. As the weeks and months passed there was no sign of significant improvement and it soon became clear that the road back was going to be a lot longer than expected.
The nature of the injury, and the potential consequences, meant no risk could be taken and unlike a broken leg, for example, there is no timeline or rehab work that could be done to accelerate the process. It's a waiting game. Waiting, and hoping. Praying.
"I was in a grey area for so long," Marshall continues. "Naturally I was going up and down. I would feel really low because another symptom would come over me and I would often feel that I couldn't do it anymore but then everything would seem fine again and you think to yourself that you're nearly ready again.
"As a professional rugby player you're always trying to push the boundaries. If someone says you'll be out for 12 weeks, in your head you're thinking I can get back in 10. Pat [Lam] and Garreth [Coughlan, Connacht physio] made a conscious effort to make me aware that there was no set timeframe and it was always a measure of how I felt.
"You're always working with the strength and conditioning lads to keep at a good level but with your head there's no exercise or daily rehab you could do. It's all about rest and making sure you feel okay. There's no pushing it, you can push your hamstring or broken arm to feel a little bit uncomfortable when you're trying to get back but you can't even think about going into that uncomfortable stage with your head. It's too much and too important.
"I've had both my shoulders done, I've had two operations on my forearms. That's fine, I don't mind having a broken arm or sore shoulders when I grow up and I'm trying to look after my kids but it's different when you can't hold a conversation with your parents or girlfriend. It puts it all in perspective really."
27 December, 2010 
It's perhaps fitting that we sit looking back on Marshall's career in The Greenery cafe, located directly opposite the main entrance to Donnybrook. It was there where a young lock from St Andrew's College burst onto the underage scene and caught the eye of Leinster's coaches.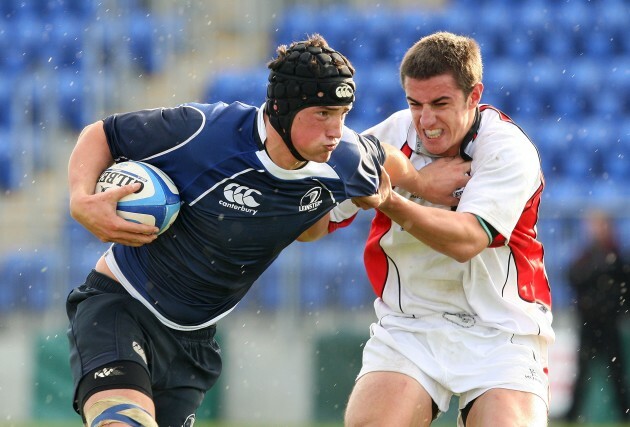 Cathal Noonan / INPHO Marshall holds of Angus Warwicker in an U19 schools game against Ulster back in 2008. Cathal Noonan / INPHO / INPHO
By his own admission, he didn't even contemplate professional rugby until his late teenage years but a Leinster U16 schoolboy tour to South Africa opened Marshall's eyes to what rugby had to offer. He got a taste of it, and wanted more.
"Before I used to just go out and run around but that was the catalyst," he says.
From there, Marshall progressed through the age grades and would eventually earn a place in the Leinster Academy, joining the same year as Joe Schmidt's arrival as head coach. He would also represent Ireland at U20 level, and was part of the squad that played in the 2010 Junior World Championship in Argentina and then won the U20 Six Nations.
His breakthrough moment came later that year. With the points secured, Schmidt gave Marshall his chance, sending him on for the final 10 minutes of Leinster's 33-10 Pro12 win over Ulster at Ravenhill.
"Just before my first cap that day, we were in the hotel and I obviously must have looked like the most nervous wreck you've ever seen," the former UCD and Belvedere forward remarks.
"Bossy [Isaac Boss] came over and took me into the next room to practise some passing or whatever he made up, but anyway he basically just said 'look man just chill out, you've been at this level for x amount of time and you're here now and I know you can do it'.
"That did help to calm me down and that was probably the first time I felt as if I fitted in that spot and it wasn't just a favour by someone. You're here on merit, you deserve it. I remember that."
Marshall would go onto play 20 times for the eastern province after earning a full contract from the Academy. He was a regular in the Leinster A side for a number of seasons before breaking into the senior team and worked his way into the reckoning under Matt O'Connor.
Cathal Noonan / INPHO Marshall played 20 times for Leinster before leaving at the end of the 2014/15 season. Cathal Noonan / INPHO / INPHO
It was during the 2014/15 campaign that Marshall came to prominence in blue and a fine year culminated with a European debut in the Champions Cup semi-final defeat to Toulon. His move to Connacht was announced the following month and a new chapter awaited in Galway.
December, 2017
Marhsall's first call was to his girlfriend, then his parents and then Pat Lam. He had finally got an answer after 10 months of uncertainty and frustration. It wasn't what he wanted to hear, but at least Dr Doherty's decision gave him some semblance of closure. A line could now be drawn and Marshall could begin to accept the reality of the situation.
"Towards the end, and as the time was pushing on and the symptoms weren't exactly getting any better, I was starting to get aware of it but I always tried to keep that side of my head quiet. I tried to remain positive and I just remember thinking that I needed to keep trying to get back," he admits.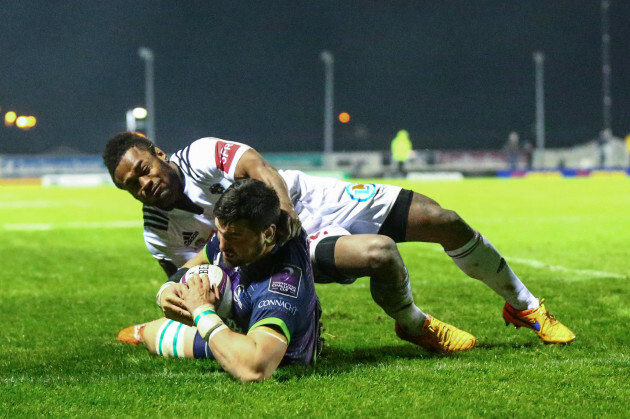 James Crombie / INPHO Marshall goes over for his first Connacht try in the Challenge Cup win over Brive. James Crombie / INPHO / INPHO
"The doctor [Dr Doherty in St James's Private] was monitoring me the whole time. The doctor was aware of it the whole way through. During my last meeting he explained to me that it wasn't safe for me to go back out into that situation again. Obviously that's very tough to hear as a player.
"In the back of my mind I knew it was a possibility but to hear it from the doctor 'Ben, your career is over, this injury is too severe to put you back in that situation, I don't feel safe for you and I recommend you stop playing.' It's tough.
"It's tough to hear it but you have to take the doctor's advice. Thank God I only got this injured. If I was to take another knock I don't know if I'd be able to…I don't know if anything would have happened in the future. I listened to the doctor, I took his advice, I had to."
During his layoff, Marshall split his time between Galway, where he and his girlfriend lived, and his family home in Shankill. As well as being closely monitored by Connacht's medical staff and Dr Doherty, Marshall was given the best attention at home by his parents and sister, who are all in the medical profession. There was always someone there to check in on him.
At the same time, however, he was acutely aware of the seriousness of his condition, as were Connacht. As the weeks, and months, passed, Marshall's name became conspicuous by its absence on the province's weekly medical bulletin issued to the media.
At first, he remained listed under the 'injured' category with a token 'following the return to play protocols' line but soon it became clear that there was much more to the injury than first envisaged. It was almost like he had fallen off the radar completely.
To be fair, neither Connacht or Marshall were trying to hide anything, nor were they trying to pull the wool over anyone's eyes. The province felt it would be best to give the player time and space away from the game without any distractions to work his way back to full health.
James Crombie / INPHO The second row suffered several relapses when he attempted to return to contact training. James Crombie / INPHO / INPHO
"They didn't want to put any pressure on me to come out to the media and state why I'm not playing," he explained. "They allowed me time to deal with it, work with the doctors and medical staff before anything was announced.
"I suppose it was a long time, it was the best part of 11/12 months before it was released to the media that I had to retire but I'm thankful I had the courage to make that decision and listen to the doctors and I think it was the best decision.
"I don't think anyone was trying to hide the severity of the injury, we're given copies of the press release every week. I don't think we were trying to hide anything but Connacht were conscious of giving me the space and not having to deal with anything extra.
"Pat and the medical staff were aware of every single step I took. They allowed me the time to take a step back from rugby and fully take that decision in. I went on a holiday after speaking to the doctor as I felt like I needed to just get away. I came back and I told them my decision and they were fully supportive of it."
Marshall makes a point of expressing his gratitude to everyone that helped and supported him over the last 12 months, but reserved a special word of thanks to Lam, who was always on the other end of the phone during those difficult days.
"I was on the phone to Pat the whole time. I was on the phone to him straight after I found out and said to him 'this is what happened, I'm going to drive down to Galway, can I come into your tomorrow morning?' He was like 'yeah of course, no problem.' The door was always open with Pat.
"He said to me that he thought it was the right decision because he knew how it was and how bad it got. He was relieved that I had finally got an answer now and I was able to look forward to the future and the time with my family.
"He fully agreed with the decision and said 'I'm happy to have you here, we've had a great time together' and wished me all the best in the future. I will obviously be on the phone to him a good few times but I just want to wish him the best of luck in Bristol. He was a huge help to me. That supporting role he had, I was never daunted to go into his office."
28 May, 2015 
Marshall was riding the crest of a wave. His performances for Leinster had earned him a move to Connacht and further recognition followed when Joe Schmidt included him in an Ireland XV squad for a fixture against the Barbarians at Thomond Park.
It was recognition for a fine season and the ultimate reward followed when he pulled on the green jersey alongside the likes of Jamie Heaslip, Devin Toner and Rob Kearney under the lights in Limerick.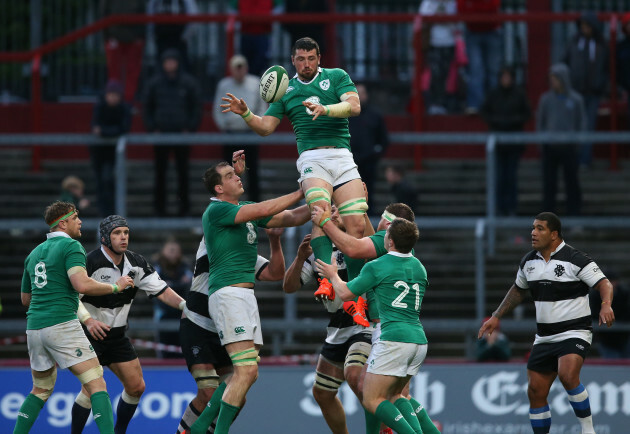 Marshall wins a line out during Ireland's game against the Barbarians.
Ireland came out the wrong side of a 22-21 scoreline on that occasion but it was an experience Marshall will always cherish and look back on with a great deal of pride. He had come along way from those early days on a Sunday morning at Dr Hickey Park in Greystones.
"That was definitely one of the highlights. I'm thankful I had those experiences and not just that but everything. Professional rugby is all ups and downs I suppose. This has definitely been a down period for me. Since the injury I've had ups and I've enjoyed my time in Connacht but it's tough to fully enjoy it when you're not actually playing.
"I'm very unlucky with how it happened and as I said earlier, everyone deals with head injuries differently. It's very individualised. Some players mightn't have had the same symptoms but for me this is how it happened and this is how my symptoms were. That's just the outcome unfortunately.
"But even with my injuries, I wouldn't change anything. I've had a fantastic time, I've managed to do something I love doing. I've loved playing since I was young and dragged to Greystones every Sunday morning. To be able to do it as a career, even though it's been shorter than I would have liked, even to get the chance to play with Brian O'Driscoll and play with John Muldoon and play under Joe Schmidt and Pat Lam.
"I couldn't have asked for a better time to go over [to Connacht]. Pat had implemented this game plan and it came to fruition last year. Everything clicked and everyone bought into it. It was a fantastic place to be, the whole of Galway…it was the talk of the town.
"John Muldoon, a fantastic captain and he's been so good to me and he's spoken to me on numerous occasions and given me so much help.
"Some of the lessons I've learned will help me in whatever career I turn to now. I can only be grateful and honestly I wouldn't change anything. I don't think I've ever felt unfortunate. I'm fortunate to get to this stage. People like Eoin O'Malley also left when he was young, even the countless number of players who have got injured at underage or schools level.
"I'm privileged to get this far. Even this injury, it is what it is and I've come to terms with it. I'll move on. I'm hugely thankful for my time with the players I got to play with. I don't feel unfortunate that this injury has happened. It is weird to have it come out this week but it doesn't bring up any fresh emotions."
3 February, 2017
The next chapter, life after rugby.
It is a little over a month since Marshall emerged from that final consultancy meeting with Dr Doherty and three days after his retirement become public knowledge. It has been a funny week, but the overriding feeling is relief.
Looking back over the last 12 months is, naturally, tough to do and at times Marshall's voice trails off as we go into specifics yet speaking about the highlights from the last six years is an evident source of comfort.
Marshall takes strength from the way he followed the path forged by fellow St Andrew's student Felix Jones and made a career for himself in professional rugby. The way he represented Ireland U20s at a World Championship, played for his home province, got that call from Joe Schmidt and then from Pat Lam to make the switch to Connacht where he would play his part in the most extraordinary season.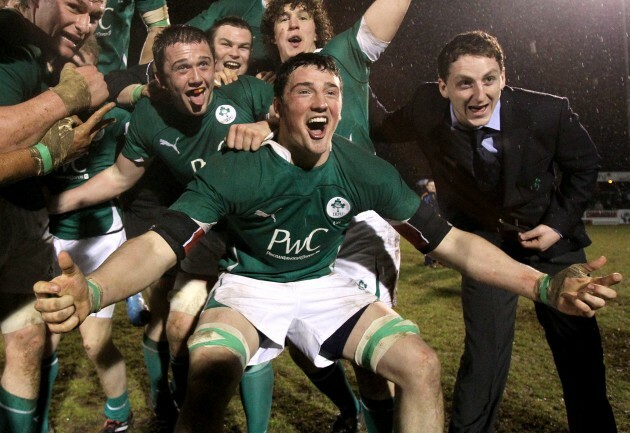 James Crombie Celebrating Ireland's win in the 2010 U20 Six Nations. James Crombie
It was during a holiday in Sydney before Christmas when Marshall was able to look back on it all and reflect on a career which surpassed all his expectations. It helped him come to terms with his premature retirement and the fact that he'll never step onto a rugby pitch again. It's not so much that he accepts his fate, but Marshall realises that as one door closes, another one invariably opens.
Since returning from Australia, he has worked closely with IRUPA to look at the options available to him. With an undergraduate degree in Commerce from UCD, Marshall is leaning towards the financial services sector with a view to gaining a graduate placement or internship with a company in Dublin. There is also the option of returning to third level education and completing a Masters.
"It'll be exciting," he says. "The initial focus is getting settled down and working with Deirdre Lyons in IRUPA and Simon Keogh on the legal side of exiting a contract and leaving rugby.
"I've been living with this for a while now so I know it had been coming. I'm working on it at the moment but there's no huge rush, I've a bit of time to sit down and weigh up everything.
"I'd also like to stay involved in rugby at some point down the line whether it's on a voluntary basis or something more permanent in coaching. I'll just have to wait and see but I'm looking forward to it.
"While I'm sorry to leave rugby behind, I don't really have an option and I'm just so thankful I had six years at it and thankful for all those experiences because not everyone gets that chance."
The42 is on Instagram! Tap the button below on your phone to follow us!