LEINSTER HAVE CONFIRMED the signing of Ben Te'o on what is believed to be a two-year contract, a new face who fits ideally with the style of play head coach Matt O'Connor is striving for at the province.
The 27-year-old will join from rugby league's South Sydney Rabbitohs at the conclusion of the club's NRL season, which may run as late as October. Given that Te'o has not played rugby union since his youth, the transfer does represent a risk of sorts.
We have seen major success in league to union crossovers in the past in Jason Robinson, Sonny Bill Williams and Brad Thorn, but there have been many code-hopping disappointments such as Iestyn Harris, Henry Paul, Lesley Vainikolo.
The fact that O'Connor himself made the transition during his own playing days inspires confidence that he can help Te'o to understand the nuances and subtleties he will need to learn to excel in union.
That said, it is Te'o's rugby league background that is part of the motivation for O'Connor in signing the brutish 6ft 2ins player. The physical attributes that have made the New Zealand-born Samoan international successful in league could add an entirely new element to Leinster's backline options.
Defensively, Leinster's system featured additional line speed and width under O'Connor last season, something heavily influenced by rugby league. The Australian backs his players to shoot up and be destructive in defence, pressurising the opposition and attempting to force errors.
Given that Te'o operates under a similar structure with the Rabbitohs, he should be well suited to Leinster's defensive line and using his power to produce some big plays.
Renee McKay Te'o carries the ball for the Wests Tigers in 2007. Renee McKay
Kane Douglas will join Te'o at the eastern province from the Waratahs this season, and while the lock has played his professional rugby in union, his family background and youth are deeply ingrained in league.
These signings make sense in terms of what O'Connor wants to do with Leinster's defence.
Perhaps of more interest to many Leinster supporters will be how Te'o is deployed in attack. Given that O'Connor has suggested on several occasions that he is looking at a second-five-eighth model in the 12 shirt for the long-term, Te'o will most likely initially be seen as a 13.
That is not to say that the 27-year-old's powerful running and ability to get the hands through the tackle will not be utilised at inside centre, but O'Connor [like an increasing number of coaches] likes directness from the outside centre channel.
We look to the Brumbies for a taste of what might be to come at Leinster. O'Connor played for and coached the Canberra franchise for a large portion of his career, and is well rooted in their philosophy.
The Brumbies field the physical, direct, hard-running and big-tackling Tevita Kuridrani in the 13 shirt [and the similar Andrew Smith before him], with two playmakers at out-half and inside centre.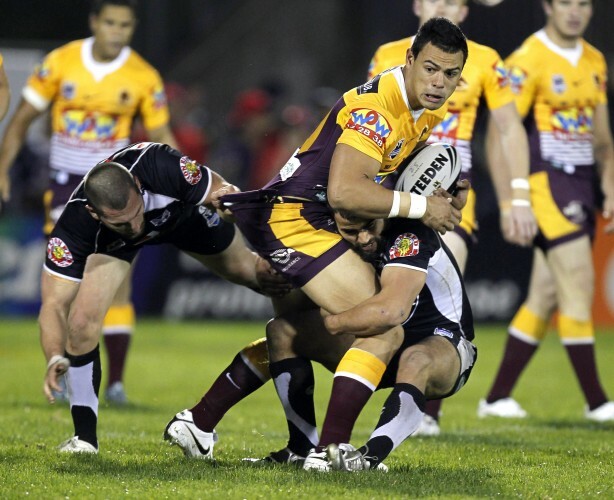 Simon Watts Te'o may offer balance to the Leinster backline. Simon Watts
With players like Noel Reid, Ian Madigan and Gordon D'Arcy [whose distribution continues to improve] competing at inside centre, it does make sense for Leinster to pursue that passing, second-five-eighth model [something Munster are looking at too].
O'Connor is a fan of how a distributor at 12 can open up the pitch and act as a playmaker a little further out from the set-piece or ruck. A powerful, direct runner from 13 offers a balance to that and ensures the opposition defence cannot simply sit off and drift across the pitch.
Rather unsurprisingly, Leinster's players seem enthused by what Te'o might bring to the party, with out-half Jimmy Gopperth saying:
When I heard he was coming, I had a quick Google and the first thing that comes up is him absolutely smashing Sonny Bill Williams! He's a bit of a unit. He's a Kiwi boy, who moved to Aussie and maybe played a bit of rugby as a young boy.
"He's obviously played a little bit. I watch the State of Origin and he's played in that. He's a top athlete – big, strong, fast, and he's got all the skills. Hopefully he can convert them into being a brilliant rugby player."
It's a neat summation from the Kiwi out-half, who indicates the 'hope' that Te'o can transfer the skills that have made him effective in league to the union code. The former Wests Tigers man certainly fits the mould for what O'Connor wants from Leinster.