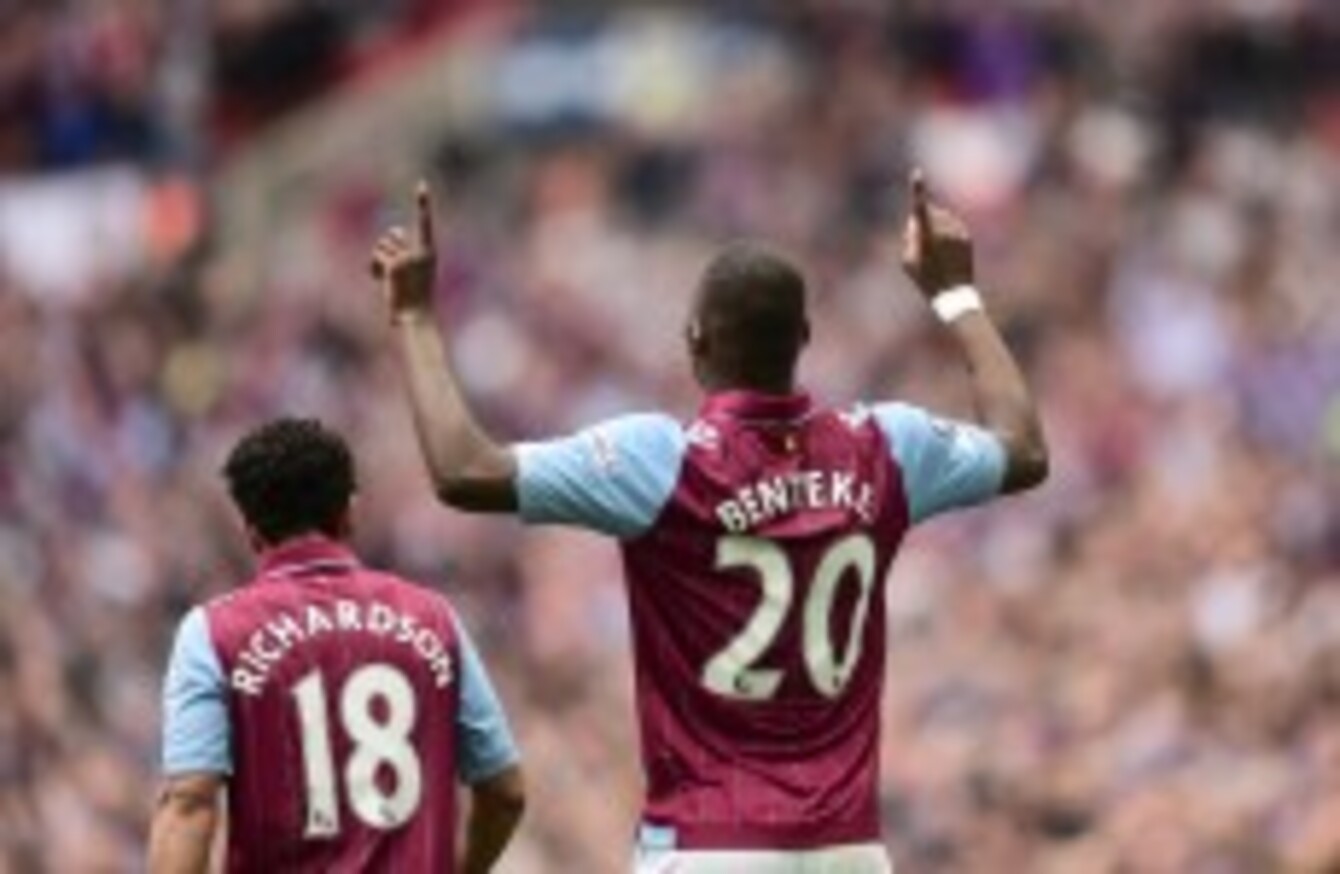 Benteke celebrates a goal against Liverpool in April.
Image: PA Archive/Press Association Images
Benteke celebrates a goal against Liverpool in April.
Image: PA Archive/Press Association Images
ASTON VILLA BOSS Tim Sherwood has admitted the club may have no choice but to let Christian Benteke leave this summer after revealing the Belgium striker has a buy-out clause in his contract.
The clause was inserted when Benteke signed his new £50,000-a-week contract two years ago and the figure is rumoured to be £32.5m.
"There's a buy-out clause in his contract so it would be impossible for us to stop him if he wanted to go but someone has got to meet that buy-out clause and if they don't, then it's not even going to be considered because we don't want to lose him."
Villa will be forced to sell Benteke to any club that triggers this clause and Sherwood has acknowledged that there is a real possibility that Saturday's FA Cup final with Arsenal could be their star-striker's last appearance for the club. But the former-Tottenham boss believe Benteke could benefit from spending another year at Villa ahead of the European Championships in 2006.
I don't think he should be moving clubs the year before a European Championship. The European Championship is a huge stage and a tournament, where you feel Belgium will be one of the favourites to win it – and playing for Aston Villa hasn't hindered him being first choice for Belgium. So to stay here and score at the ratio he's been scoring at since I took over, if he ends up with 25 or 30 goals, then goes to the Euros and has a great championship, then he is probably going to be playing for Real Madrid. If he scores 30 goals here next season, he can go the biggest club in the world – and the kid is that good."
Liverpool are in desperate need for a proven goalscorer and are said to be readying a bid for the 24-year-old after identifying him as a realistic target for the summer transfer window. But Sherwood believes Benteke should aim higher than Liverpool and isn't sure he would even suit the Merseyside club's style of play.
"I think we cross more balls into the box than any club in the league and I think Christian will tell you he feeds off crosses. There's no point going to a club where they don't cross the ball. All he's got to do is look at history and see what has happened to players who have left other clubs. They're going to pastures new, bigger and better clubs, and they don't actually play, so then they end up looking for a new home again."
Sherwood may have a point but Aston Villa finished fourth from bottom of the Premier League this season and the opportunity to test himself at a club of Liverpool's size, despite their difficulties, may be too much to resist. Either way, the fact that Sherwood decided to volunteer this information seems to suggest he is resigned to losing the Belgian hit-man.
Do you think Benteke will leave Aston Villa this summer? 
Originally published at 11.15