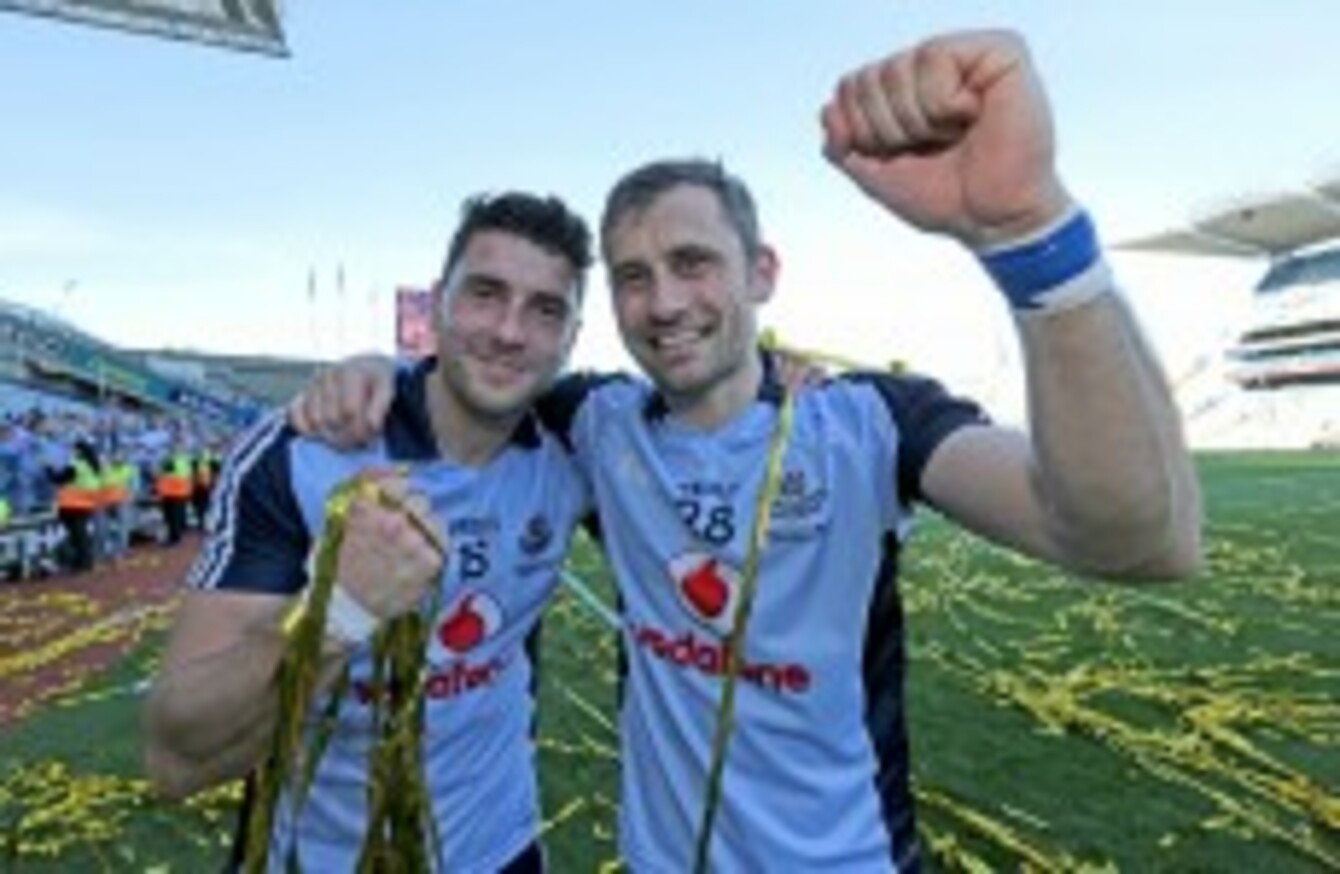 The Brogan brothers in 2011.
Image: Morgan Treacy/INPHO
The Brogan brothers in 2011.
Image: Morgan Treacy/INPHO
FORMER FOOTBALLER OF the year Bernard Brogan has said he was "expecting" to hear his brother's name when the nominations for this year's football All-Stars were announced yesterday though he never thought his own name would be on the list.
However, Bernard, who has three All-Stars to his own name, is realistic enough to realise that Alan would have had to overcome serious competition if he was to win his fourth.
"I heard it on the radio this morning and I wasn't expecting one myself but I thought Alan, especially coming back from a year out, I thought he played a massive role and showed why he's been so good for Dublin," Brogan said at the launch of this year's Sky Sports Living for Sport scheme yesterday.
"So yeah, I was expecting to see him there but I wouldn't say he'd have envisaged, really, that he would have won one.
"If you look at the names there – the (Paul) Flynners, the Dermos (Diarmuid Connolly), the Aidan O'Sheas, the Michael Murphys around the half-forward line – it's a difficult line to break into and win an All-Star.
"I thought he would have been good value for a nomination, but at the end of the day it's a really nice thing to get as a personal accolade but in football it's all about the medal at the end of the year."
Brogan also admits that winning the Player of the Year award back in 2010 was a strange feeling after Dublin were knocked out of the All-Ireland championship by Cork in the semi-finals.
"There was a different feeling to [mine] than to Alan's Player of the Year (in 2011 when Dublin won the Sam Maguire), where six of us on an All-Star alongside him and we were all there having the craic.
"All-Stars night is great but I would have found it's very much a night for the All-Ireland champions – and rightly so – as they usually win six or seven, and the losing finalist would get five or six.
SEE SPORT
DIFFERENTLY
Get closer to the stories that matter with exclusive analysis, insight and debate in The42 Membership.
Become a Member
"I came in as being a semi-finalist and was very much there on my own. As I said, it's an amazing achievement, I'm delighted to have it, it's something I've very much proud of.
"Just there was a funny feeling to it, it shows us as team players, it shows the power of the team and winning something on your own.
"I always link it to individual people playing individual sports and how they win – like the Katie Taylors – she has her team there and they celebrate with her.
"But when you win those individual ones like in 2010, there's a funny feeling to it. It's a strange one like that but I'm still very proud to have one."
Living for Sport
Brogan signed up with the Sky Sports Living for Sport scheme because he sees it as key to getting kids interested in fitness and interaction with their peers.
"It's massive.
"They focus on a lot of inactive people and the challenges they face, the health costs and stuff like that for the kids.
"The obesity and all that kind of stuff that goes along with it, that's a really important factor in all sport, not just in GAA.
"There's something for everyone out there and this type of initiative give a taste of everything and you're not just trying to shove something down their throats, that's really key.
"Because of the amount of kids who aren't involved in sport, in today's day and age it's even worse because of computers and smartphones and people becoming so unsociable, they're communicating through social media and this idea is about getting people out of their shells and trying to get them to engage with each other and try and learn that way."
Bernard Brogan is teaming up with the Sky Sports Living for Sport initiative this year to launch an exclusive schools competition for a GAA masterclass. The free initiative uses sport stars and the skills learned through sport to help young people build confidence and develop life skills. For more information on how to enter the competition visit www.skysports.com/livingforsport