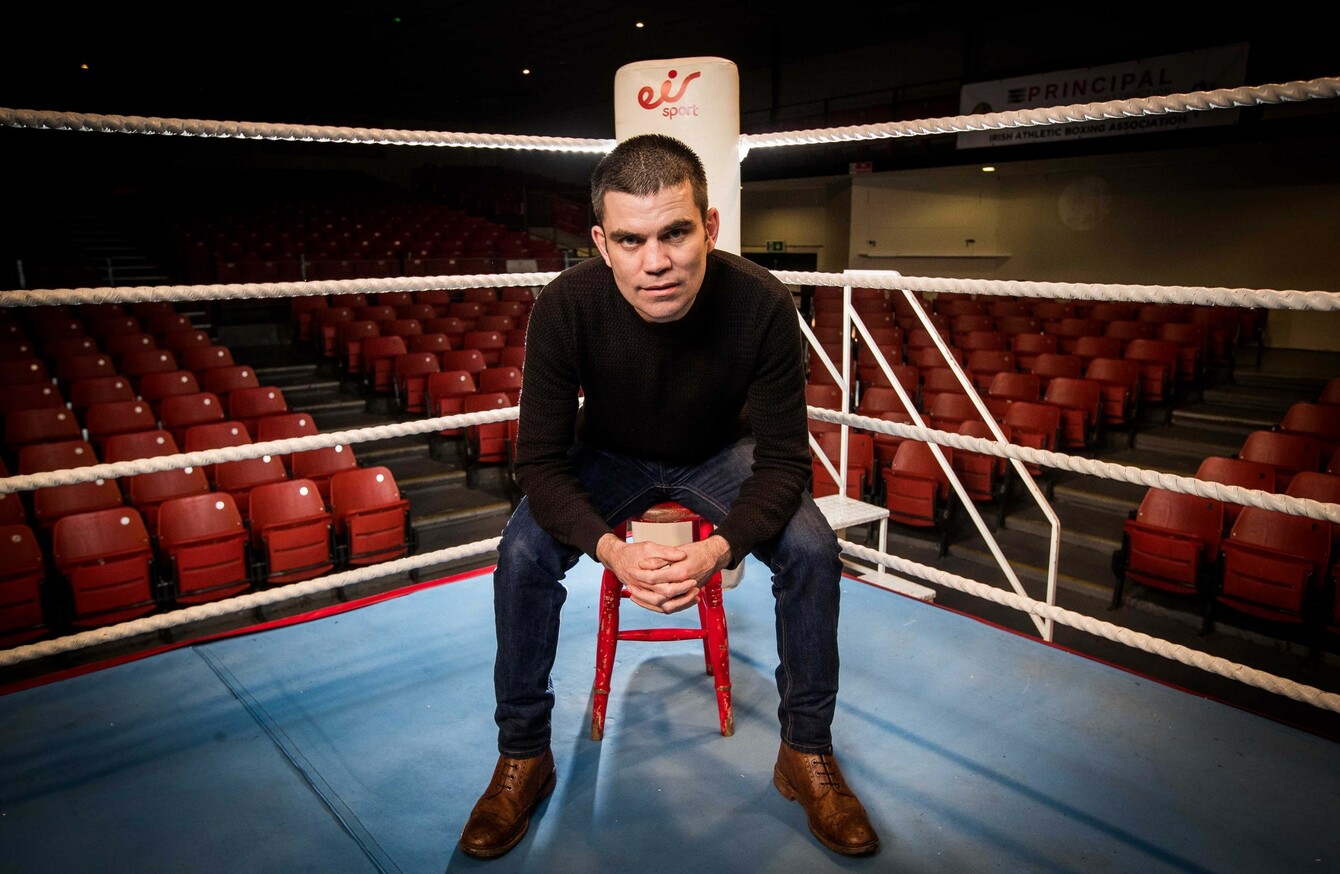 Image: Morgan Treacy/INPHO
Image: Morgan Treacy/INPHO
THAT MISCHIEVOUS GRIN says it all.
Having spent the previous 20 minutes trying to break the body and spirit of yours truly, inside and outside of the ring, using skipping ropes, a heavy bag and anything else he has to hand, Bernard Dunne is happy to see me gasping for breath and mopping my brow.
Dunne's love for boxing is as strong as ever, which is quite a statement for a man who has been surrounded by the sport his entire life.
There's no need for the usual pre-interview pleasantries on this occasion, that feeling-out process was bypassed when he took such pleasure in burying his boot into my midriff as I strained to hold a plank position in the middle of the royal blue canvas.
When Dunne hung up the gloves for good just over seven years ago he felt, with a tinge of anxiety, that boxing was still his only option, other career paths didn't appear to be accessible.
However, these days the proud Dubliner is a man who adopts many a stance, from boxing punditry, to writing a successful TV show and working with Jim Gavin's All-Ireland champions.
Dunne is used to reinvention and dealing with setbacks by now, and historically he's always come out stronger on the other side.
Foresight has always come naturally to the former world champion. Remember, this is the same guy who as a six-year-old, while sat on Barry McGuigan's knee, told 'The Clones Cyclone' he wanted to be just like his idol.
Since his retirement, Dunne has adapted and taken his bulletproof self-assurance outside the ring. Media savvy, his clarity of thought is obvious as he delivers answers with the crispness of a left jab.
He was always a good talker and it's a skill that is greatly appreciated when you find yourself sat opposite him still trying to feed your lungs with oxygen.
With a flurry of professional Irish pugilists either already making waves, or expected to be doing so in the very near future, Dunne accepts it's a particularly good time to be a boxing analyst in this country.
"OK, our Olympic Games weren't great but Irish boxing as a whole is in a very healthy place. We have a lot of young talent coming through," Dunne told The42 at the National Stadium this week.
We have a lot of young guys who have transitioned from amateur boxing into professional boxing.
"That's good talent that's gone pro. Michael Conlan, Paddy Barnes and even look at Jason Quigley, who has been pro a couple of years now."
He may still be two weeks off making his professional debut but Dunne sees Conlan in a particularly special light.
"Michael, what do you say about Michael? He's got it all.
"He's got technical ability, he's physically strong, he looks well, he speaks well and he's got a good camp around him.
"He's got all the attributes to be a champion. He's got all the people around him to help him become a champion. Now it's about making sure you do the work.
"You can have all the talent in the world but if you don't apply it in the right way or if you don't stay grounded, it can be wasted. But Michael definitely doesn't strike me as someone who is going to waste his talent."
Michael's older brother Jamie is much further down the road. He mightn't be making quite as much noise but he's another Irish pro, alongside the likes of Quigley, Barnes and Katie Taylor, who ticks all the boxes for Dunne.
"Jamie is a fantastic talent and he's often forgotten about," Dunne says of the 30-year-old elder Conlan brother [18-0, 11KOs], who fights Yader Cardoza in Belfast on Friday, headlining a rescheduled card that also includes Barnes' second pro outing.
Having a brother like Michael, especially when you're the older brother, is difficult.
"But I think he's at a stage now where he's starting to get his own dues and he's great to watch.
"He really is and anyone who hasn't seen him I recommend you go check him out on YouTube or watch his next fight because he comes to fight. He entertains, he's got a great style, a really pro style."
Quigley is another very interesting talent, particularly when you consider the similarities in the path the Donegal man is taking to the one Dunne chose 17 years ago.
Dunne turned professional after failing to qualify for the Sydney Olympics in 2000, which is a somewhat flippant reference to a remarkable amateur career that included 13 Irish titles and no defeats on home soil.
At 20 years of age Dunne packed up and went to Los Angeles to train under Freddie Roach, following in the footsteps of two of his heroes, Steve Collins and Wayne McCullough, at the famed Wild Card gym.
It opened up a different world for the Neilstown man, whose promoter was the great Sugar Ray Leonard, on occasion sharing a gym floor with Hollywood stars such as Mickey Rourke, Hillary Swank and Donnie Wahlberg.
Similarly, Quigley left the amateur game in 2014, although he had a middleweight world silver medal in his back pocket, abandoning any plans to go for gold in Rio de Janeiro last year.
The 25-year-old [12-0, 10KOs] is working under the wise wing of Manny Robles in LA, and he is already catching global attention, having risen into the top 10 of the WBA middleweight rankings.
Dunne is a huge fan of Quigley, who headlines his first nationally-televised card when he takes on Glen Tapia [23-3, 15KOs] for the NABF middleweight championship in California on 23 March.
"He's probably been under the radar a wee bit back at home but he's a phenomenal athlete, he really, really is.
Looking at how he handles himself, both in the ring and outside of it, it's great to see him develop the way he has. That takes a lot of hard work. He's handled the move well.
"Would he be where he is now if he had waited four years and stayed amateur and went to the Games? I think he made the right decision, I think Jason always wanted to be a pro.
"I think his style suits the pro game and I think he definitely made the right choice for his own career."
Andy Lee's return to the ring in a fortnight's time, in Madison Square Garden just 24 hours after Michael Conlan, 15 months after he lost his world title to Billy Joe Saunders, is yet another exciting storyline in a bumper month for Irish boxing fans.
And with the arsenal he has at his disposal, Dunne is confident the 32-year-old has more than enough weaponry to still trouble just about any opponent.
"Andy Lee, for me, is probably one of the most technically gifted boxers we've ever produced in this country.
"He took his time winning a world title but I'm delighted he got it.
"Anyone who gives him a bit of room to box, Andy will definitely give it a fair crack. I think Andy struggles when guys get right in his face and try to put him under pressure.
"Technically Andy Lee is second to none. When he catches you with that right hook, or a big left hand, you're going to know you're being hit."
Katie Taylor's journey to the pro game is another one Dunne can't help but feel attached to, especially with Brian Peters, the man who guided the Dubliner to his WBA super bantamweight title at The O2 nine years ago, calling the shots. However, having a star pupil such as Taylor certainly makes the task that bit easier.
"Brian is now guiding Katie Taylor's career and I think he'll do a good job, I really do," Dunne says ahead of the Bray woman's third pro bout tonight.
"He's got a great talent to work with. She's got an amazing work ethic and that's what I love about her.
She's won so much but yet she still wants to get her ass out of bed in the morning and go training.
"There's no, 'ah, I'll take it easy today'. She's still as driven as she's always been."
Dunne is also as driven as he's always been, juggling the second season of his 'Mythical Heroes' TV show with his boxing punditry commitments and his role as a performance coach with his beloved Dubs.
The 'Mythical Heroes' project allows Dunne to blend his creative juices and his love for Irish language, history and folklore in one expressive pot, and the positive reception of the RTÉ show, the idea for which came from reading stories to his two children, is something which gives the ex-boxer great satisfaction.
What are they
really like?
Rare insights on sport's biggest names from the writers who know them best. Listen to Behind the Lines podcast.
Become a Member
The GAA and his relationship with the best Gaelic football team in the country ties in nicely with that theme of cultural nationalism.
All of those avenues are closely linked in fact, the opportunity to work with the Dubs coming about after his good friend Brian Gavin, brother of Jim and the man who taught Dunne to speak Irish, put him in touch with the bainisteoir.
As well as being a dream job for a fan, Dunne finds it helps with the withdrawal symptoms from his glory days.
"I never played GAA before in my life," Dunne explains.
"I loved the sport. It's funny, I became really involved in watching it especially when I lived in the States. I suppose you become more Irish when you move away.
When I came home I got involved in the Poc Fada, I went to all the games in Croke Park, be it hurling, football, camogie.
"To now be on the inside of that circle and actually be working with a team is a dream come true.
"It's great because I would have been a fan of the boys and would have gone to watch them and they would have come to all my fights.
"So I would have had a relationship with some of the players anyway, so to be a part of it now and to be actually walking out in Croke Park comes a close second to walking out at The O2 in front of thousands of your own fans.
"I think it's helped me [in retirement]. Plus nobody's punching me in the face just yet."
Dunne admits that while boxing is still a central part of his life, it's no longer the sole focus. The transition was tricky, he concedes, but he always looks back on his career [28-2, 15KOs], which ended in a resounding knockout defeat in the first defence of his world title, with that trademark grin, whether he's remembering the highs or the lows.
"I'll always be Bernard Dunne the boxer but I have a different identity from that now.
"And that's a hard thing: a) to achieve but b) to accept, that you're no longer Bernard Dunne the boxer.
"I get when people have difficulties transitioning from the height of their sporting career to being a non-athlete. That's difficult, that's very difficult, even when you make the decision yourself.
"I was the one who decided to retire, I wasn't forced to retire, it was completely my own decision and even then it was difficult for me to handle."
Having an Irish Olympian boxer for a father, Dunne felt his path was almost pre-determined. He's joked in the past that he would have been kicked out of house and home if he didn't start boxing as a five-year-old under his dad's tutelage in Inchicore.
His two children — Caoimhe (10) and  Finnian (9) — won't be encouraged to box but if they do show an interest in the sport they won't be short on expertise in their corner.
"I grew up in a household where my dad was the 1976 Olympian Brendan Dunne. I was always Brendan Dunne's son. And that was a difficult shadow to be in and have to chase that sort of glory.
My kids have to grow up with their dad being Bernard Dunne, European and World champion and that's an awful burden for any child.
"But if my kids came to me and said 'Dad, I want to box', Grandad will come out of retirement and start coaching again
"I'm thankful to him for everything I have, and sure Daddy knows a thing or two about boxing too. So maybe myself and Grandad could become tag-team coaches."
Going by the lung-busting, 20-minute session he has just put me through, he'd have them in tip-top shape in no time.
The42 is on Instagram! Tap the button below on your phone to follow us!