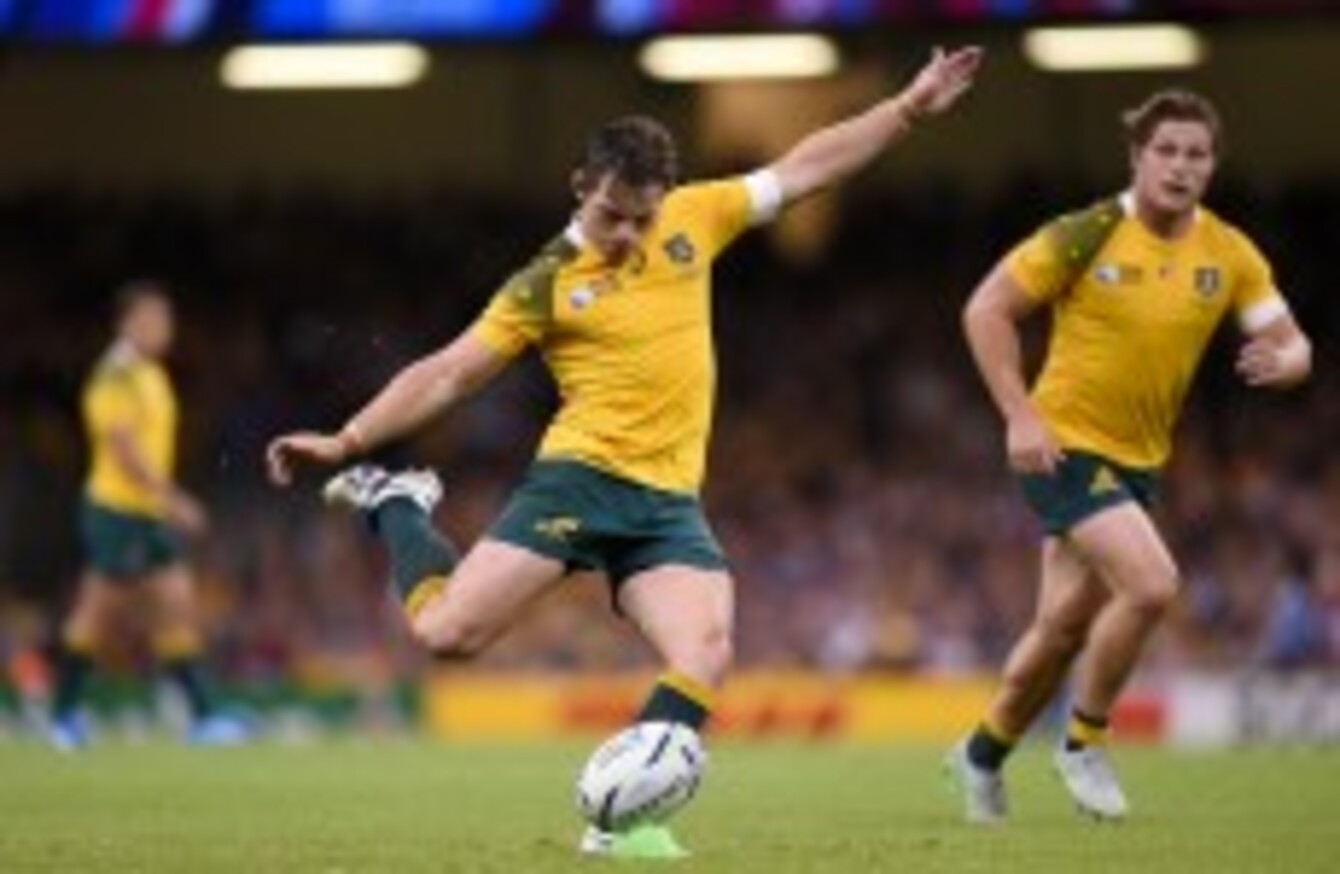 Bernard Foley has been one of the stand out players at this year's Rugby World Cup.
Image: Andrew Matthews/PA Wire/Press Association Images
Bernard Foley has been one of the stand out players at this year's Rugby World Cup.
Image: Andrew Matthews/PA Wire/Press Association Images
BERNARD FOLEY'S OUTSTANDING World Cup performances against England and Wales may have been fine-tuned by Wallabies coach Michael Cheika but the man who set him on the road to stardom was his devoted father.
Michael Foley, a lawyer, made sure his son reproduced on the playing field what they did in the back yard, sometimes taking his fanatical devotion beyond the call of duty.
Not many dads would undergo open heart surgery and then sneak out of the hospital to watch their 14-year-old son play for Redfield College. But that is what Michael Foley did 12 years ago.
"My dad's my number one fan, You can't keep him down," said 26-year-oldFoley.
"He'd had a leakage and needed open heart surgery at that time. He's been at virtually every game I've ever played and he coached me for a number of years.
"He was in hospital at the time and he wasn't allowed to be released and they wouldn't let him out for the day. But he made mum sneak him out of the hospital and he came to watch me play."
Kidney rescued
His mother had to drive his father back to the hospital after the match and it probably saved Bernard from losing a kidney.
"During the game, I got a kick in the side," he said.
"I didn't think much of it, I was just a bit winded but then I started feeling pretty ill.
"Then when we were dropping dad back at the hospital afterwards, they said 'why don't you drop in as well and get checked out'.
"They did all the scans and they said can you give us a urine sample and it came out bright red.
"They found I had a rupture in my kidney. It was pretty frightening at the time.
"I then had to spend 12 months out of non-contact sports and off the rugby pitch.
"But such is life I suppose," added Foley, who has five siblings — two brothers and three sisters.
Foley, who scored 28 points against England to break Matt Burke's 17-year-old record for the Australian to have scored the most points in a Test against the English, said he was the bane of his family's life, save his father's, when he was a youngster.
"My dad never played high-level rugby but loved it and played a bit," said Foley, whose father's other hobby is to research the family tree going back to their Irish roots.
"It's more of an identity about who you are and where you've come from," said Foley, when asked about the close bond formed by Cheika with his squad in such a short period of time in charge.
"You look at places you've come from as a family, and where you and your parents grew up.
"It's all linking back together and a good way of the team understanding each other and everyone's pathway and where they've come through.
"My dad follows the family history very closely, and we definitely come from Cork or Munster territory.
"I've never actually been there. I think it's our third or fourth generation in Australia, so a while back."
(C) AFP 2015
Additional reporting by Steve O'Rourke.