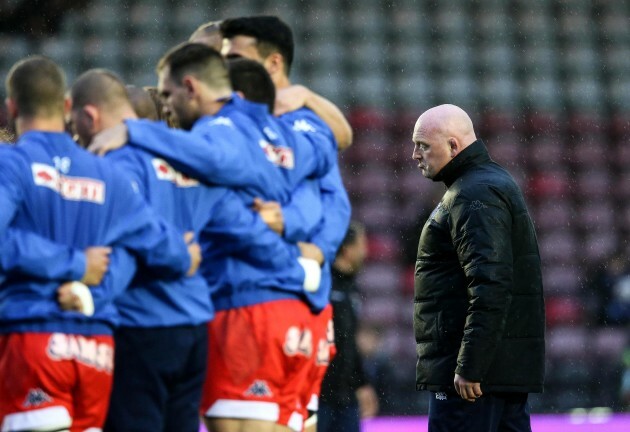 Ryan Byrne / INPHO Ryan Byrne / INPHO / INPHO
AFTER SIX YEARS up in the mountains, Bernard Jackman has come to the valleys with a tale to tell, but also a vision and resolve for his methods as he attempts to lift his new club to heightened expectations.
The Carlow man set off for Stade des Alpes in 2011 as forwards coach and went from strength to strength as Grenoble battled their way up from Pro D2 and remained afloat in the cash-heavy Top14. Jackman became an ambitiously attacking head coach and created a club that was something of an outpost for Irish coaching and playing talent.
It was all ticking along nicely, until it wasn't.
Grenoble were relegated after he was axed this year, but Jackman was not left to sit idle for long.
As Jackman sits down for one of a plethora interviews as the new Dragons head coach at last week's Pro14 launch in the Aviva Stadium, it's striking that he is still bubbling with energy. Even as he describes scenarios from his time in France that are utterly exasperating.
"They don't believe that preparation will lead to a result," Jackman recounts with his immersion in French rugby culture now behind him.
"So for them, if they are sloppy Monday, Tuesday, Wednesday it doesn't really matter because Saturday, if they are in a good mood, they play well.
"That's not my mindset. A lot of French coaches feel that. Guy Noves would feel that if he can get the right pre-match talk and if the ambiance is good and the breakfast and the wine is good then they can get a good performance."
Jackman goes back to his time completing his coaching license for the perfect example of what's wrong with the off-field attitudes in French rugby. The lesson in that particular lecture was far from textbook as his peers detailed why they feel the need to perpetuate the status quo if they want to keep hold of their jobs.
"Ronan O'Gara was on my course and one week was about gameplan. It was obvious the coaches in the room weren't really into it.
For me, having a gameplan and being able to vary your gameplan around opposition's strengths, weaknesses is really important. But it was obvious that it wasn't part of their mindset. It became clear because people weren't really engaged in the conversations.
"We had a discussion day two and most of them didn't think a gameplan was important. 'Because if you gave players a gameplan they could go to the president and tell him that you said this would work and it didn't'. And  (they feel) you're better off being really vague and talking about generalisms.
"In the coaching structure over there it's: 'don't make yourself accountable'. Whereas I like accountability. If I say this will work and it doesn't work, then on Monday I'll say that I was wrong."
Ryan Byrne / INPHO Ryan Byrne / INPHO / INPHO
To ensure that culture of accountability exists in his new role, Jackman points to off-field recruitment as a key pillar he can build around for the future. Not least the physio and medical department which he feels contributed to a malaise within Grenoble.
"The big thing (I learned) from Grenoble was to align yourself with people with the same ambition…
"It's really important that they're on the same page as the head coach. If they're not you just have too many leakages, players who'll look for the easy option and not train. That was certainly the case in Grenoble, the players felt the medical department weren't on the same page as the coaching staff and that's a big issue.
"I've been given the freedom in the Dragons to put my own staff together. I think that's really important for a head coach. The successful head coaches – they've got the track record and can do this – Eddie Jones, Jake White, Joe Schmidt, they generally bring people in that they've worked with before and they've confidence in. Everyone's on the same page.
For us, we're starting at such a low base that if we don't have every member of staff on the same page, if we're not aligned, we're not going to get there. Two or three leakages and people who aren't driven to bring the organisation forward – or thinking 'it should go this way' when I think it should go north – then we're screwed."
The freedom Jackman mentions comes from the top of the WRU's coaching structure. For many, Warren Gatland does not fit the description of a man you would expect to loosely hold the reins and allow somebody to do their own thing, but at the Dragons, he has encouraged Jackman to do just that. So Leinster fans tuning in to see the Dragons' first home match of the season on Saturday (kick-off 17.15) will see the eastern province taking on a team with a completely new approach as Jackman takes the 2-4-2 formation and attacking structure that drove Grenoble and, to a more successful degree, Connacht.
"Warren knows how I want to play and we've had lots of discussions around that. He just said 'get in there and get it done. If you need me ring me'."
Mention of the western province and the similarity with Jackman's style begs the question of whether the former Connacht hooker had sought a return to Galway to step in for Pat Lam. 'Stubbornness' kept Jackman from turning his attention outside France, determined to dig Grenoble out of a hole. It kept him out of contention for a return to Ireland, but now he has something of a blank canvas to work on in Newport.
The Dragons have been the fourth and lowest Welsh finisher for six of the last seven years and they managed just four wins over the course of last season. So while Jackman readily admits that he is starting work 'from a low base' and tempers expectations by putting the time-frame needed to adopt new structures at the 12-month mark, he is relishing the opportunity to work with young hungry players who can mould into rounded talents because he expects them to listen, follow and not revolt behind his back.
"Glasgow, Scarlets, Connacht for me had the best attack over the last three seasons and they got rewarded for that (each won the Pro12 title). In other competitions that's not necessarily the case – in the Pro14 now I think there is much more emphasis on giving players the freedom to play. Because there's no relegation.
"There is still pressure for results, there has to be in elite sport, but with no relegation you can maybe take a brave call rather than a conservative call in terms of how you set up your team and how you play.
You don't always have to pick the safest player. You can look for a guy who has the x-factor and try to make him 'safe'. Make sure he has the fundamentals and understanding not to be someone who leaks points, not to be an exciting player in attack and defence."
He's growing hoarse because of the length of time he has been speaking to the assembled media, but Jackman is laughing as he finds himself describing the perfect player in such terms –  "to be solid in defence and exciting in attack is the model I want" — speaking about the players who are at his disposal puts a more serious look on his face.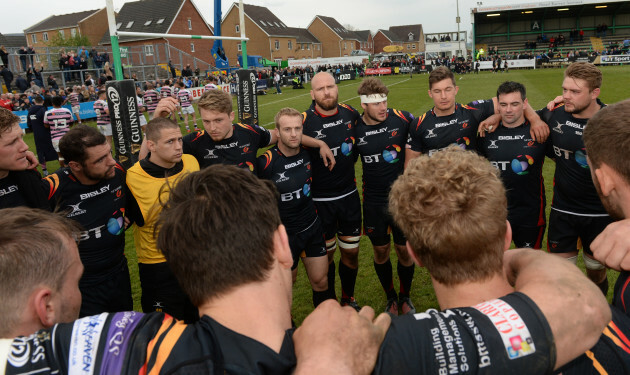 Ian Cook / INPHO Ian Cook / INPHO / INPHO
"You want to see positive moments. You know there are going to be flaws, but I hope that the people of the region will appreciate the fact that it is kids from their regions and their clubs that are wearing the Dragons jersey and the experience they get now short-term will hopefully lead to a team being built around players from the region."
The squad is probably a bit light, to be honest. We have had a small budget for a few years but there are a few young players in there with potential. My dad always said that potential will get you a mortgage but it won't pay it off so we are speaking about paying it off now.
"These guys are going to get game-time so it is up to them and it is up to me to give them the skill-set and the environment where they can do it. It's up to them to perform then and if not then we'll have to get new ones. The reality is we want to be a winning region and we're not going to accept mediocrity. That's good."
A new pitch has been laid at Rodney Parade, the region has rebranded by dropping the Newport-Gwent from its name, the budget is on the way up and Jackman is installing a structure and style that has already been proven capable of winning the Championship.
It's time to unleash the Dragons alright, but they will need time to grow.
"It takes a year and a half to build an attacking system and a year to build a defensive system. My defence coach arrived two weeks ago so there are going to be blips but you want to see that getting better. We'll have some good scalps. We'll beat teams. We'll win more than four games, I'm sure."
Subscribe to The42 podcasts here: