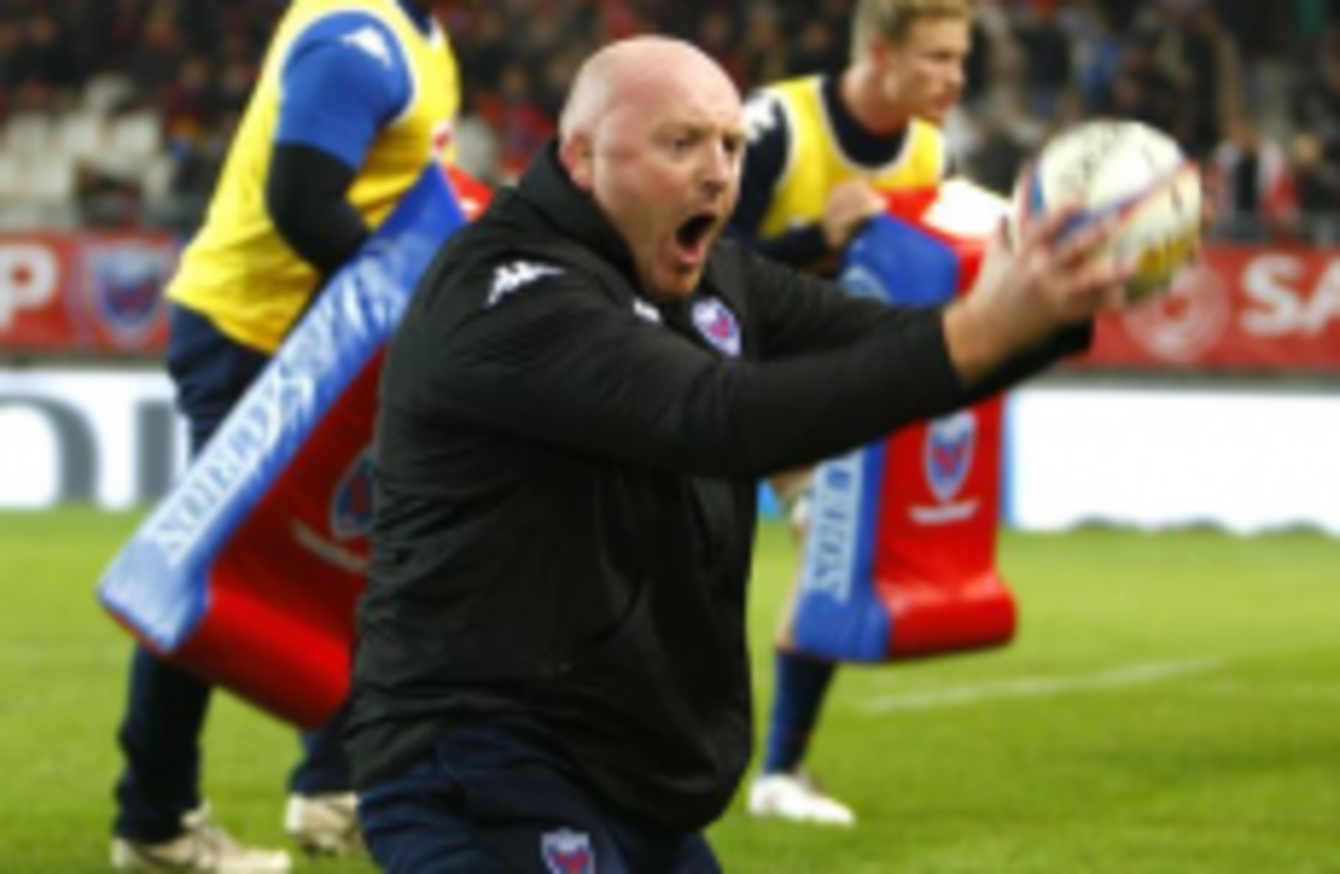 Bernard Jackman gets very involved in Grenoble's pre-match preparations.
Image: Grenoble Rugby via Twitter
Bernard Jackman gets very involved in Grenoble's pre-match preparations.
Image: Grenoble Rugby via Twitter
BERNARD JACKMAN WILL take over the head coach brief at Grenoble next season and is hoping Heineken Cup fixtures will be part of his club's schedule.
The former Leinster hooker is into his third season at the Top 14 side and will take on greater coaching responsibilities having initially started as a defence consultant working out of Ireland.
"It's a great opportunity and I'm really looking forward to it," Jackman told TheScore.ie. "My new role will involve defence, collisions and ruck as well as overseeing the backs, attack and the implementation of gameplans."
Fabrice Landreau will focus of Director of Rugby duties next season, leaving his defence coach to shape the playing style of a Grenoble team that have consistently improved over the past three season.
"We had a decent enough start to the season and there are lots of things going on behind the scenes. Renovations on making our stadium an 18,000 all-seater will begin in February," Jackman explained. "We're quite ambitious in the transfer market and we've identified four or five quality players that should add to our squad." One of those additions is said to be Munster's Casey Laulala and while the Irish coach did not name names, he confirmed that business on 'one or two' high profile players should be concluded, and announced, by late January.
Casey Laulala has been linked with a summer move to Grenoble. INPHO/Billy Stickland
Jackman has visited Super Rugby clubs in South Africa, Australia and New Zealand in recent years to see how they are run and absorb their rugby philosophies. Next summer, before taking the keys to the big(ger) office, he plans to drop by the Bulls and Laurie Fisher's Brumbies.
"I can't speak more highly of him," Grenoble out-half, and fellow Irishman, James Hart told TheScore.ie. "He has really made a name for himself. You only have to look at our defensive record to see how well we're doing. Although, he was not happy with how we defended against Wasps. Credit to him, he's really put in the work, is passionate and deserving of everything he gets.
If it wasn't for Bernard, I would not be at Grenoble, or where I am now, today. I'm really looking forward to next year now, to see how we go. We really have a chance of making the French playoffs and earning a Heineken Cup place for next year. There's a big second half of the season on the way."
Jackman agrees with his out-half. "We're halfway through the season and have got some tough fixtures out of the way. We've got Stade Francais away, Castres [the champions] at home and Toulon away next. If we come through those games OK, we'll be in good shape.
"We've got 33 points from our first 13 games and if we get another 33 points in the second half of the season we'll be a top six side."