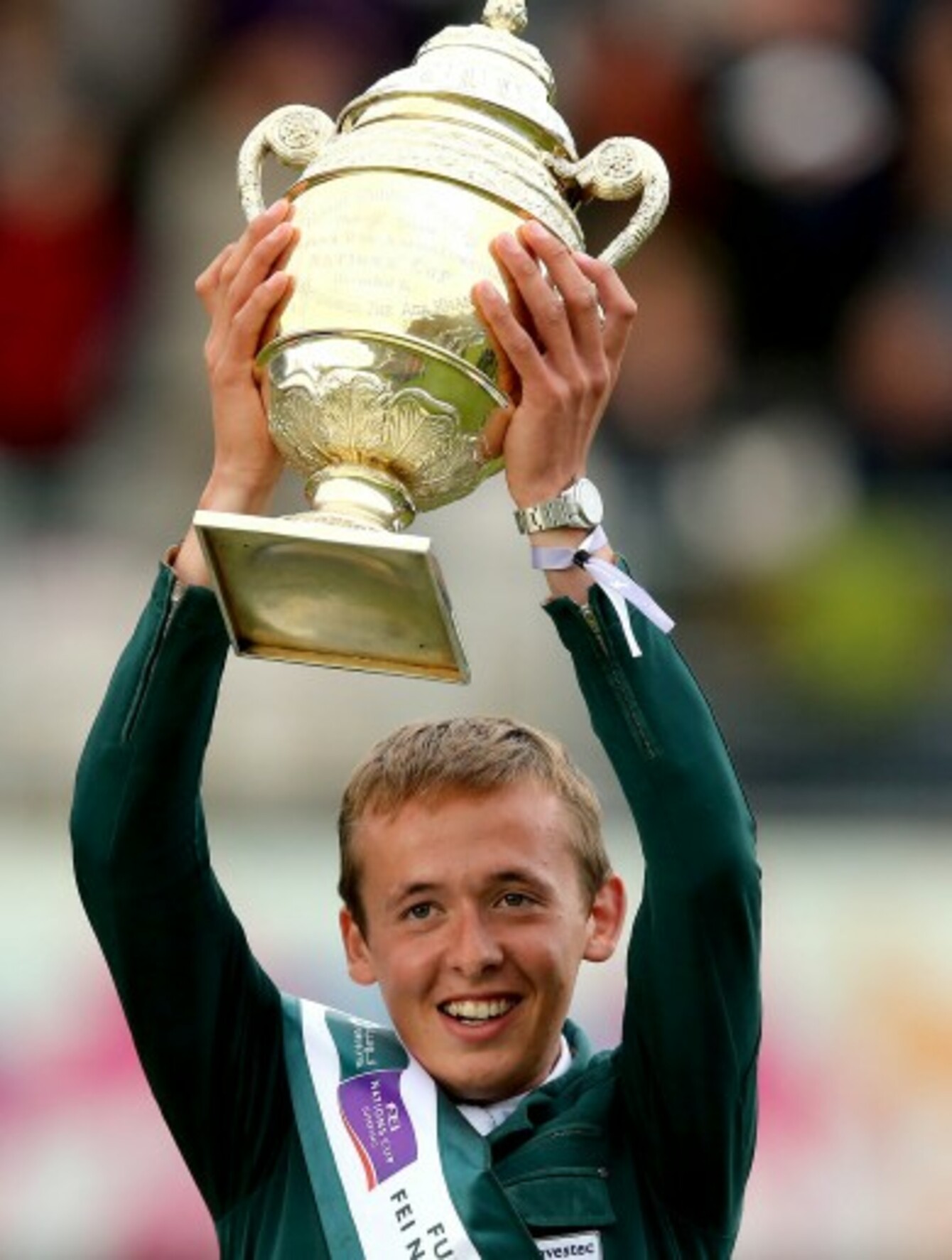 Irelands' Bertram Allen celebrates with The Furusiyya FEI Nations Cup last August.
Irelands' Bertram Allen celebrates with The Furusiyya FEI Nations Cup last August.
Updated at 10.28
EVEN IF YOU'VE never heard of Bertram Allen, you'll probably become a lot more familiar with the name over the coming months.
However, despite qualifying Ireland for a spot in show-jumping, Allen himself is not even officially on the plane to Rio himself yet.
The Wexford-born star and others will have to wait until June 5, when the identity of those who will claim Ireland's seven Rio equestrian spots is confirmed.
While form is undoubtedly important in these selections with a few events still left for athletes to stake a claim, Allen seems well placed to earn a spot on the plane barring injury.
Nevertheless, manager Robert Splaine and Horse Sport Ireland will ultimately make the call on who takes Ireland's single show-jumping place this summer.
2008 Olympian and Tipperary native Denis Lynch is another strong contender to rival Allen, as are Greg Broderick and London 2012 bronze medalist Cian O'Connor.
Lynch narrowly missed out on earning his country a second Olympic spot in show-jumping, though his excellent performances mean Ireland currently have the first reserve slot should another country be unable to compete. Furthermore, in a recent interview with the Irish Examiner, Allen said he wasn't necessarily more deserving of the Olympics spot than his colleagues despite having secured qualification, so even he acknowledges that little is guaranteed yet.
Yet at just 20 years of age, there is no doubt that Allen is a special talent. While still a teenager, in April of last year, he cracked the top 10 of the show-jumping world rankings, and he remains there as it stands. Incredibly, in the space of two years, he had managed to move up over 400 places.
Allen, who turns 21 on 1 August, is consequently someone you could legitimately describe as a sporting prodigy. He started riding ponies in the Wexford countryside at the age of eight and comes from a family with a clear love of horse riding — only one of his six siblings (three brothers and three sisters) doesn't ride, although younger brother Harry is the only other one who does so competitively.
The son of Wexford beef baron Bert Allen — who has featured regularly on Ireland's Rich List over the years — Allen junior first came to prominence aged 15, when he took the Individual Gold and Team Silver at the European Pony Championships. At 16, he relocated on his own to Hünxe, Germany — living roughly 20 minutes away from Irish dressage star Judy Reynolds, who also looks set to compete in Rio this summer.
Trained by Marcus Ehning — a legendary German show-jumper who won a gold medal in Team Jumping at the Sydney Olympics in 2000 — Allen also has his own stable in Hünxe and having these excellent facilities at his disposal appears to be paying off.
After winning a team gold medal at the Junior European Jumping Championships in 2012, the youngster went on to win individual silver at the same competition the next year.
And by 2014, people were really starting to pay attention. His achievements included being the youngest show-jumper at the World Equestrian Games in Caen, winning his first-ever World Cup qualifier, securing €50,000 in the Lummen Grand Prix and being named the Irish Independent Young Sport Star of the Year.
Last year, Allen's progress continued at an increasingly swift pace. He finished third overall in his World Cup Final debut in Las Vegas, before his Olympic qualification success back in March enhanced his growing reputation.
Despite still being very young by sporting superstar standards, Allen has also experienced occasional disappointment coupled with his long list of exceptional achievements.
Last December, he was denied a famous win at the Grand Prix on the final evening of the London International Horse Show in controversial circumstances, after some blood was found on the horse's flank — a decision he unsuccessfully appealed.
I am utterly devastated, just speechless," Allen told 

Horse and Hound

 at the time. "I have a fantastic relationship with all of my horses, and their welfare is paramount.
"My foot must have slipped against Quiet Easy's side as I was riding against the clock. He's a sensitive horse and it was just a tiny nick."
Source: Pippa Kyle/YouTube
Yet speak to anyone in equestrian circles and they will give the impression that Allen is practically destined for greatness, despite that recent setback.
Speaking to The42 back in March, Reynolds was particularly complimentary about her fellow German-based Irish rider.
Hopefully the show-jumping representative (at the Olympics) will be Bertram Allen," she said. "He's an amazing talent. I hope for him, this year, but he will win an Olympic gold medal at some point. There's no question about it, he is that talented."
Similarly, event rider and fellow Olympic hopeful Cathal Daniels, who is only 19 himself, also reserved high praise for Allen.
"Bertram's a serious competitor. He's able to pull it out of the bag. He knows how to win a class. I think if Bertram gets to Rio, big things could happen.
I definitely think Betram is well capable of bringing home (a medal)."
Yet despite all this hype and his relative lack of experience at dealing with it, Allen tends to be perceived as quite modest.
One insider recently described him as the "most down-to-earth 20-year-old superstar you'll ever talk to".
Moreover, at a recent Team Ireland Equestrian Media Day, Allen very much lived up to the cool customer billing. He was also probably exhausted as he spoke at the impressively vast National Sports Campus in Abbottstown. After all, the young Wexford native was fresh off the plane, having finished third in the Longines Global Champions Tour Grand Prix in Mexico City just two days previously, earning €60,000 as a result of his achievement.
Yet despite his fatigue, Allen comes across as laidback and a little shy — the type of athlete who is more comfortable letting his performance speak for itself.
What are they
really like?
Rare insights on sport's biggest names from the writers who know them best. Listen to Behind the Lines podcast.
Become a Member
Naturally, Allen describes winning a medal at the Olympics as "the ultimate goal" and is hopeful he can succeed in doing so this summer in Rio.
"I've been lucky enough to represent Ireland a few times at a few different things, but the Olympics is different for everyone and competing for Ireland at Rio would be special," he tells The42.
While acknowledging that "a good result at the Olympics can boost the whole industry" in terms of funding, Allen insists he is not overly affected by the weight of expectation.
"You're so busy at the shows and you know you can't win every class every time, so you get used to dealing with the ups and the downs of it and the pressures of it, so I embrace it.
"It was extra special watching the last Olympics (in which Ireland won a first-ever medal in equestrian) and even the ones before, everyone kind of sits down and watches it with the dream of being there in the back of your head.
If we have the luck on the day and the horses with the right plan and everything is there, we can definitely (triumph)."
And while Allen has never been to Brazil, he is not especially concerned about the prospect of competing in unfamiliar surroundings.
We're quite used to travelling now — we're travelling every week. The horses are quite versatile. We're jumping in different arenas, different weather, everything every weekend, and that's also part of being a good show-jumper — having to deal with different conditions."
And rather than worrying about the Olympics, at the moment, Allen is just enjoying life.
"To be so busy working with horses is fantastic, it's a dream and to be working with animals, it's a special bond. You meet great people, and now, I'm lucky enough to be at this level of going to exciting places every week."
And finally, for a 20-year-old barely old enough to drive, he seems remarkably composed both in person and on the basis of his already-quite-considerable list of achievements. Is his confidence as unshakeable as it seems?
Obviously, it can be tough if it's not going to plan," he says. "If you have a run of bad form or something, there can be long lonely days, but it's part and parcel of the job.
"Maybe it'll be two or three days, or maybe it'll be for two or three weeks, but everyone's well used to having a bad run. The main thing is to trust yourself and the horses and crack on, and then hopefully, your luck will change."
Indeed, luck may be part of it, but formidable talent combined with a tireless worth ethic is undoubtedly the main reason why Bertram Allen is where he is today.
The42 is on Snapchat! Tap the button below on your phone to add!