1. Kilkenny 3-22 Tipperary 1-28, drawn All-Ireland final
7 September, Croke Park
hockeyhurlingshinty5 / YouTube
We thought that the 2009 and 2010 All-Ireland finals (the 2011 decider was kind of like The Godfather Part III) had given us the apex of hurling as two heavyweights slugged it out.
The events of 7 September will live long in the memory and few outside of the competing counties were complaining when we were given a third final draw in a row.
You couldn't ask for more – 54 scores, two missed penalties, Tipp leading by two at half-time but then looking to have lost it as Kilkenny pushed four clear.
Back Tipp came to level and John O'Dwyer had a chance to win it but Hawkeye adjudged his effort to have gone just wide.
2. Clare 2-25 Wexford 2-25 (aet) – All-Ireland qualifier
5 July, Cusack Park, Ennis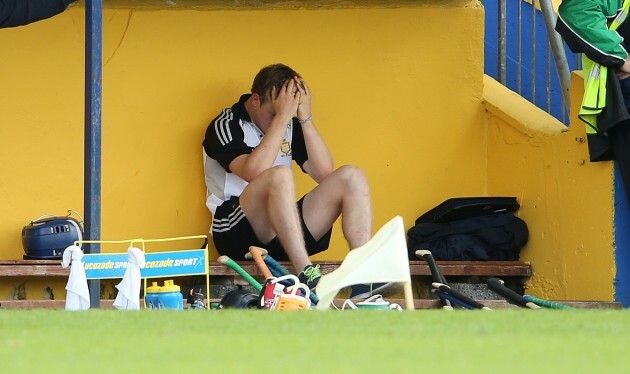 Cathal Noonan / INPHO Podge Collins after the game. Cathal Noonan / INPHO / INPHO
This cracking clash in Ennis yielded 54 scores and set the tone for a brilliant two-game saga. First time out, Wexford battled valiantly but looked to have been reeled in by the All-Ireland champions.
Clare almost stole victory before the game went to extra time, where it proved just as hard to separate the sides.
3. Wexford 2-25 Clare 2-22 (aet) – All-Ireland qualifier replay
12 July, Wexford Park
hockeyhurlingshinty5 / YouTube
Replays of great draws rarely live up to the heights of the first game – witness two of the other entries here – but this was one of the exceptions.
Having come at the king and missed, Wexford's chance was thought to be gone but a week later and the pattern was similar. Clare refused to yield though, Colin Ryan's free leading to extra time again.
Level at 2-22 each with time short, a third outing looked to be in the offing but Jack Guiney was the Wexford hero, scoring three late clinching points.
4. Kilmallock 1-32 Cratloe 3-18 (after extra-time), AIB Munster senior club hurling final
23 November, Gaelic Grounds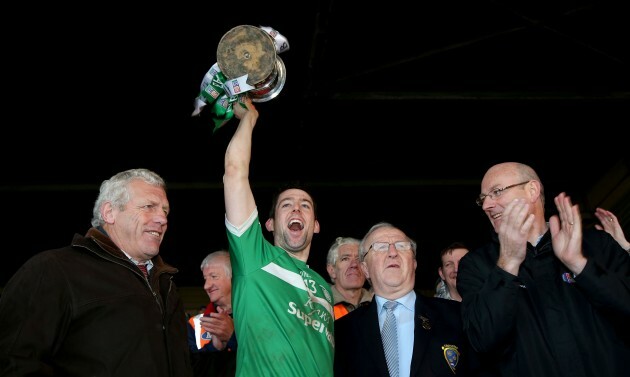 Ryan Byrne / INPHO Kilmallock's Graeme Mulcahy lifts the trophy after the game. Ryan Byrne / INPHO / INPHO
Late November isn't always conducive to sparkling hurling, but this bucked the trend in a big way. Cratloe began like a train, leading 1-3 to 0-1, but by half-time Kilmallock were 0-12 to 1-6 in front.
Jake Mulcahy's goal in the 56th minute looked to have put Kilmallock in control only for Conor McGrath to respond in kind to put the Clare champions ahead. Jake and Graeme Mulcahy swung it Kilmallock's way again Martin Murphy levelled for Cratloe with a long-range free to force extra time.
The additional period wasn't as even, Kilmallock well on top, but it was a feast for the 6,365 in the Gaelic Grounds and the many watching on TV.
5. Kilkenny 3-22 Galway 5-16, Leinster semi-final
28 June, Tullamore
hockeyhurlingshinty5 / YouTube
Nobody could accuse Kilkenny of having had an easy run to another handy All-Ireland. Like the All-Ireland final, the other game they drew was a thriller, though this time because they uncharacteristically threw away a big lead.
Coincidentally, the Cats scored 3-22, the same as in the final, but when they had 3-19 on the board Galway had only 2-13. Two goals from Conor Cooney and one by Joe Canning drew the Tribesmen level only for Henry Shefflin to seemingly win it for Kilkenny with a great point from a tight angle.
There was time for one more Galway attack though and Canning produced what was almost a carbon copy to level.
6. Kilkenny 2-13 Limerick 0-17, All-Ireland semi-final
10 August, Croke Park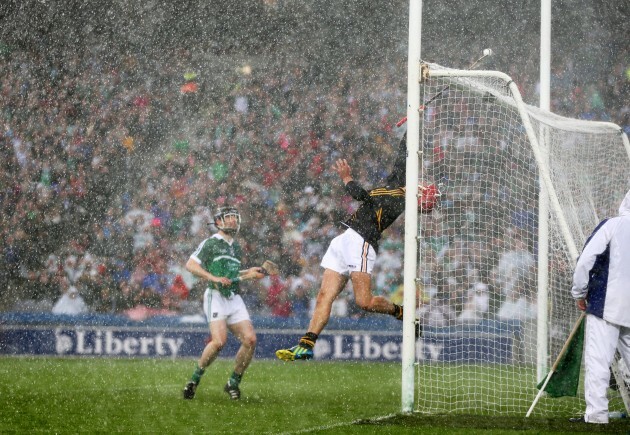 Cathal Noonan / INPHO The teams played some great hurling despite terrible conditions. Cathal Noonan / INPHO / INPHO
Another featuring Kilkenny, but proof that a game doesn't have to be a scorefest to be a compelling encounter.
The Cats' shooting sights weren't perfectly calibrated in the first half and Limerick took advantage only for Richie Hogan's goal just before half-time made it 1-9 to 0-10 at half-time. Despite the wet conditions, the intensity never let up and five points in a row from Limerick put them 0-16 to 1-11 ahead with just over a quarter of an hour left.
Again, though, Kilkenny managed to find a goal when the needed it, Richie Power – only just one – getting a flick to Hogan's free. Limerick would only score once more after and Kilkenny advanced to another final.
What hurling games did you most enjoy during 2014? Let us know