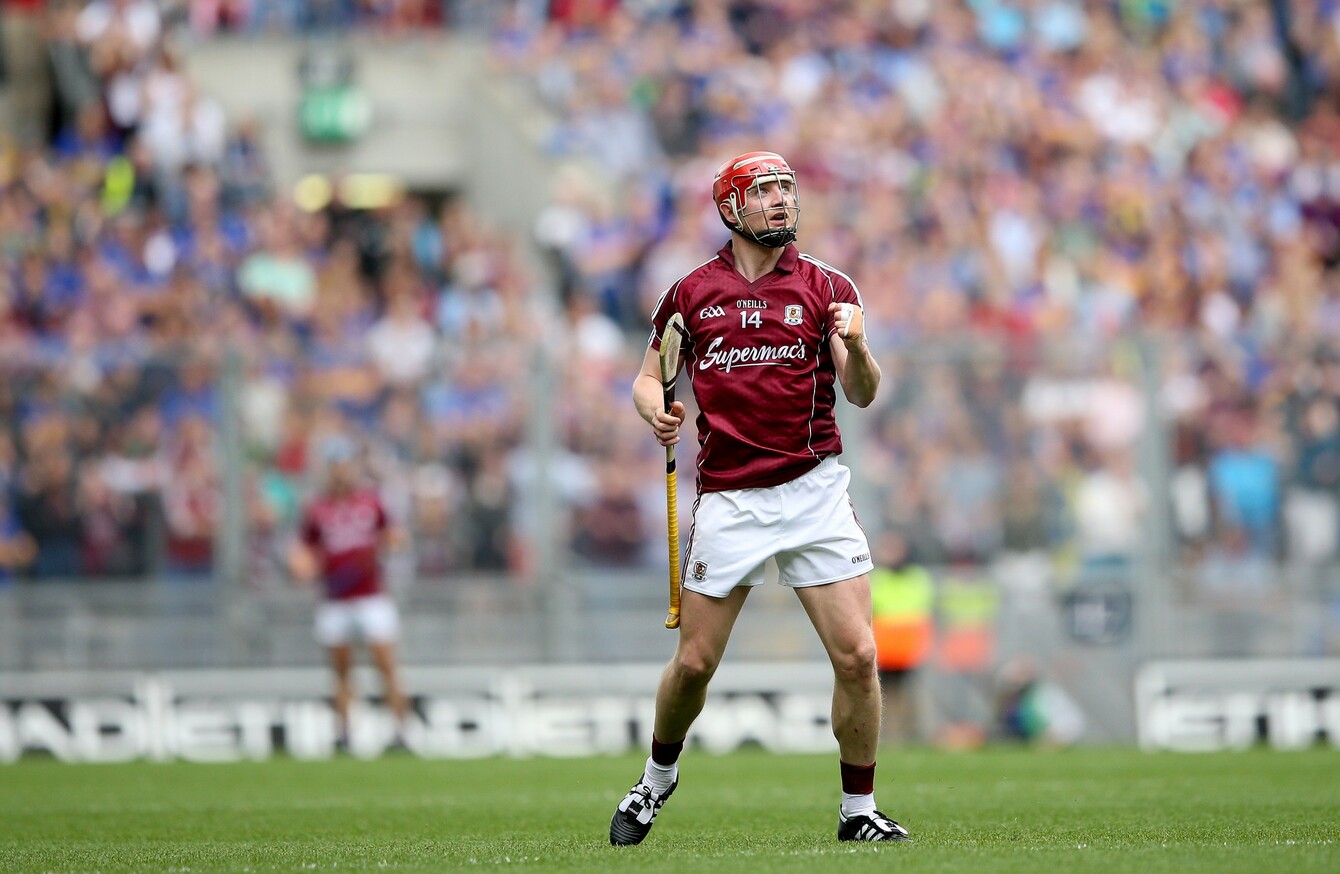 Image: James Crombie/INPHO
Image: James Crombie/INPHO
THIS YEAR'S GAA CALENDAR produced some great matches, and quite a few highlights. These are our picks for the best hurling scores of 2015.
1. Joe Canning (Galway vs Kilkenny)
Canning had been receiving some criticism throughout the early stages of the season, and was often struggling to find his form. There seemed to be a consensus creeping into the public and the media that when Joe didn't show, neither did Galway (an opinion which Jonathan Glynn famously and passionately dismissed). Say what you will about the three-time All Star, but he's got undeniable talent and he showed it in the Leinster final.
Galway captain Andy Smith sends a high ball into his fellow Portumna man and, running backwards with a Kilkenny double team on him, Canning takes it perfectly on the turn. In the same motion and without so much as a glance at the goal, he buries it past Eoin Murphy, easy as you like.
Source: officialgaa/YouTube
2. Cathal Dunbar (Wexford U21s vs Offaly U21s)
A brilliant team goal. A long ball is cleared into midfield after a goal chance and finds a Wexford player, who jumps to tap it down to his oncoming teammate. Another long pass falls just in front of Conor McDonald in the full forward line, and with a delicate touch he lays it up for Cathal Dunbar, who is all alone to control the ball and finish.
Source: breakingthrough/YouTube
3. Austin Gleeson (Waterford vs Kilkenny)
After starring on an All-Ireland-winning Waterford minor team in 2013, Déise sideline specialist Austin Gleeson has cemented his spot in the senior squad, and was unlucky not to be given an All-Star.
Against Kilkenny in the All-Ireland semi-final, he gave Croke Park a demonstration of his expertise from the line ball with one of his mostly sweetly struck cuts of the year.
Source: hockeyhurlingshinty5/YouTube
(Just good enough to edge out his sideline against Dublin)
Source: hockeyhurlingshinty5/YouTube
4. Cathal Mannion (Galway vs Tipperary)
Mannion, part of a clinical Galway forward line, has been extremely consistent in his scoring this year. Always at the ready to chip in with score when they're needed, he racked up 29 points in the 2015 championship.
A prime example of this is this point in the All-Ireland semi-final, where he collects the ball on the halfway line, takes a moment to steady himself then slots it calmly to put Galway one up.
5. Jason Flynn (Galway vs Kilkenny)
Yet another Galway score, but too good to leave out. Colm Callanan sends a long puckout to the 45 where Flynn masterfully controls it down to himself to score with ease. His only point from play in the final.
6. TJ Reid (Kilkenny vs Wexford)
Chosen simply for being a trademark TJ Reid point. The 2015 Hurler of the Year shows absolute precision, bringing the ball down on his stick as it comes over his head from behind, then making space and effortlessly striking the over his shoulder from the sideline to add the last score in Kilkenny's decimation of Wexford at Nowlan Park.
He's been scoring carbon copies of this one from the sidelines all year, and still teams are powerless to stop him. One of the most dangerous forwards in the country and the second highest scorer in this year's championship.
7. Ger Aylward (Kilkenny vs Wexford)
The first and best from the Glenmore man's hat trick in this match. He turns inside after receiving a handpass and goes to shoot, then cushions the sliotar on his hurl as a despairing defender dives in front of him, before blasting a shot at the roof of the net. Goalkeeper Fanning gets his stick to it, but sheer power takes it over the line. A really well taken goal.
8. Shane Bennett (Waterford vs Dublin)
Waterford have one of the youngest and most exciting inter-county teams in the country, and as we saw this summer, it affords them no disadvantage. One of the younger players on the squad who stepped up to the plate and this year is Ballysaggart native Shane Bennett.
Against Dublin in the All-Ireland quarter final, Maurice Shanahan finds him unmarked just inside the 21, and the 18 year old stops his pass before smacking it past Gary Maguire to put Waterford a goal ahead and finish overturning Dublin's lead. Ground hurling at its finest.
Source: hockeyhurlingshinty5/YouTube
9. Zane Keenan (Laois vs Offaly)
Another really well taken sideline cut, this time from Laois' star forward Zane Keenan, who was outstanding for the Queen's county this year, averaging 10 points a game in championship.
10. Jonathan Glynn (Galway vs Cork)
Probably the goal of the season, Glynn picks the ball up between the 45 and halfway line and solos all the way to the box where he flicks it over the head of a defender, controls it down again and pushes it into the net on the half volley.
Another 18-year old inter-county player, and a serious talent. Also led to one of the most entertaining post-match interviews in recent GAA memory.
Source: officialgaa/YouTube
11. Seamus Callanan (Tipperary vs Galway)
You can take your pick with this one, as all three of his goals from the 3-9 in the semi-final were essentially the same. However, that takes absolutely nothing away from any of them. Every time, he wins the high ball, despite the best efforts of Padraig Mannion, turns, and gives Colm Callanan no chance with the shot.
A man-of-the-match performance, but even his efforts couldn't secure Tipperary a place in the All-Ireland final. Nevertheless, he was one of this year's standout performers and picked up an All Star to prove it.
Source: officialgaa/YouTube
12. Maurice Shanahan (Waterford vs Cork)
One of the best hurlers of this year, Shanahan also got an All-Star award and totalled 44 points in the championship. This goal in the Munster semi-final shows why the 25-year old is so highly rated.
He catches a pass from Gleeson and immediately turns to make a burst towards goal. He makes it to the 14-yard line before turning onto his left side and powering it past Anthony Nash. A very dynamic forward, he's one to watch in any match he plays.
Source: Paddy O'Paddy/YouTube
13. Danny Sutcliffe (Dublin vs Kilkenny)
Dublin had a disappointing end to this season, outclassed by a strong Waterford side in Thurles. With the talent at the disposal of Anthony Daly, fans from the capital will hope to see some more success in the coming year. One member of the team that can always crop up with a good score is St Judes' Danny Sutcliffe. This point against Kilkenny in February is an exhibition of his proficiency as a forward. Controlling a pass, he sends his marker stumbling twice with two sidesteps before guiding the ball between the uprights.